6 Workouts You Can Do With DIY Dumbbells
These bodyweight exercises & DIY weights will tide you over.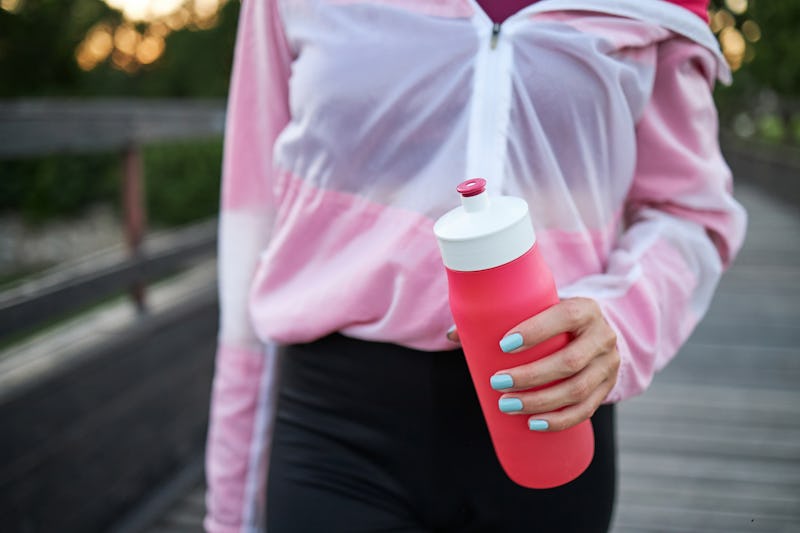 FluxFactory/E+/Getty Images
By this point in quarantine, you may have concluded that all sellable dumbbells have vanished from the face of the earth — and you're not exactly wrong. Even if you surrendered to weight-free workouts early on in the pandemic, you've spent months getting stronger with your bodyweight and soup can exercises. But if dumbbell curls with Campbell's aren't cutting it anymore, fitness pros say you don't have to shell out extra money to work out at home with dumbbell alternatives.
To lift heavy at home with no weights in sight, you'll likely have to step out of your comfort zone. But that's actually good for your workout goals, says Mikey Newson, a certified personal trainer and a coach for the boutique fitness concept Row House in Chicago. "Using different objects at home for heavy lifting will force you to educate yourself on fitness and proper use for these items, and with that happening, you're going to maximize effectiveness."
Newson tells Bustle that you don't need to learn fancy moves in order to get full-body workouts that will make your muscles and your heart stronger. Basic exercises that require you to push, pull, and rotate are more than enough to get your heart pumping and your whole body sweating. When you need to lift something heavier than a soup can, Newson suggests trying these six household alternatives to dumbbells.
Experts:
Mikey Newsom, certified personal trainer, coach for Row House, Chicago