Before You Move In With Your Partner, Go Over This Financial Checklist
There's nothing more romantic than money talk.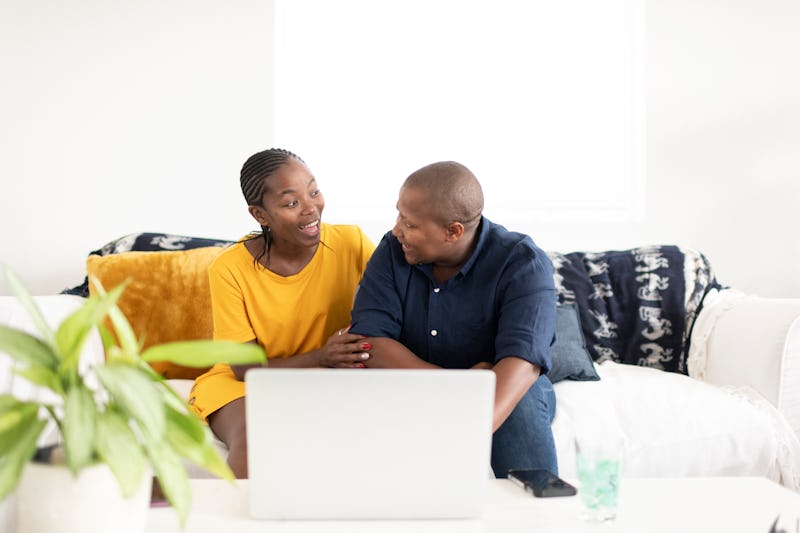 PixelCatchers/E+/Getty Images
In a perfect world, talking about finances before moving in with your partner would be as easy as creating a quick rent and grocery budget, and calling it a day. But in reality, there's a (relatively) long checklist of important topics to discuss and agree on, before you officially sign a lease together.
Even if you've been dating for a while, and are hanging out in the same apartment seemingly 24/7, renting — and spending money as a couple — is an entirely different vibe. Because your finances will overlap in a brand new way, "it's important to talk about any debt you have, your spending styles and if they match, and [all other major financial obligations]," Kimberly Palmer, a personal finance expert at NerdWallet, tells Bustle.
The trouble is, it's often really awkward to talk about money, since it means being honest about some pretty personal things. So make sure you go about it deliberately. "Set aside an hour to chat when each person is prepared for the conversation," Palmer says. That way, neither of you will be blind-sided by a heavy discussion about student loans or credit card debt. Scheduling ahead of time will also make it possible to come up with a few questions of your own, that you need to have answered before taking this next step.
To get you started, here's a financial checklist to go over before moving in with your partner, that experts say will help ensure you're on the same page.
Talking about money isn't always fun or easy, but if you want to prevent problems from cropping up in the future, go down this checklist and talk about debts, budgets, and financial goals, before making a move.
Experts:
Kimberly Palmer, personal finance expert
Matt Frankel, CFP, personal finance expert
Brittney Castro, CFP, financial expert
Ben Birken, CFP, finance advisor
Colleen McCreary, chief people officer and financial advocate
Amanda Clayman, financial therapist
Alejandra Matos, licensed psychotherapist and coach