15 Flirty "Thinking Of You" Texts That'll Make Your Crush's Day
Keep the spark alive and well.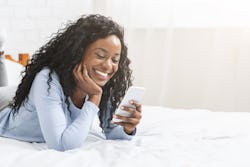 Shutterstock
Whether you're newly dating or in a long-term relationship, flirting is an important part of maintaining a romantic connection. Over time, it's possible that your crush or partner might lose sight of how into them you really are or vice versa. Communicating the feelings you have for them can help mitigate that chance and keep the spark alive and well.
If you've been on any number of amazing, butterfly-inducing dates, you know the effect it can have on you the next day. You might be sitting at your desk, getting totally distracted thinking about them and how much you can't wait to see them again. In those cases, why not let them know? Regardless of the method you choose — sharing a song that made them pop into your head, a funny meme, or just letting them know you can't stop picturing their cute face — reminding your crush that you feel the same way they do is never a bad idea.
Sending your partner or crush a text to show you're thinking about them is a great way to keep the connection strong. "Texting can build confidence and make people feel more secure," Trina Leckie, a dating expert, previously told Bustle. "You want to ensure the other person knows [you've been having] a good time and hopefully get the same feedback from them."
It can be difficult to come up with some creative ideas, so here are 15 flirty "thinking of you" texts to send to your crush.
Expert:
Trina Leckie, dating expert and host of the Breakup BOOST podcast