15 Texts To Send After An Amazing First Date
Step 1: Don't overthink it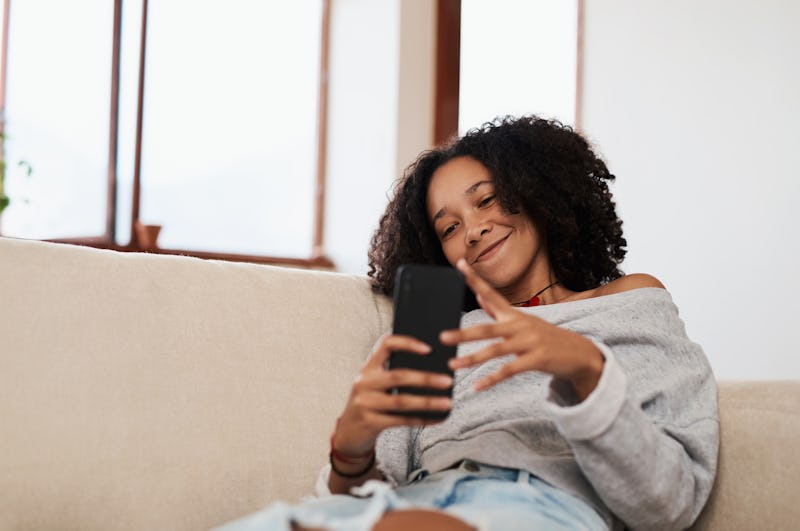 Hiraman/E+/Getty Images
After a night spent strolling through the park, eating ice cream, and clinking glasses at outdoor bars, you might be too busy replaying the majesty of it all — or relaying details to friends — to even think about crafting the perfect text to send after a first date. But it's often a good idea to send a follow-up message or two soon after, especially if you'd like to see this person again soon.
You could argue the most important thing isn't what you say, but when you say it. And yet, however badly you may want to, don't overthink. "If you had a nice time and feel a connection, [send a text] after the date, once you are home," Mindie Barnett, a motivational speaker and host of a dating podcast, tells Bustle. "There is no 'right time' — if you're authentic, that's all that matters."
Steve Yang, a relationship coach, agrees. "I'm a very excitable and enthusiastic person who displays open [...] communication, so it's entirely within character for me to text right away, and I often do," he tells Bustle. "There is no certain amount of time to wait that will work for everyone, [so] the best advice is to be consistent with who you are."
In other words, if you want to send a message, send it! Here, 15 quick 'n easy texts to consider using after a first date, all of which will hopefully hit the right note — and maybe even score you that second date.
It can be tough to think up the perfect thing to say when texting someone after a date, but it's actually much easier than it seems. Simply send one of these, and good luck!
Experts:
Mindie Barnett, motivational speaker and host of a dating podcast
Steve Yang, relationship coach
Beverley Andre, LMFT, licensed marriage and family therapist