9 People On The Most Outrageous DM They've Ever Received
I've heard of "send nudes," but "send socks"?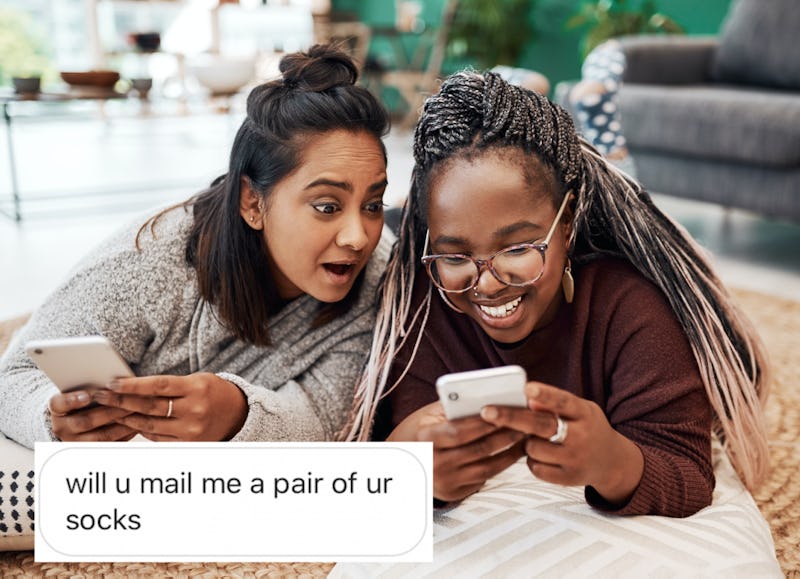 PeopleImages/E+/Getty Images
Whenever I get an Instagram notification, I hope it's from a friend, sharing a funny dog meme. But since this is the internet we're talking about, it's always within the realm of possibility that you'll receive an outrageous DM on Instagram from a complete stranger. Or worse — your ex.
Whether it's something funny, something out-there, or something so creepy it's worthy of a block, you've likely seen it all. And hey, chances are you've sent a bizarre DM or two yourself, at some point over the years. (We've all had those moments at 2 a.m. where it really does seem like a good idea to reach out to an ex, or drunkenly proclaim undying love for a celebrity.)
That's the great thing about social media; it brings people together. But sometimes the ease and convenience of it all is little too easy and convenient. The best thing to do, if you're ever on the receiving end of DMs that make you feel uncomfortable is to ignore them, and if necessary, block the sender and/or report them to Instagram.
With that said, and seeing as it's Instagram's 10-year anniversary, let's honor everything weird and wonderful the platform has to offer, starting with these outrageous DMs users have received over the years, complete with their equally outrageous backstories.
*Names have been changed.