17 Casual Messages To Slide Into Someone's DMs
"Did I just see you at CVS?"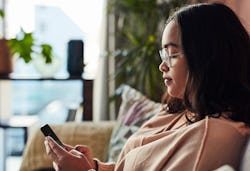 LumiNola/E+/Getty Images
With a year of social isolation under your belt, it's tough to hold a conversation with your roommate, much less remember how to slide into someone's DMs. In theory, taking your chance from a distance should be easy. It's just a message on social media, after all. But figuring out how, exactly, to break the ice and reach out to a crush is still enough to make your head spin.
According to relationship Claudia Cox, it may help take some pressure off if you remind yourself a DM is simply a way to show initial interest. "Like dating apps, it's not meant to be used to find out everything about them," Cox tells Bustle. "It's just to give them enough of you to make them want to meet up IRL."
To craft the perfect DM, Cox suggests being casual, confident, and not commenting on someone's appearance — however tempting it may be. "Even if they are drop-dead gorgeous, go deeper and try to start a conversation based on things that you are both interested in," Cox says. "Start with a common topic and then transition into other things." Like meeting up for a socially distanced date.
Whether you're reaching out to an old crush or putting the feelers out with somebody new, here are 17 ways to casually slide into DMs.
Source:
Claudia Cox, relationship coach and founder of Text Weapon