The 7 Best Resistance Band Exercises For Hamstring Strength
Don't let your quads steal the spotlight.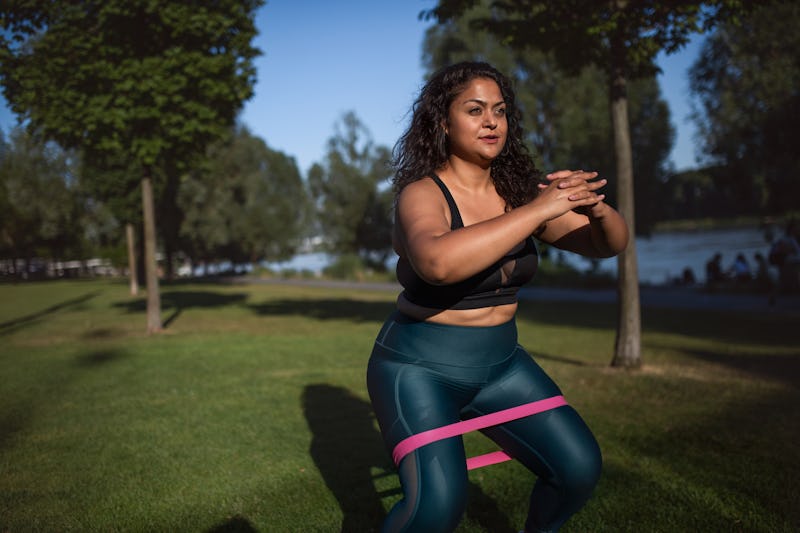 Halfpoint Images/Moment/Getty Images
Don't let the muscles in the front of your legs steal the spotlight. If you're looking to work some muscles in your all-important posterior chain, consider trying some stretchy hamstring resistance band exercises for a real burn.
A resistance band is a fantastic tool when it comes to training your hamstrings, says Jonathan Tylicki, the director of education at dance workout studio AKT. "The benefit of using a resistance band versus a piece of equipment like a hamstring curl machine is that the band requires additional muscle recruitment to stabilize during the exercise," Tylicki tells Bustle.
Unlike weights or machines, Tylicki says resistance bands work to distribute the tension equally across your muscle because you have to work to stay stable throughout the entirety of each movement. Not only does this provide a good workout, but it also reduces your risk of strain or injury.
To find the right workout band for your routine, Tylicki recommends starting with one that has a "weight" or thickness that's challenging enough to bring the burn without it being too hard to stretch. If you only have one band on hand, though, you can easily increase the resistance depending on how you hold it, he says. Make the band shorter for more tension, or loosen it up for less intensity.
To feel a difference in your hamstring strength, Tylicki suggests training them regularly. "Like most muscle groups, it's good to work them two to three times a week, allowing for recovery between training." To get started, try a few of these expert-approve resistance band hamstring exercises.
Studies referenced:
Faigenbaum, AD. 2010. Resistance training among young athletes: safety, efficacy and injury prevention effects. Br J Sports Med. doi: 10.1136/bjsm.2009.068098.
Lopes, JSS. 2019. Effects of training with elastic resistance versus conventional resistance on muscular strength: A systematic review and meta-analysis. SAGE Open Med. doi: 10.1177/2050312119831116.
Sources:
Jonathan Tylicki, director of education at dance workout studio AKT
Brynn Franklin, MS, ACSM, exercise physiologist
Alayna Curry, AFAA-certified fitness instructor
Rachel MacPherson, certified personal trainer