How To Safely Check In On Someone Who Has COVID
Plus, what not to say when your friend is sick.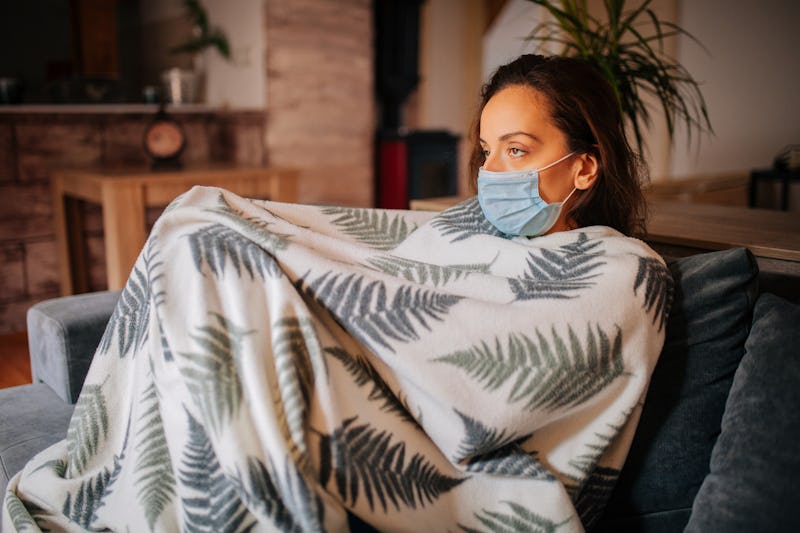 Nevena1987/E+/Getty Images
When your friend's cough isn't "just a cough" and their COVID test comes back positive, you may immediately rush into caretaker mode — from a distance, of course. If you don't want to expose yourself, knowing how to check in on someone who has COVID is critical to helping them through a difficult time.
"Our best way to handle this is to be supportive by being present in their lives without physically being there," says clinical psychologist Renee Solomon, Ph.D. That might mean checking in on them every day through text, food deliveries, or some combination of the two.
How To Text Someone With COVID To Check In
Remember that everyone likes to receive support in different ways, says Naomi Torres-Mackie, Ph.D, the head of research at the Mental Health Coalition and a clinical psychology fellow at Lenox Hill Hospital in New York City. "Some friends might need a distraction, others might need space to dive into their feelings, and others might need something more tangible like a home-cooked meal."
To that end, think about the weird and wacky things your friend loves. "Quarantining is a solo sport, so think about things they can do on their own, like painting, puzzles, and other unique activities (for me, it was a remote control helicopter)," Dr. Michael Richardson, MD, a family medicine doctor with One Medical, says.
If your friend is really sick or hospitalized, Sherese Ezelle, L.M.H.C., a licensed behavioral therapist at One Medical recommends reminding your friend "that you are rooting for them" via text. "The point is to help your friend to feel special in a time of great fear and anxiety by reminding them that you and many others are thinking of them and have not forgotten them."
Keeping contact is especially key from a mental health perspective. "Having COVID and subsequently having to isolate from others often can be quite stressful and lead to anxiety and even depression," says Dr. Vivek Cherian, M.D., a Baltimore-based internal medicine physician.
How To Physically Check In On Someone With COVID
When your friend tells you their COVID test was positive, the first logistical thing you think of might be the fact that they won't be able to leave their home except to go to the doctor for at least a couple weeks — but you also won't be able to go in and spend IRL time with them. You can still help them out without exposing yourself.
"Order them grocery staples, take their furry friend for a walk, or even embark on a shared activity (read the same book, watch a movie at the same time, etc.)," Andreas Michaelides, Ph.D., a clinical psychologist and chief of psychology at Noom, suggests.
The big one, of course, is going to be ensuring they have enough to ride out their sickness at home. If you drop off food or other supplies yourself, make sure you're keeping yourself safe. "Delivery should just be no touch, no face-to-face contact," says Dr. Brandon Alleman, M.D., a physician and medical advisor to healthcare company Sesame. "Setting it on the doorstep and letting them know it is there is safe." (As you've been doing since last year: stay at least six feet apart from anyone, wear a mask, and wash your hands thoroughly. If you accidentally end up having close contact with your friend who's sick, get tested and quarantine — unless, of course, you're fully vaccinated.)
"Another easy option is to send electronic gift cards for delivery services, so your friend can order in from their restaurant of choice," says Dr. Richardson.
What Not To Do When Your Friend Has COVID
The basics of supporting your friend while they're sick shouldn't change because we're in a pandemic — even if you feel like they could have avoided getting infected. "Getting diagnosed with COVID can produce shame and embarrassment," Michaelides says. "It is important for you to normalize this diagnosis for your friend and help them not feel like an outcast." Now isn't the time to cross-examine them about why the heck they went to that party to begin with; now is the time to make sure they recover well.
Avoid telling someone how they "should" feel about being sick, Torres-Mackie advises. "There are no 'normal' emotional responses to being sick with COVID, so whether your friend is feeling numb, terrified, sad, angry, confused, or something else, let them know that that is both normal and OK," she explains.
Try not to make it about you, even if you're emotionally processing everything that's happening. "If you're feeling lost in how to support your friend, you can also let them know that and that you're going to try your best by saying something like, 'I really want to be there for you right now even though I'm not totally sure the best way to do it. I was thinking of doing this thing. Would that be OK?'" suggests Torres-Mackie.
"Don't forget that even though your friend is sick, you still need to save energy and time to care for yourself," says Allison Chawla, MA., a licensed clinical psychotherapist. "Get sleep, take breaks from caretaking, eat well, go for walks, and don't be afraid to walk away for moments when it feels intense." Make sure you're checking in with your own support network as much as you need — you don't have to take care of yourself or your friend all on your own.
Experts:
Renee Solomon, Ph.D., clinical psychologist
Andreas Michaelides, Ph.D., clinical psychologist, chief of psychology at Noom
Dr. Michael Richardson, a family medicine doctor with One Medical
Dr. Vivek Cherian, M.D., Baltimore-based internal medicine physician
Naomi Torres-Mackie, Ph.D., head of research at Mental Health Coalition, clinical psychology fellow at Lenox Hill Hospital
Sherese Ezelle, L.M.H.C., licensed behavioral therapist at One Medical
Dr. Brandon Alleman, M.D., physician, medical advisor to Sesame
Allison Chawla, MA., licensed clinical psychotherapist