7 Simple Ways To Spot A Lie
No. 6: Their pupils dilate.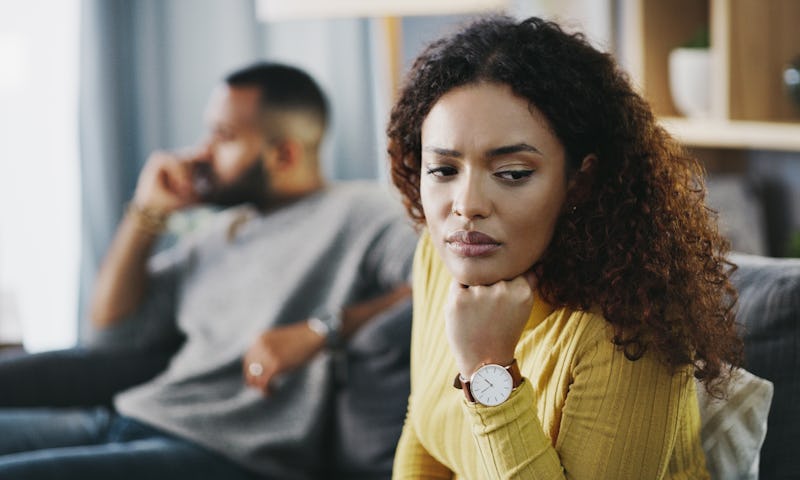 Delmaine Donson/E+/Getty Images
Let's take a moment and be grateful for people who lie. Without them, our Netflix queues would practically dry up overnight. We'd never know Ginny or Georgia, the entire cast of 13 Reasons Why, or Virginia de la Mora from The House of Flowers, whose husband lied about an affair for decades. Lying guides our television plot lines and adds cliffhangers to keep us watching. But there's a big difference between being entertained by characters who lie and being deceived by people in our actual lives.
Feeling like you can't trust someone — particularly someone you're in an intimate relationship with — can be the death knell of a couple. If you're doubting your partner, how can you tell if it's all in your head, especially if they won't talk to you about it?
"There's no one sign of deception that everyone uses," says Traci Brown, a body language expert and author. "The top thing to understand is that when people lie, they use a different part of their brain, and their body language goes a little bit haywire. Deception is the intersection of body language, tone, and words, so any of those things can change."
The biggest thing to look for, she says, is a change away from baseline behavior. Here, Brown and five other relationship experts share common behavioral signs that may signify you've caught your partner in a lie — even if they'll never admit it.
Experts:
Traci Brown, body language expert and author
Anita Chlipala, LMFT, marriage and family therapist and founder of Relationship Reality 312
Kali Rogers, life coach and founder of Blush Life Coaching
Audrey Hope, addiction therapist and relationship expert
MoAndra Johnson, MFT, therapist
Pamela Meyer, certified fraud examiner and author
This article was originally published on