These Strange Behaviors Mean Your Partner Might Be Hiding Something
"Deflection, accusations, and feigned outrage are all typical behaviors of a liar," a relationship expert tells Bustle.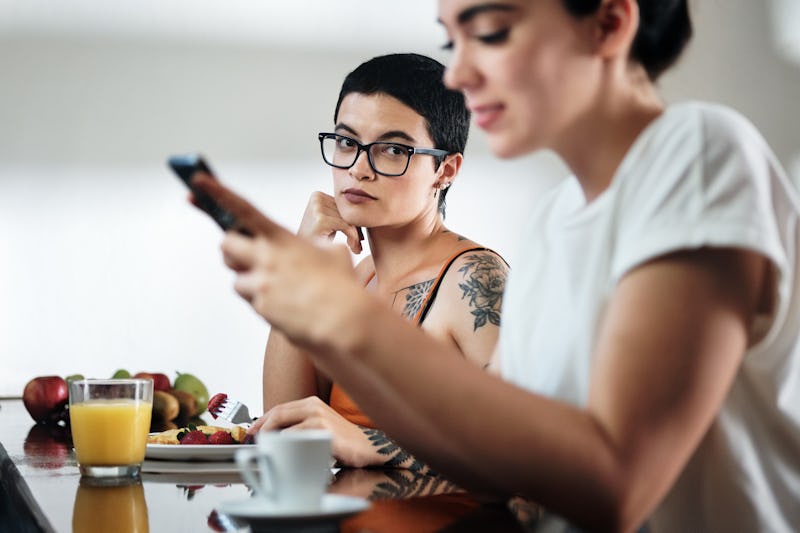 Diego Cervo / EyeEm/EyeEm/Getty Images
If you haven't watched the British series Doctor Foster yet, queue it up: dark secrets, Jodie Comer, accents galore. The show, currently available on Netflix, follows suspicious wife Gemma Foster (played by Suranne Jones) as she falls prey to her husband's web of lies. Gemma's obsessive suspicion is a relatable feeling — that nagging worry when your partner hides things from you. And while it isn't necessary to assume the worst, it's not great to ignore red flags, either. If the feeling persists and it always feels like secrets are brewing, it just isn't sustainable.
It's time to have a chat with your partner, with the goal of having an honest conversation. "Explain what it is that they've done that makes you feel suspicious, and ask them directly if there's anything that they're not telling you," Amica Graber, a relationship expert for the background checking site TruthFinder, tells Bustle. "Pay close attention to what happens next."
"If someone is determined to keep something hidden, expect a big show," Graber says. "Deflection, accusations, and feigned outrage are all typical behaviors of a liar. If your partner gets angry or defensive, it's almost certain that something fishy is going on."
From there, decide what you'd like to do. Is there a way to bring more openness into your relationship? Would it help to see a couples counselor? Or would you prefer to move on? The choice is up to you. But if you notice some of the signs listed below, experts say it's time to find out more.
Experts:
Amica Graber, relationship expert with TruthFinder
Nancy Ruth Deen, breakup coach
Yue Xu, co-host and co-creator of the Date/able podcast
Margaux Cassuto, relationship and dating expert
Dr. Nan Wise, cognitive neuroscientist and licensed sex therapist
Dr. David Songco, licensed clinical psychologist
Dr. Logan Levkoff, sexuality and relationship educator
Elisa Robyn, PhD, a relationship psychologist
Devon Jorge, MSW, RSW, psychotherapist
Dr. Debra A. Nixon, LMFT, online counselor with ChatOwl
This article was originally published on