How To Use A Bullet Vibrator For The First Time
You get more than one shot.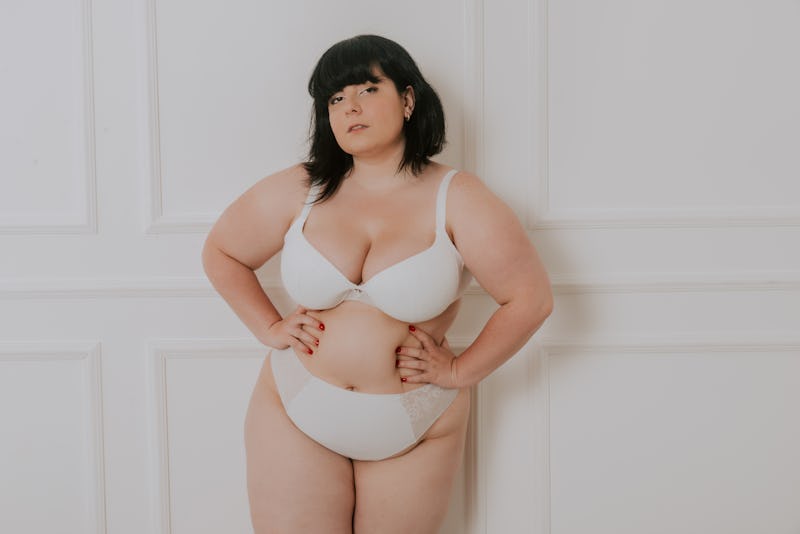 fabio formaggio / 500px/500Px Plus/Getty Images
Bullet vibrators are exactly what they sound like: small vibrators shaped like bullets. But sex educator and owner of feminist sex shop Early To Bed Searah Deysach tells Bustle that the term "bullet vibrator" is commonly used as a catchall to refer to any little handheld vibe. But don't be fooled by its size — these smaller vibes are both powerful and pleasurable. "If you're looking for great external stimulation on a clitoris, penis, or nipples, bullet vibes are very versatile and can still pack quite a punch," she says.
Since bullet vibrators are usually about four inches or less in length, they can be used on their own while masturbating or discreetly during partner play for clitoral, anal, nipple, or perineum stimulation without getting in the way, erotic educator and founder of intimacy shop Organic Loven Taylor Sparks tells Bustle. "They're also good for beginners as their vibration modes can be from low to intense, so a newbie can work their way up," she says. So, whether you're looking to buy your very first sex toy or you want to try something different during solo or partnered sex, consider investing in a bullet vibrator.
How To Pick Your Bullet Vibrator
Although most bullet vibes look like bullets, these toys come in a variety of shapes, materials, and power sources. Some of the most common materials are stainless steel, chrome, and silicone. Different products offer different features as well. "Some come with attachments, like smooth or noduled silicone sleeves, [and] others may be curved at the top to use for G-spot stimulation," Sparks says. She also points out that they can be waterproof, rechargeable, remote-controlled, or battery operated.
When shopping for your first bullet vibrator, Deysach suggests thinking about which feature (intensity, material, price) is most important to you, then buying accordingly. "If you're new to vibrators, get one with multiple speeds so you can find which one works best for you, and look under your budget so you can try again without breaking the bank if you don't like your first toy," she says.
Not sure where to start? For beginners, Sparks recommends battery-operated bullet vibes, like the BSwish Bnaughty Classic or Femme Funn FFIX, which are less intense and more affordable. Otherwise, try Je Joue's G-Spot Bullet for internal stimulation, Hot Octopuss's DiGiT Bullet finger vibe for external play, and Le Wand's Chrome Grand Bullet for more intense, rumbly sensations.
Ways To Enjoy Bullet Vibrators
During solo sex, bullet vibes can be used to stimulate any and all erogenous zones. "On your own, you can tease your nipples, vulva, and labia before trying the toy directly on or near your clitoris," suggests Deysach. Depending on the toy shape and your position, she points out that they can even rest on your genitals while you use your hands to read erotica or touch the rest of your body.
During partnered sex, take turns controlling the toy to please one another. According to Sparks, bullet vibes can be used to stimulate your partner's clitoris or perineum or add stimulation to the nipples during penetration. You can also tuck it between your bodies during intercourse for external stimulation wherever you crave it.
As with all pleasure products, Deysach says that if a vibe isn't enjoyable the first time around, try again before giving up. "Some toys take getting used to, and you may find you like the sensation more with a partner or at a certain time in your cycle," she says. "If you end up not liking it at all, find a friendly sex shop with knowledgeable employees and talk to them about what kind of toy you might like better."
Bullet Vibrator Safety & Aftercare
Before pulling the trigger, so to speak, and turning on your vibe, it's important to read up on safety. First off, avoid penetration (unless the toy is specifically designed for it). "Most bullet vibes are not designed to be used internally, so they're best kept out of the vagina. Also, unless they have a substantial flange and are designed for anal sex, keep any small vibe out of your butt," Deysach says.
Be mindful that some vibrators can be very intense, depending on the toy. "Take your time to explore the pressure and various vibrations that your bullet offers," says Sparks, who suggests going light (especially on the clitoris) until you discover what feels best for you. If the sensation becomes too much, try Deysach's vibrator hack: Hold it in a way that makes your fingers vibrate, then use them to please yourself rather than directly with the product. Using a body-safe, water-based lube like Good Clean Love for external play can feel good and help to reduce potential irritation, too.
"Some folks find that after using sex toys, especially vibrators, taking time to cup or lightly stroke [the] vulva can feel really good and be a nice way to come down from the sensations," says Deysach. If you continue to feel sore post-play, Sparks recommends applying a cool washcloth or compress to the area to help heal and relieve inflammation.
Once you're all done, use a high-quality toy cleaner to wash the vibrator, then store it in the bag it (likely) came with to prevent dust or other contaminants from collecting. That way, it's clean and ready to enjoy the next time you want to play with it.
Experts:
Searah Deysach, sex educator and owner of feminist sex shop Early To Bed
Taylor Sparks, erotic educator and founder of intimacy shop Organic Loven