Is There A Cure For Long COVID?
Initial research suggests there are ways to manage the symptoms.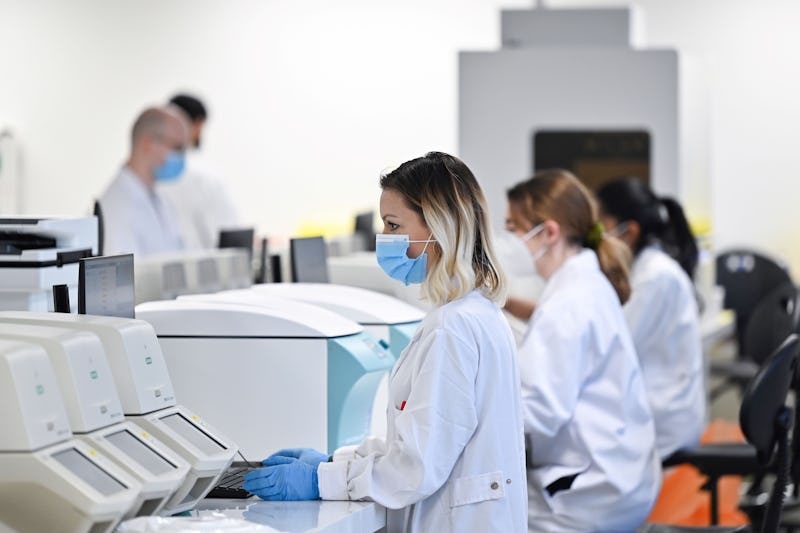 JUSTIN TALLIS/AFP/Getty Images
Let's start by defining what is widely known as "long COVID". The BMJ describe it as: "Not recovering [for] several weeks or months following the start of symptoms that were suggestive of COVID-19, whether you were tested or not." While most people have spent the last year adapting their lives to the pandemic, researchers and medical professionals have been investigating what some of the longer-term medical implications of COVID-19 could be. So, is there a cure for long COVID?
While there isn't a cure as such, research suggests there are ways to manage the symptoms of long COVID. While we're all familiar with the key symptoms of COVID-19, it's worth noting that long COVID can manifest a little differently. A review into the long-term effects of COVID-19 found that there could be around 55 symptoms of long COVID. These included breathlessness, headaches, a cough, fatigue, cognitive impairment or 'brain fog', muscle pain, and anxiety. Others noted that they were still battling with organ damage, months after testing positive for COVID-19.
The NHS details that people are recovering from COVID-19 at different rates, and even if your symptoms were mild, there's still a chance you could be experiencing long COVID. The Coronavirus (COVID-19) Infection Survey estimates that around one in five people who have tested positive for COVID-19, and exhibited symptoms, experienced them for five weeks or longer. One in 10 experienced symptoms for more than 12 weeks. Meanwhile, initial research into COVID-19 conducted by the University of Leicester found that of the 1,000 people they studied, seven in 10 hadn't recovered five months after they were discharged from hospital.
Dr. Brian O'Connor is a consultant in respiratory medicine, leading the newly-launched long COVID clinic at Cromwell Hospital. "The most common demographic we're seeing in our clinic is women, aged between mid-20s to mid-50s," Dr. O'Connor notes. "These women tend to be high achieving, and often have children. The reason they perhaps suffer most with long COVID could be due to the fact they're returning to a full-on lifestyle too quickly, and not allowing their bodies to recover," he says.
How can you test for long COVID?
Currently, the NHS recommends that if you've been diagnosed with COVID-19, and are worried that you've experienced symptoms for longer than four weeks, then you should speak to your GP. Your doctor is likely to ask you about your symptoms, and experience. They might also offer you a blood test, chest X-ray, or check your blood pressure, and heart rate.
Depending on the severity of your symptoms, your doctor may give you advice on how to manage at home or refer you on to a specialist. The British Lung Foundation explains that if you've been hospitalised with COVID-19, then you should automatically be contacted by a healthcare professional six weeks after you've been discharged, to check on how you're recovering, and ask about your symptoms.
Is there a cure for long COVID?
Initial research into long COVID has suggested that it can last for months, or even up to a year after diagnosis. Due to the fact that we've just hit the one year anniversary of the first lockdown, however, the true implications of long COVID are only now becoming clear.
While there isn't an official cure, Dr. O'Connor suggests that one of the best ways to treat long COVID is to give yourself as much time as you can to heal. "While it's important to seek help and advice from a medical professional, there are also steps you can take to manage symptoms at home," he says. "These include, eating a healthy, balanced diet, drinking enough fluids, and making sure you're getting enough sleep. Practising mindfulness is also a good way to help with symptoms of anxiety."
Dr. O'Connor advises that you should take recovery from long COVID slowly. "Be realistic in the plans you're making – for example, try to get tasks you need to complete done in the morning, when you're likely to have the most energy." He also suggests building up the exercise you can do, even if it's just a short walk, and creating a routine for yourself that helps you feel supported.
Specialist units dedicated to managing patients with long COVID are now popping up in hospitals around the UK, to help provide the necessary rehabilitation. "In our clinic we're creating individual treatment plans for each patient. These include support for physical symptoms, such as respiratory, muscle or joint pains, and palpitations, plus mental health implications including insomnia, anxiety, and depression," Dr O'Connor explains. "As well as this outpatient clinic, we've also set up an inpatient one where patients can stay in the hospital, and are able to receive the care they need while they're there."
If in doubt, the NHS recommends your first point of call should be your GP.