Is It COVID Or Is It Just Allergies?
Seasonal sniffles hit a little different in a pandemic.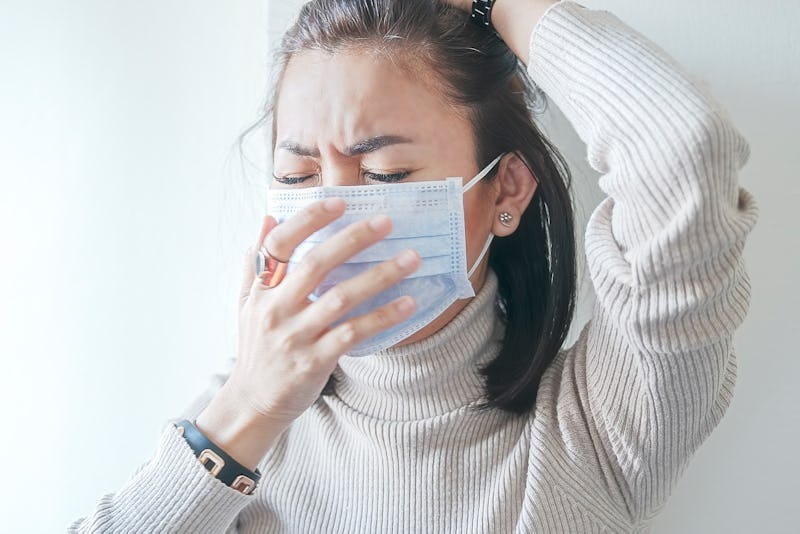 Enes Evren/E+/Getty Images
Any change in season means that, most likely, seasonal allergies are afoot. Allergies are typically anywhere from mildly to extremely annoying, but your allergy symptoms might be more worrisome than irksome during the coronavirus pandemic. If you're starting to cough a lot, how can you tell the difference between COVID-19 and regular allergies?
What Are The Symptoms of COVID Vs. Allergies?
"[Allergy] symptoms can be similar to coronavirus, but there are important differences," says Dr. John Whyte, M.D., chief medical officer of WebMD. If you have seasonal allergies, you're more likely to have a runny nose, congestion, and itchy or watery eyes, which are not typically found in coronavirus patients, Whyte says.
Per the World Health Organization (WHO), symptoms of coronavirus include fever, tiredness, loss of taste or smell, and a dry cough that doesn't involve mucus or blood. Some COVID-19 patients might experience aches and pains, congestion or runny nose, a sore throat, or diarrhea, but fever is the most common symptom. Shortness of breath or difficulty breathing may occur in serious cases.
How Can You Tell If It's Allergies Or COVID?
"The only way to be completely sure that your symptoms are due to allergies and not COVID is to get tested for COVID," says Dr. Sanjeev Jain, M.D., a doctor double-board certified in immunology and internal medicine at Columbia Asthma and Allergy Clinic. "If getting COVID tested is not an option, we recommend self-isolating until the symptoms have resolved to reduce person-to-person contact. When self-isolation is not feasible, we recommend wearing a mask around the other people in your home to reduce the spread of germs when sneezing or coughing."
"Patients with seasonal allergies are unlikely to experience a fever, nausea, vomiting, diarrhea, muscle or body aches, or new loss of taste or smell," Dr. Jain says. "If someone is experiencing any of these symptoms, especially without eye, ear, or nasal symptoms, allergies are unlikely to be the cause."
Taking your temperature is also a way to differentiate. "Fever is a hallmark of COVID-19 and will not occur with allergies," Dr. Sharon Orrange, M.D., associate professor of clinical medicine at the Keck School of Medicine of the University of Southern California and medical expert for GoodRx, tells Bustle.
You can also think on the allergy symptoms you tend to experience from year to year. "Many patients with allergies have experienced allergy symptoms before," Dr. Jain tells Bustle. Pay attention to the symptoms you've typically had in the past, and the specific timing of your flare-ups. "Allergy symptoms typically get worse when a person has more frequent exposure to the allergen, and they tend to improve when exposure to the allergen is reduced," he explains.
"A patient with COVID may mistake a cough, shortness of breath, fatigue, headache, sore throat, or congestion and runny nose with seasonal allergies if they have experienced these symptoms before," Dr. Jain says. "In the absence of the more common COVID symptoms such as a cough and fever, a mild presentation of COVID is more likely to be mistaken for allergies."
Do Allergies Make You More Susceptible To COVID?
The Centers for Disease Control and Prevention (CDC) says that there isn't enough data to definitively state whether allergies increase someone's risk for getting COVID or developing severe symptoms. A study published in the journal Allergy near the beginning of the pandemic found that allergies are not associated with increased risk of coronavirus infection in the first place — but this study was only conducted with 140 patients, and also found that asthma doesn't increase risk (which has since been disputed). Another study of almost 200,000 patients in South Korea, published in Journal of allergy and clinical immunology in Oct. 2020, found that people with pre-existing allergic rhinitis were more likely to have serious COVID, but not necessarily more likely to catch it.
A common allergen, airborne pollen, might also increase COVID risk. A 2021 study of 31 countries published in PNAS also found that the higher the pollen count, the higher the COVID-19 infection rate, even in people who didn't have hay fever. It's good to know that allergies may not make you more susceptible by themselves, but it also helps to be able to distinguish allergy symptoms from viral symptoms.
Having Allergies During A Pandemic
Sometimes, however, you do know that it's only allergies — but the people around you might not. By now, you're likely well versed in social distancing — avoiding crowded places, working from home, wearing your mask, and staying six feet away from others — to help prevent coronavirus' spread. Keep practicing good hygiene by coughing or sneezing into your elbow, and washing your hands thoroughly for 20 seconds afterward.
"If for some reason you think you may have coronavirus or been exposed to coronavirus, be sure to call your doctor's office first before going there," Whyte tells Bustle. But if your symptoms mostly consist of the sneezing and itchy nose that usually creep up this time of year, the likely cause is allergies, not coronavirus.
Experts:
Dr. Sanjeev Jain, M.D., doctor double-board certified in immunology and internal medicine, Columbia Asthma and Allergy Clinic
Dr. John Whyte, M.D., chief medical officer, WebMD.
Dr. Sharon Orrange, M.D., GoodRx medical expert and associate professor of clinical medicine at the Keck School of Medicine of the University of Southern California
Studies cited:
Damialis, A., Gilles, S., Sofiev, M., et al. (2021) Higher airborne pollen concentrations correlated with increased SARS-CoV-2 infection rates, as evidenced from 31 countries across the globe. Proceedings of the National Academy of Sciences. 118 (12) e2019034118; DOI: 10.1073/pnas.2019034118
Yang, J. M., Koh, H. Y., Moon, S. Y., Yoo, I. K., Ha, E. K., You, S., Kim, S. Y., Yon, D. K., & Lee, S. W. (2020). Allergic disorders and susceptibility to and severity of COVID-19: A nationwide cohort study. The Journal of allergy and clinical immunology, 146(4), 790–798. https://doi.org/10.1016/j.jaci.2020.08.008
Zhang, J. J., Dong, X., Cao, Y. Y., Yuan, Y. D., Yang, Y. B., Yan, Y. Q., Akdis, C. A., & Gao, Y. D. (2020). Clinical characteristics of 140 patients infected with SARS-CoV-2 in Wuhan, China. Allergy, 75(7), 1730–1741. https://doi.org/10.1111/all.14238
This article was originally published on