Dieta Culture & Me
"My unhealthy eating behaviors were so embedded in the culture I was raised in that they never seemed like a problem that needed treating."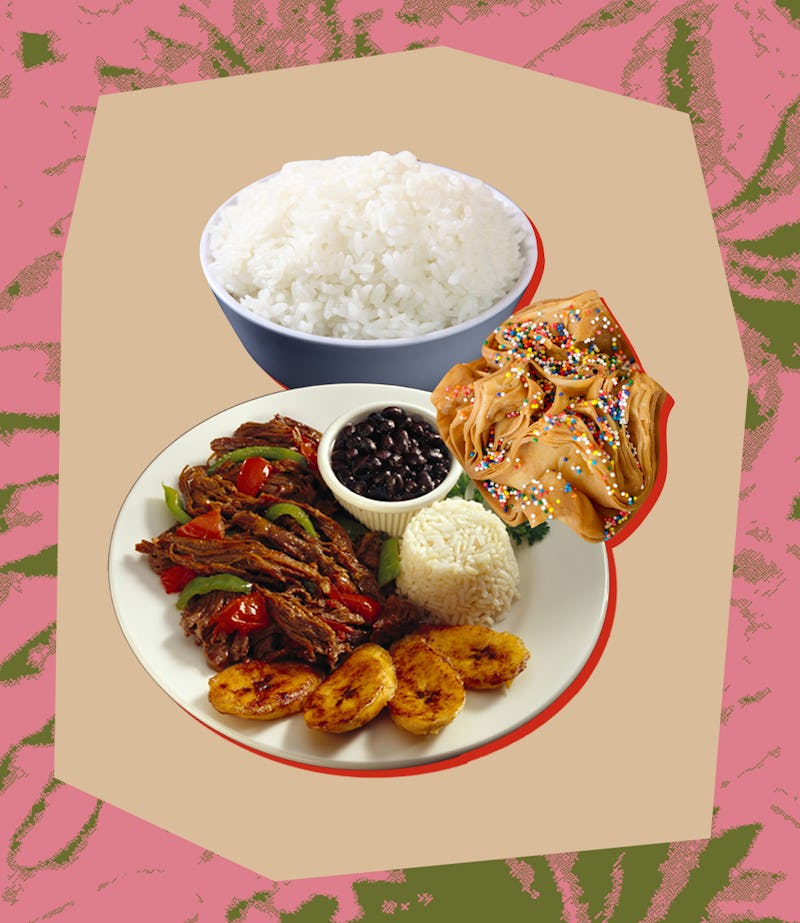 whitewish, Michael Berman, Lew Robertson/Getty Images
Para leer este ensayo en español, desliza hacia abajo.
My eating habits, like those of many others, have changed during the pandemic. In my 400-square-foot apartment in Illinois, where I spend most of the day alone typing away at my computer, it's easy to lose track of time and meals. Some days, I'll push through with only a cup of coffee in my system; others, I'll eat to the point of nausea. So I subscribed to a nutritionist's online meal plan a few weeks ago to take the work out of planning what to feed myself.
The recipes are about what you'd expect: turkey and cheese roll-ups for lunch, spaghetti squash for dinner. They're a world away from the food I bring back from visiting my childhood home in Miami: bakery ham croquetas and pastelitos de queso, neatly packed in Tupperware to whisk through TSA. Nor do they have anything in common with my mom's picadillo de pavo, a typical weeknight meal I crave on especially cold Midwestern nights.
Those foods that raised me, though, have also, over the years, been the first ones I'd reject in pursuit of a body that was different from mine — replaced by food like the meal plan I'm on now. And while I'm comforted by the ease and simplicity of the nutritionist's recommendations, and that they represent me taking charge of my health, I also fear falling back into years of fad dieting and calorie counting. So this time, I'm trying to do things differently — to let myself learn that the cuisine I grew up on can be healthy, too.
I went on my first diet in the fourth grade. My mom decided we'd give up white rice — one of my household staples — so I could fit into a dress for my school play. This was only my first foray into restricting myself in the name of "health." The teen magazines I devoured in middle school extolled breakfast smoothies and vegetables I'd never heard of as the peak of wellness. The diets I pursued for the next 10 years followed that logic: "Healthy" living required learning a new cast of foods and recipes, putting my family's Cuban go-tos on the back burner.
But I didn't just get these messages from mainstream — aka, non-Latinx — media. Dieta culture is as embedded in Latinx traditions as the recipes we learn to make alongside our mothers. The Latinas in my mom's and my friendship circle compared various tips and tricks: la dieta de sopa, an all-soup diet, or eating pineapple at night to drop pounds. My mother and I would tag-team a different diet every few months, accomplices in the mission to shrink.
"Healthy" living required learning a new cast of foods and recipes, putting my family's Cuban go-tos on the back burner.
Dieta culture's grip can normalize disordered eating habits, to the point where you don't even recognize the warning signs. It took time for me to realize that behaviors I'd been doing for years fit the bill. When these techniques actually made me lose weight, I'd receive praise — "te vas más flaca," you're getting skinnier — from the women in my circle, down to the corner Walgreens cashier. When they didn't, the first foods these women recommended I cut — like croquetas or panetela — were always the ones I loved.
Research has established that a lifetime of jumping from diet to diet, from keto to paleo to juice cleanses, can develop into more dangerous disordered eating habits, like mine, if not outright eating disorders. A 2008 survey found that 65% percent of American women between the ages of 25 and 45 reported disordered eating behaviors, and the National Eating Disorders Association says 20 million women will have an eating disorder at some point in their lives. But exact numbers don't exist for the prevalence of diagnosed eating disorders among Latinas, because experts say it so often goes undetected: When eating disorders are portrayed as affecting white, non-Latina women, Latinx women might not believe they "fit the mold." People of color are less likely to seek treatment for an eating disorder due to cultural differences and fear of rejection, suggests a 2011 study published in the International Journal of Eating Disorders.
These archetypes bleed into how health care providers treat patients too, making them less likely to diagnose Latinas' eating behaviors as problematic. And when treatment is available, the interventions that work for white women — like regulating meal times — aren't necessarily appropriate for Latinas, as one 2017 study by researchers at the University of North Carolina at Charlotte showed. For me, my unhealthy eating behaviors were so embedded in the culture in which I was raised that they never seemed like a problem that needed treating.
Wellness culture, despite its outward rejection of mandates to lose weight, further cements the message that my cultural foods and a healthy lifestyle are mutually exclusive. Over the past year, I've watched as women I knew in high school transformed into Instagram fitness gurus, vocally rejecting the Latinx cuisine they grew up on for a "healthier" choice — air-fried salmon replacing arepas, roasted eggplant over empanadas. Every other Instagrammer offers cauliflower as a healthy swap for rice, or lettuce for tortillas, insinuating that traditional Latin American dishes are always "cheat meals."
But our meals aren't the issue. Most Friday nights in high school I'd go to Sergio's, a local Cuban restaurant, with my family. My order was always the same: grilled chicken, white rice and beans, and Cuban bread. I'd enjoy massive portions that would leave me unbuttoning my jeans in the car ride home. But there was nothing especially unhealthy about the dish itself — the delicious spiced beans are rich in fiber; chicken is lean protein. Instead, no one ever taught me to recognize when my body was full.
Whenever I reject the fact that I want pastelitos and pan cubano on a Sunday morning, I always overeat; once I give in to the craving, it's difficult to know when to stop. Believing that a nutritious life can't include the foods I grew up eating only made my relationship to my body and health even more fraught. I've spent years pining for an unattainable lifestyle and version of myself, and I'd like to change that.
I'll likely have to work on my relationship to eating for the rest of my life. But I know I can repair my understanding of health — by knowing it's a lifetime commitment, not a fad diet. That also means accepting that a lifestyle without the dishes that raised me isn't one worth pursuing.
Some nights, instead of whatever the meal plan has in store for me, I cook my mother's garbanzos filled with chorros of olive oil. When I miss the warmth of Miami, I cook ropa vieja. The laborious process of finely chopping peppers for a sazón, letting it soak, and pan frying the mashed chicken with limón, reminds me that good things take time.
Mi relación con la cultura de dietas
Mis hábitos alimenticios, como los de muchos otros, han cambiado durante la pandemia. En mi apartamento de 400 pies cuadrados en Illinois, donde paso la mayor parte del día escribiendo en mi computadora, es fácil perder la noción del tiempo y las comidas. Algunos días, solo consumo una taza de café; otros, como hasta el punto de sentir náuseas. Así que me suscribí a un plan de alimentación de un nutricionista hace unas semanas para evitar el trabajo mental de planificar qué comer durante el día.
Las recetas son lo que uno podría esperar: rollitos de pavo y queso para el almuerzo, espagueti de calabaza para la cena. Están a un mundo de distancia de la comida que usualmente traigo después de visitar la casa de mi familia en Miami; croquetas de jamón y pastelitos de queso, cuidadosamente empaquetados en táper para pasarlos a través del control de los aeropuertos. Tampoco tienen nada en común con el picadillo de pavo de mi madre, una comida típica que anhelo en las noches especialmente frías donde vivo actualmente.
Sin embargo, esos alimentos que me criaron también han sido, a lo largo de los años, los primeros que elimino de mi dieta cuando estoy en busca de un cuerpo diferente al mío, y son reemplazados por alimentos como el plan de comidas en el que estoy ahora. Y, aunque me reconforta la facilidad y simplicidad de las recomendaciones de los nutricionistas, también temo volver a caer en dietas de moda y conteo de calorías constante. Esta vez, estoy tratando de hacer las cosas de diferente manera para permitirme aprender que la cocina con la que crecí también puede ser saludable.
Hice mi primera dieta en cuarto grado. Mi mamá decidió que dejaríamos de comer arroz blanco, uno de los alimentos básicos de mi hogar, para que pudiera ponerme un vestido para la obra de mi escuela. Esta fue mi primera incursión en restringirme en nombre de la "salud". Las revistas para adolescentes que devoré en la escuela secundaria celebraban el consumo de batidos durante el desayuno y verduras de las que nunca había oído hablar como la cima del bienestar. Las dietas que seguí durante los siguientes 10 años continuaron con esa lógica: una vida "saludable" requería aprender un nuevo elenco de alimentos y recetas, dejando a los típicos platos cubanos de mi familia en un segundo plano.
Pero no solo recibí estos mensajes de los medios convencionales. La cultura de dieta está tan arraigada en las tradiciones latinx como las recetas que aprendemos a hacer junto a nuestras madres. Las latinas de mi círculo han comparado y compartido varios consejos y trucos durante nuestros años de amistad: la dieta de sopa o comer piña por la noche para bajar de peso son algunos ejemplos. Mi madre y yo probamos una dieta diferente cada pocos meses, cómplices en la misión de encoger nuestros cuerpos.
Una vida "saludable" requería aprender un nuevo elenco de alimentos y recetas, dejando a los típicos platos cubanos de mi familia en un segundo plano.
La cultura de dieta puede normalizar los hábitos alimentarios desordenados, hasta el punto en que ni siquiera reconoces las señales de advertencia. Me tomó tiempo darme cuenta que los comportamientos que había estado haciendo durante años encajaban a la perfección con problemas alimenticios. Cuando estas técnicas realmente me hacían perder peso, recibía elogios ("te vas más flaca") de parte las mujeres de mi círculo, hasta la cajera de la farmacia de la esquina se atrevía a comentar sobre mi cuerpo. Cuando no lograba bajar de peso, los primeros alimentos que estas mismas mujeres recomendaban que cortara de mi dieta, como croquetas o panetela, eran siempre los que más me encantaban.
Estudios han establecido que toda una vida de saltar de una dieta a otra — de keto a paleo y a las limpiezas de jugos — puede convertirse en hábitos alimenticios desordenados o directamente en trastornos alimentarios. Una encuesta de 2008 encontró que el 65% de las mujeres estadounidenses entre las edades de 25 y 45 reportaron comportamientos alimentarios desordenados, y la Asociación Nacional de Trastornos Alimentarios dice que 20 millones de mujeres tendrán un trastorno alimentario en algún momento de sus vidas. Pero no existen cifras exactas para la prevalencia de trastornos alimentarios diagnosticados entre las latinas, ya que los expertos dicen que a menudo pasan desapercibidos. Cuando se describe que los trastornos alimentarios afectan a mujeres blancas no latinas, es posible que las mujeres latinas no crean que "encajen en el molde". Las personas de color tienen menos probabilidades de buscar tratamiento para un trastorno alimentario debido a las diferencias culturales y por miedo al rechazo, sugiere un estudio de 2011 publicado en el International Journal of Eating Disorders.
Estos arquetipos también influyen en la forma en que los proveedores de atención médica tratan a los pacientes, lo que los hace menos propensos a diagnosticar los comportamientos alimentarios de las latinas como problemáticos. Y cuando hay tratamientos disponibles, las intervenciones que funcionan para las mujeres blancas, como regular los horarios de las comidas, no son necesariamente apropiados para las latinas, como mostró un estudio de 2017 realizado por investigadores de la Universidad de Carolina del Norte. Para mí, mis conductas alimentarias poco saludables estaban tan arraigadas en la cultura en la que me criaron que nunca parecieron un problema que necesitara tratamiento.
La cultura del bienestar, a pesar rechazar el concepto de perder peso para ser saludable, consolida aún más el mensaje de que mis alimentos culturales y un estilo de vida saludable son mutuamente excluyentes. Durante el año pasado, he visto cómo mujeres que conocí en la escuela secundaria se transformaron en gurús del fitness en Instagram, rechazando vocalmente la cocina latina en la que crecieron por una opción más "saludable": salmón en lugar de arepas, berenjena asada sobre empanadas. El coliflor es una recomendación favorita de estos gurús como un intercambio saludable para el arroz, o lechuga en vez de tortillas, insinuando que los platos tradicionales latinoamericanos son siempre "comidas trampa".
Pero nuestras comidas no son el problema. La mayoría de los viernes por la noche en la escuela secundaria iba a Sergio's, un restaurante cubano, con mi familia. Mi pedido era siempre el mismo: pollo a la plancha, arroz blanco con frijoles y pan cubano. Disfruté de porciones enormes que me hacían tener que desabotonar mis jeans en el viaje en auto de regreso a casa. Pero no había nada especialmente malsano en el plato en sí: los deliciosos frijoles son ricos en fibra; el pollo es proteína magra. El problema estaba en que nadie me enseñó a reconocer cuando mi cuerpo estaba lleno.
Siempre que intento rechazar mi antojo de pastelitos y pan cubano un domingo por la mañana, termino comiendo en exceso. Es difícil saber cuándo parar. Creer que una vida nutritiva no puede incluir los alimentos que comí cuando crecí solo hizo que mi relación con mi cuerpo sea aún más tensa. He pasado años deseando un estilo de vida inalcanzable y una versión de mí misma diferente a la actual, y me gustaría cambiar eso.
Probablemente tendré que trabajar en mi relación con la comida por el resto de mi vida. Pero sé que puedo reparar mi comprensión de la salud, sabiendo que es un compromiso de por vida, no una dieta de moda. Eso también significa aceptar que no vale la pena seguir un estilo de vida sin los platos que me criaron.
Algunas noches, en lugar de lo que me toca comer según el plan de comidas de mi nutricionista, cocino los garbanzos de mi madre con abundante aceite de oliva. Cuando extraño la calidez de Miami, cocino ropa vieja. El laborioso proceso de picar finamente los pimientos para un sazón, dejarlo en remojo y freír el puré de pollo con limón, me recuerda que las cosas buenas toman tiempo.