Leslie Sansone's At-Home Walking Workouts Are My New Obsession
The fitness personality's motto is "Walk, walk, walk, walk, walk."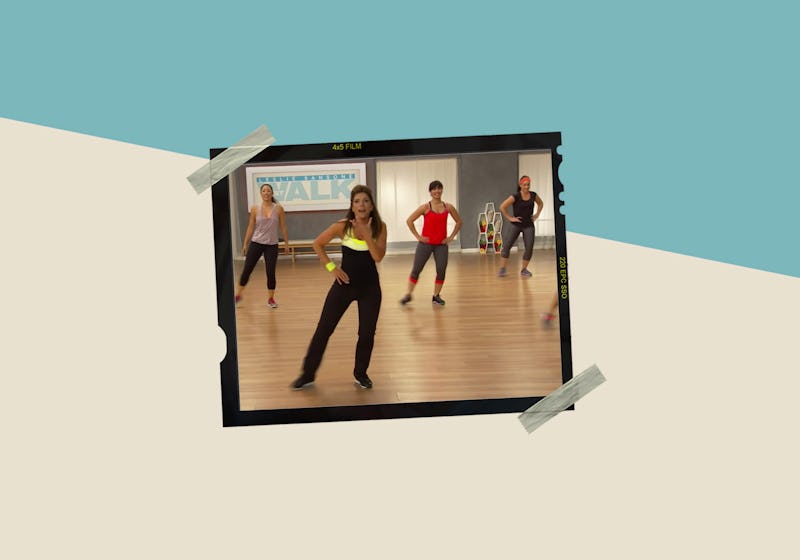 Leslie Sansone
Leslie Sansone's walk at home videos have millions of views on YouTube. Their popularity isn't because they feature brand new exercise moves or chart-topping music, but because the fitness personality's workouts are simple, motivating, and — in my humble opinion — chock-full of charming, '80s-style group fitness nostalgia.
This makes sense, seeing as Sansone released her first fitness video in 1980. She's also the creator of Walk at Home, aka the number one indoor walking fitness program designed to "get you walking in the comfort of your home." As someone who loves walking and the comfort of my home, I figured they'd be the perfect match for my workout routine.
Note that these fitness videos aren't like the run-of-the-mill exercise sesh you'd typically stream from workout studio platforms or trainers. If you take a look at Sansone's Walk at Home YouTube channel, you'll see lots of walking workouts to choose from, all of which focus on marching place — so her exercise style is ideal for days when you don't want to go to the gym, burpee through the air, or change out of your pajamas.
The channel is also a jackpot of content that'll help you get more steps. According to a survey conducted by OnePoll on behalf of Superfeet, 2,002 respondents said they already take an average of 5,900 steps a day, but many hoped to double that amount this year. And I'm right there with them: I've been all about making sure I take enough steps, especially since I work at a desk all day. Needless to say, I was down to try Sansone's Walk at Home workouts — read on for what my experience was like.
Leslie Sansone's Walk At Home Videos
According to the Walk at Home YouTube channel, Sansone's videos offer a myriad of ways you can walk for better strength and overall health. You could call Sansone the queen of creative walking: Her channel has a vast range of classes that vary by length, intensity, mood, and distance, among other categories. The 30 Minute Boosted Fitness Walk, for instance, promises to help you "feel more focused and have more energy" with its mix of fast walking and side steps. Other videos include the "2 Mile Walk", a "20 Minute Boosted Walk," the "1 Mile Happy Walk", and her "FAST Walking 30 Minutes" session, but all share the common thread of Sansone's walk-in-place exercise variations — think step-outs with coordinating arm punch-outs, walking forward and backwards, step and kicks, and easy jumping, to name a handful. I never knew indoor walking could be such a versatile activity.
First Impressions
I decided to try Sansone's Fast Walking 30 Minutes video, a fan-fave workout that has nearly 100 million views and over 500,000 likes. I figured I'd march or walk in place throughout the entire workout, with maybe a few extra moves — squats? lunges? — thrown in. For the most part, I was spot-on. It is 30 minutes of marching in place, basically.
What I wasn't prepared for was Sansone's peppy encouragement, '80s-style arm raises and grapevines, or her gaggle of enthusiastic backup exercisers decked out in matching tops and red shoes. Something about the whole thing felt so cozy and happy. So yes, maybe I did have a weirdly big grin on my face the entire time.
The Walk Walk Walk Experience
At the start of the video, Sansone spends time explaining the point of the '80s beats. Each song is chosen so you can easily match your steps to the rhythm and hit a certain "mile per hour." As you march, she reminds you to keep moving by saying, "Walk walk walk walk walk" — a signature phrase of hers that quickly becomes a soundtrack of its own.
I followed along as Sansone interspersed the walking with hamstring curls, arm pull-downs, mini squats, kickbacks, knee raises, and again, lots of grapevines, which meant the workout actually worked all of my muscle groups. Sansone also took the time to explain the goal of each move, with all the pep and care you'd expect from someone who's been in the game for decades.
To me, a walking workout can feel a little too easy at times, so it was a nice reminder that each move was hitting a certain muscle and thus giving me a good workout, even though my muscles weren't "burning", per se. "It feels good to move around and put those muscles in motion," Sansone announced. And I had to agree.
My Takeaway
There really is something to be said for the constant-walk-gentle-workout combo. It definitely got my heart rate up, but not so much that I was mentally begging for the workout to end. And because Sansone was always adding new moves, I noticed that I never felt bored. Right when I got a little too used to a side step, legs raise, or grapevine, it was time to "walk walk walk walk walk."
The routine ended with a heel-down step and slower march, which Sansone said helps get your breathing back to normal. In perfect fitness guru style, she counted down from eight (and seven, and six) with all her backup exercisers in perfect step behind her. Her classes are just so cute and IMHO definitely worth a try, whether your goal is to take more steps or fit in some movement set to '80s beats — all without leaving your house.