11 Meditation Podcasts To Help You Sleep
Sweet dreams, courtesy of the play button.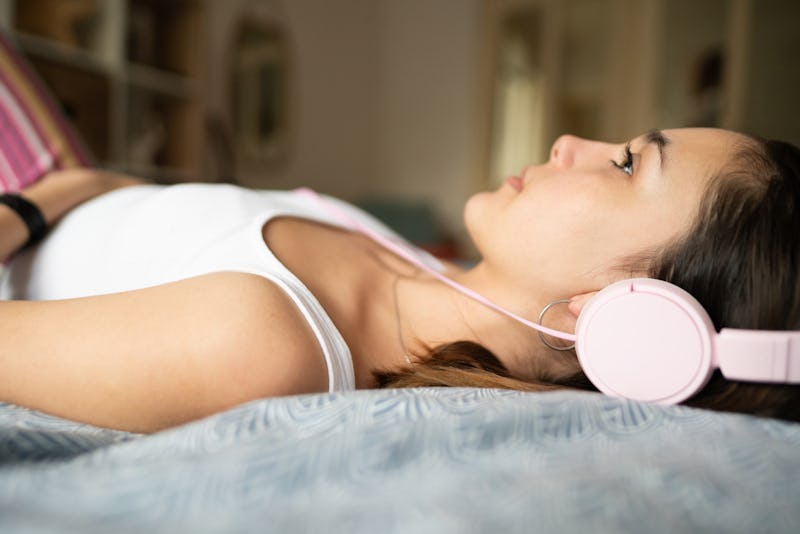 SrdjanPav/E+/Getty Images
Even if you've tired yourself out with a full day of work, an hour of yoga, and 45 minutes of tearing the house apart looking for your cat, you might not be ready to drift off when your head hits the pillow. Maybe you're thinking about that promotion, or you're so stressed about a fight with a friend that dropping off feels impossible. Putting into a more relaxed state with meditation can really help. Enter: meditation podcasts for sleep.
"Mindful meditation has gained praise for its ability to quieten the mind and body to enhance inner contentment," Dr. Seema Sarin M.D., head of lifestyle medicine at EHE Health, tells Bustle. And whether your sleep difficulties stem from anxiety, pain, insomnia, or something else, she says meditation can help soothe yourself in the evenings. "Meditation involves more than simply slowing your breathing and releasing your chaotic thoughts — it can reduce your stress levels, and improve your sleep," she says.
Podcasts can be preferable to guided meditation apps — or simply sitting on a cushion to chill out — because they're generally free and easily accessible offline, and involve a huge variety of content. Some meditation apps actually produce their own podcasts, but wherever you source yours, all you have to do is click Play. Read on for meditation podcasts to listen to before bed.
Expert:
Dr. Seema Sarin M.D.
Studies cited:
Black, D.S., O'Reilly, G.A., Olmstead, R., Breen, E.C., Irwin, M.R. (2015) Mindfulness Meditation and Improvement in Sleep Quality and Daytime Impairment Among Older Adults With Sleep Disturbances: A Randomized Clinical Trial. JAMA Intern Med. 175(4):494–501. doi:10.1001/jamainternmed.2014.8081