Methodology Is The Food Delivery Service Of My Millennial Dreams
And it all comes in pastel-colored bento boxes.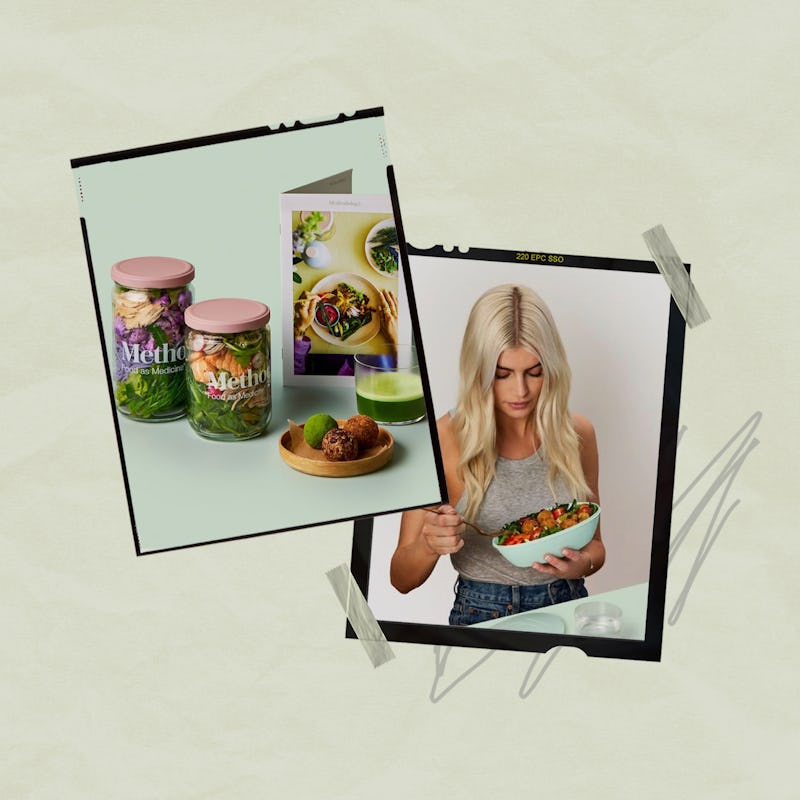 Methodology
We may receive a portion of sales if you purchase a product through a link in this article.
At this point, it seems like there are too many food delivery services to count — and I feel like I've tried all of them. I love receiving a box at my door with ingredients and recipes so that I don't have to grocery shop or overthink what to cook. What I didn't know I needed? Pre-prepared meals that come in pastel bento boxes, along with my own set of chic reusable silverware (with pink handles, BTW). *Faints in millennial*
Little touches like these are what set Methodology, a food delivery service that's meant to be a tad luxe, apart from its competitors. I'm so used to ripping into meal kits that come wrapped in plastic, with each ingredient in its own bag. By the time I'm done assembling the pasta or fried rice, my kitchen is practically shrink-wrapped. Methodology, on the other hand, does everything possible to stay sustainable — without sacrificing taste.
Also, as someone who has a tendency to live off snacks from my corner store, I really appreciate having a fridge full of real meals. As in: tasty food with actual vitamins and minerals. On a good week, I'll schlepp to the grocery store, fill a cooler bag with ingredients, and do a big Sunday meal prep — but with my busy schedule, those weeks are few and far between. Methodology solved all of these mini-problems for me, and it was such a treat.
Below, my honest review of what it was like to try Methodology for a week.
Fast Facts
Price: $18 to $28/a meal
Best for: Folks with busy schedules, foodies
My rating: 4.5/5
What we like: Gourmet-style food, sustainable packaging, clinically-backed nutrition
What we don't like: On the pricier side
What Is Methodology?
Methodology is a food delivery service that started in California in 2015. Co-founder and CEO Julie Nguyen simply wanted to bring the quality you'd expect from high-end restaurants to the world of meal delivery services. Beyond that, the food is healthy, too. The menus change every week, but they're always free of gluten, dairy, and refined sugar.
Nguyen created Methodology to tick quite a few boxes: She wanted to serve up food that's not only flavorful — and totally worthy of an Insta post — but also sustainable and good for you. She's all about clinically-backed nutrition and gut health, which is why she partnered with nutrition researcher Dr. Christopher Gardner of Stanford University to make sure each meal has what you need.
The lunch and dinner menu, designed by co-founder Stephen Liu, comes pre-cooked and pre-made in a chilled box. All you have to do is pop the containers in the fridge and you're stocked for the week. You can eat the meals cold right out of the jar or bento box, or toss them in the microwave or on a stovetop for a quick, five-minute reheat. (There are instructions for each meal on the lid.)
Try the newly-launched 5-Day Methodology Signature Reset meant to optimize your gut health with uber-nutritious foods. Choose either the meat or vegan option and you'll get five lunches, five snacks, and dinners — no breakfast for this one — in either standard or large sizes, depending on your needs. Prices range from $350 to $460 and vary depending on your zip code, meal size, and ingredients. California residents also have the option to do Methodology's weekly subscription service, which includes breakfast and costs about $15 per meal.
How It's Sustainable
Nguyen and her team took over two years to figure out how to sustainably make and deliver fresh food. The result? Methodology's proprietary food packaging system, aka the aforementioned collection of adorable recyclable bento boxes and glass jars that you can either keep, recycle, or return for re-use. Both types of containers are lightweight, leak-proof, and microwavable — and they look really cute all stacked up in your fridge.
The 5-Day Reset
My Methodology delivery was scheduled to arrive on a Monday and, not to be dramatic, I may have gasped when I opened the box — it was all so aesthetic. And it came with reusable freezer bags that kept everything cold until I was able to drag it inside.
As a vegetarian, I went with the vegan option in a standard size. There were five dinners, five lunches, and five snacks all neatly packed in an assortment of containers, along with a pink, reusable silverware kit with a knife, fork, spoon, and chopsticks. Some example meals that came in my delivery: vegan Moroccan roasted carrots and quinoa wild rocket arugula salad, ginger-coconut sweet potato and kale stew with curied caviar lentils, poblano and zucchini cakes and smoky almond romesco, BBQ tempeh and herb roasted marble potatoes. And plenty of vegan protein truffle balls to snack on.
The reset also included five flavored apple cider vinegar shrubs that you mix with water before each meal to minimize the glucose spike that can happen after eating, so that you stay energized. There were also five ceremonial matcha sachets for a morning or midday tea moment.
It also included a menu breaking down each day. Since some of the ingredients are more perishable than others, it's best to eat them in the recommended order so you don't accidentally leave a salad to wilt until the fifth day. Breakfast is up to you. You can choose to either eat the snacks, or follow one of the menu suggestions, like oatmeal with berries and an egg (not included). Each meal has directions on the lid, so you know how to heat it up, as well as a list of any potential allergens. All the ingredients are also included.
My Experience With Methodology
I kicked off each day with my own iced coffee and a homemade smoothie — and maybe a truffle ball or two. Before lunch, I tossed back half of the AVC shrub mixed with water, as directed, then went to town on my minted satsuma Mandarin roasted beet salad with braised tempeh.
Knowing that these meals were all lined up in the fridge was exciting and oddly comforting. Instead of grocery shopping — or running out for a hasty sandwich — I already had everything I needed right there. And it was all so good. I honestly felt spoiled after the first meal because of the unique ingredients that I don't usually eat. Was I in my kitchen, or had I been transported to a restaurant?
I was super impressed by how easy everything was to prepare, too. The instructions were basically "Take the veggies out, microwave the quinoa, put the veggies back on." Done and done. Some of the meals came with edible flowers or chopped nuts to sprinkle on top. (Nguyen and Liu are truly doing the most.) Each meal was a hit, save for one or two that felt a bit on the salad-y side for my taste. If it had sweet potato, quinoa, or lentil, though, I was all about it.
The Takeaway
I feel like I did something truly good for my health by eating Methodology for a week. I felt really good after each meal — like I'd absorbed some much-needed vitamins and nutrients. I also had so much fun trying the new-to-me ingredients.
I can see myself ordering Methodology a few times a year when I want to treat myself to some extra fancy delivery. While it's pricier than your average meal kit, it's because you're getting a perfectly-tailored, gourmet-level week of food made with fresh, unique ingredients. If you can swing it, I'd highly recommend giving it a try.