I Tried The Reflect Orb & Now I Actually Meditate
Here's what to know about the mindfulness tool.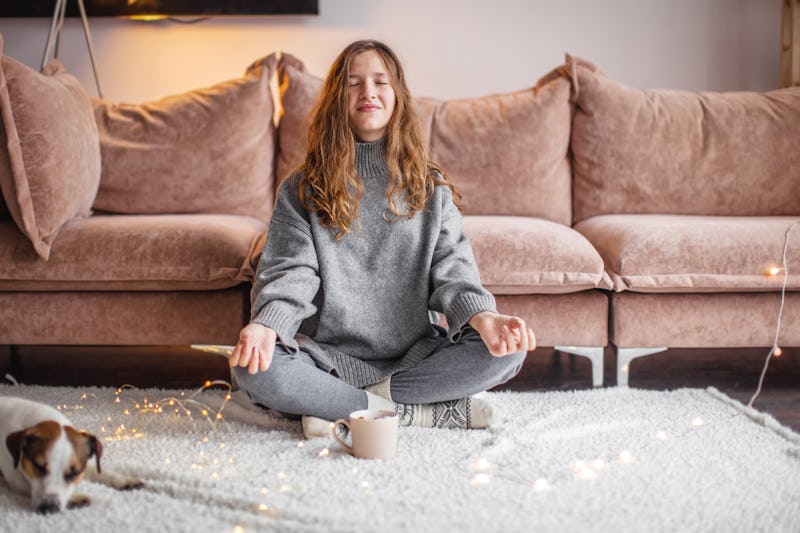 Shutterstock
We may receive a portion of sales if you purchase a product through a link in this article.
It's one thing to take a deep breath and feel a little more relaxed as you meditate. But imagine holding a squishy biofeedback ball in your hands as you breathe so you can actually see yourself chill out in real-time. This is what the Reflect Orb — a nifty meditation device — is all about.
The Reflect Orb is basically a little robot pal that encourages you to meditate by sending reminders, guiding you through the process, and lighting up with different colors that indicate how chilled (or stressed) you are in the moment. It does this using fingertip biofeedback sensors and an LED ring, two things that totally change the game for folks like me who struggle to sit still and breathe.
As someone who's had an on-again, off-again relationship with meditation and deep breathing, I was into the idea of being held accountable to something, even if it's just a glowing inanimate sphere. I also hoped the lights and feedback would encourage me to actually build a meditation habit, thanks to the dose of instant gratification. Keep reading for my honest review of the Reflect Orb after trying it out for a week. (Hint: It really did help me meditate more.)
Fast Facts
Price: $199.00
Best for: Learning to meditate, tracking your mindfulness, reducing stress levels
My rating: 4.5/5
What we like: Cute, easy to use, gives helpful personal info
What we don't like: Pricey, was tough to connect to wifi at first
What Is The Reflect Orb?
The Reflect Orb is a handheld sphere that works with an app to give you personalized info about your well-being. It uses biofeedback sensors to measure the physiological signals in your fingertips and "reflect" them back to you while you, uh, reflect on your state of mind. (There's a lot of reflecting going on.)
The finger sensors on the device detect your heart rate variability (HRV) and electrodermal activity (EDA), kind of like a fitness tracker. As you hold the Orb, it shows how calm you are by lighting up a colorful LED ring on the top of the orb. If the ring glows purple, it means you're tense. Blue means you're alert, turquoise indicates that you're relaxed, and if goes white, you're calm.
Because the light ring shows how you're feeling in real-time, it's supposed to help you tune into your stress levels so you eventually learn how to get them in check. Hold the Orb for a mid-day meditation, as part of a relaxation routine, or before bed as a way to wind down. Because it doesn't have a screen, you can use it at night without worrying about blue light messing with your sleep.
Pop into the Reflect app to pair your session with chill music or a guided meditation in the form of a soundtrack. Your Orb's light ring will "breathe" with you by changing colors, so you'll know how your body and mind are reacting. After you meditate, head to the dashboard to see your progress chart, which will tell you how many "moments of calm" you had — kind of like a sleep tracker that shows how deeply you slept. If you want, you can also journal in the app, too.
How To Use The Reflect Orb
Once you download the Reflect app and connect the orb to Bluetooth and wifi, you're supposed to sit down, get comfy, and align your fingers with the biofeedback electrodes. Once situated, go ahead and breathe deeply for one to three minutes and watch as the light ring changes colors.
Breathe and check in with how you're feeling. If you can get into the turquoise or white zone, that's great. If not, the goal is to simply notice what it feels like to be alert or tense. After you meditate, you can go into the dashboard on the app, sync your device, and see the "stages of calm" data. The chart updates every time you use the Orb so you'll know how calm you were throughout the week or the month.
My Experience
Like so many people, I go through phases with meditation. Sometimes I download a meditation app and envision myself sitting down every day for five to 10 minutes of mindfulness. But inevitably I forget all about it. Apps are easy to ignore, after all. They hide in the recesses of your phone and get lost in a sea of Wordle, TikTok, and Spotify. But an actual, physical orb? Not so easy to forget.
Having the Orb on my desk served as a physical reminder to take a breather. And because it's so unique looking — and kind of cute with its glowy ring — I not only remembered but actually wanted to meditate. Holding something while you meditate is very grounding and makes it easier to Zen out. In the case of the Orb, it's also inspiring to see your progress as you breathe. All of these factors had me coming back for more.
The first time I sat down with the orb it immediately turned blue, which meant I was alert. (I feel like that's a nice way of saying anxious, but OK.) While you can sit with your own thoughts, the Reflect app has relaxing playlists you can listen to as well, like Nature Sounds, Soft & Earthy, and Piano & Instrumental. Usually I sat in silence, but did enjoy the occasional "Soft Rain" or "Morning Brightness" moment.
Before committing to anything big, I decided to sit with the Orb every day for a week. The plan was to get comfy on a pillow, close my eyes, hold onto the device, check to see my color (usually blue), and take deep breaths once a day. Shockingly, I stuck with the plan... and kind of enjoyed it, TBH.
The Results
I don't know if I loved the Orb, the lights, the data, or all of the above, but something about the physical object and the biofeedback magically inspired me to meditate for a whole week. It was so satisfying to pick up the Orb for a few minutes and check in with myself.
As the week went on, I noticed that I did have a few white ring moments, which meant I was getting slightly better at relaxing. It sounds unimpressive, but any progress is good. Even though I usually had a blue ring and only managed to collect a few true moments of calm during each session, I realized that's totally OK. There's no shame in being alert or tense... it's just info that you can use to feel more in tune with yourself.
It's safe to say me and my Orb are officially besties. It's got me on a roll, so I plan to continue this meditation kick, even if it's just for a few minutes a day.
Studies referenced:
Brandmeyer, T. (2021). Meditation and the Wandering Mind: A Theoretical Framework of Underlying Neurocognitive Mechanisms. Perspect Psychol Sci. doi: 10.1177/1745691620917340.
Norris, CJ. (2018). Brief Mindfulness Meditation Improves Attention in Novices: Evidence From ERPs and Moderation by Neuroticism. Front Hum Neurosci. doi: 10.3389/fnhum.2018.00315.
Pop-Jordanova, N. (2020)> Electrodermal Activity and Stress Assessment. Pril (Makedon Akad Nauk Umet Odd Med Nauki). doi: 10.2478/prilozi-2020-0028.