10 Best Sex Positions For A Twin Bed
Sleeping in your childhood bedroom just got a little frisky.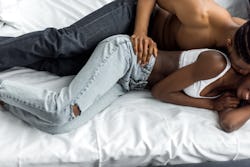 Shutterstock
When The Chicks wrote the 1998 banger "Wide Open Spaces," they definitely weren't talking about getting it on in a twin bed. Whether you've been quarantining at your parents' house or you permanently moved back home during the pandemic, knowing the best sex positions for a twin bed can help you make the most of a tight situation.
Nothing kills the mood faster than someone falling off their Spongebob comforter, so doing it on a twin bed can mean being extra vocal about the logistics (and of course, your desires). Though you may long for the days of a queen — heck, even a full — having sex on a twin bed is all about sweating the little things. You don't have a ton of room to work with, so you and your partner get to be super in tune and intentional with your movement. As always, the most important part of turning up the heat is getting clear on consent and boundaries. While trying a new move or position can be a great way to connect with your partner and learn more about your sex life, you never need to do anything you're not comfortable with — especially while you're at your parents' house.