9 Best Sex Positions For The Car
Shoutout to everyone back at home with their parents right now.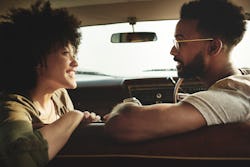 Dean Mitchell/E+/Getty Images
Although getting to have sex in a car isn't an opportunity that comes my way very often these days, I do remember how fun it was. Aside from a mutual masturbation situation with an ex a couple of years ago, the last time I had sex in a car was during a snowstorm in college.
It is, however, something you can continue doing into adulthood. And it's nothing to be ashamed about. "People have been having sex in cars since cars were invented," Cassandra Corrado, a sex educator, and brand consultant, tells Bustle. "We might think of car sex as something that horny teenagers do when they go to their town's Makeout Point, but people of any age can have car sex."
As Corrado points out, there are also those who have car sex not because they want privacy — aka, time away from roommates or kids — but because they want to get caught. "For people who thrive on exhibitionism or who want a little bit of an adventurous feel, car sex is a great option," Corrado says. "You might just get off on the thrill that someone could catch you."
Although sex in public can be hot and exciting for the exhibitionists out there, it is illegal. So, as Corrados suggests, it's best to find a place that's a "balance between public and private" when trying out these nine sex positions for the car.
Sex in the car can be really fun! It's all about not being afraid to try other positions that may not have crossed your mind as "sex-in-the-car" friendly. But there are still a couple of things to keep in mind.
"Be safe — and I mean in the driving sense," Corrado says. "It's way easier to knock your gearshift into neutral than you might think, so put your parking brake on — even if you live somewhere relatively flat. Don't forget to lock your doors, either." And, of course, choose a spot that is dark and private.
You're never too old to have sex in a car, so if you get the opportunity, then go for it.
Expert:
Cassandra Corrado, sex educator and brand consultant
This article was originally published on