20 Sexts For Long-Term Couples Who Live Together
Let's get takeout, so there's more time to make out.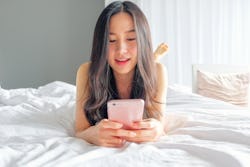 Shutterstock
Although your sex life may be at steamy as ever, "U up?" hits different when you and your boo share a bed that you picked out together at Ikea. If you're looking to spice up your inbox and your sex life, consider these sexts for long-term couples a blueprint for some titillating texting. When you and your partner live together, you may start to text more about paying the electric bill or buying the right toilet paper than your kinky fantasies or upcoming date night. And after months of quarantine, with no bars or parties insight, you and your boo may have fallen into a type of sexual routine.
Trina Leckie, relationship coach and host of Breakup BOOST podcast, emphasizes the importance of also keeping the sexy stuff alive. "That spark and closeness remind you why you are together and helps you get through problematic times," Leckie tells Bustle. "If you don't keep this alive, you may begin to feel more like friends or roommates."
Leckie adds that physical intimacy strengthens your emotional connection, builds trust, and relieves stress. For all those reasons (and you know, because sex is fun), here are 20 sexts to send your longtime boo to turn them on for a long time.
Source:
Trina Leckie, relationship coach and host of 'Breakup BOOST podcast'