How Much Alone Time Is Too Much?
"Trust that intuition," a family and marriage therapist tells Bustle.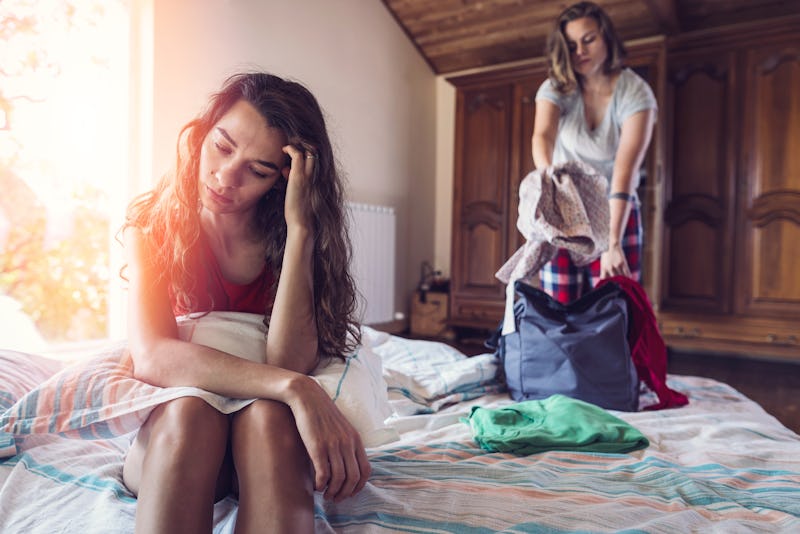 Mixmike/E+/Getty Images
Because of pandemic lockdowns, couples everywhere are coming off a year of essentially zero alone time. Even so, when your partner says, "I need space," it still hurts. It's an emotional gut punch, like in Sex and the City 2, when Big suggests Carrie sleep at her old place two nights a week. But on the other end of the cohabitation spectrum, there are folks like Gwyneth Paltrow, who spent the first year of her marriage to Brad Fulchuk living separately. "I think it certainly helps with preserving mystery and also preserving the idea that this person has their own life," Paltrow told Harper's Bazaar last year. So how much alone time is normal in a relationship? Clearly it's not that simple.
"Alone time is healthy, particularly in relationships," Joanna Townsend, a life coach and Washington, D.C., psychotherapist for Blush Online Life Coaching, tells Bustle. "It's imperative for recharging, re-centering, connecting with oneself, and being able to show up to the relationship fully." If your partner asks for some space, take a breath and review the facts. Here's when time apart is healthy, according to experts.
Experts:
Joanna Townsend, psychotherapist
Dr. Joshua Klapow, clinical psychologist
Dr. Nan Wise, cognitive neuroscientist and licensed sex therapist
Aimee Hartstein, LCSW, psychotherapist
Rachel Wright, psychotherapist
Dr. Logan Levkoff, sexuality and relationship educator
Yue Xu, co-host and co-creator of the Date/able podcast
This article was originally published on