9 Signs You're Mistaking Compatibility For Love
It could be why your relationship doesn't feel complete.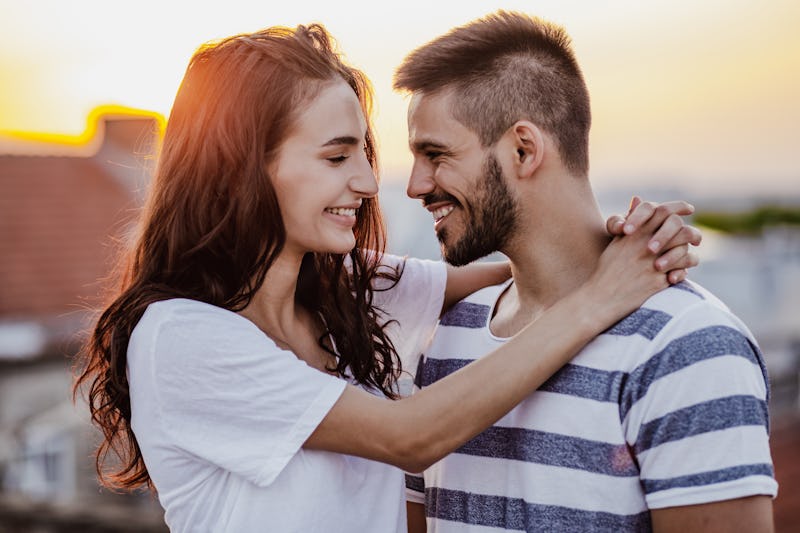 blackCAT/E+/Getty Images
So you've finally met someone you're compatible with in many different ways. For instance, you're both big on family, you like taking things slow, and you both share the same love for obscure horror films. And yet for some reason, something about the relationship just doesn't feel complete. If this situation resonates with you, experts say you may be staying with someone for the wrong reasons.
Relationship compatibility is important for long-term relationship success. But you shouldn't be with someone just because they're a great match on paper. According to experts, knowing the difference between being in a compatible relationship and a loving one can prevent you from staying in a relationship that isn't built on actual feelings.
"Compatibility means that you get along with somebody very well," Vikki Ziegler, relationship expert and author of The Pre-Marital Planner, tells Bustle. You're probably aware of what that looks like. When you're compatible with someone, you enjoy each other's company, you like the similar hobbies, and most importantly, you have similar views what you want in the future.
Love, on the other hand, is a deeper emotion that you feel for another person. According to Ziegler, it compels you to be near them, to help them, to support them, to nurture them, and to do everything you can to protect them. "Loving someone gives you goosebumps and 'butterflies' in your stomach," she says. "It makes your heart skip a beat and you want to be with that person all the time. It also has an emotional and sexual nature unlike compatibility, which doesn't always."
Basically, being in a compatible relationship means that you work well together and enjoy each other's company. You're in-sync but tend to act more like friends or friends with benefits, than two people who are actually in love. "You can have compatibility without love," she says. "But you can't have love without compatibility."
So here are signs you may be mistaking compatibility for love, according to experts.
Experts
Vikki Ziegler, relationship expert and author of The Pre-Marital Planner
Daniel Sher, psychotherapist
Sandy Weiner, dating and relationship coach
Susan Trombetti, matchmaker and CEO of Exclusive Matchmaking
Nina Rubin, M.A., relationship coach
This article was originally published on