Matchmakers Reveal The 20 Incompatible Qualities That End Relationships
It's time to think big picture.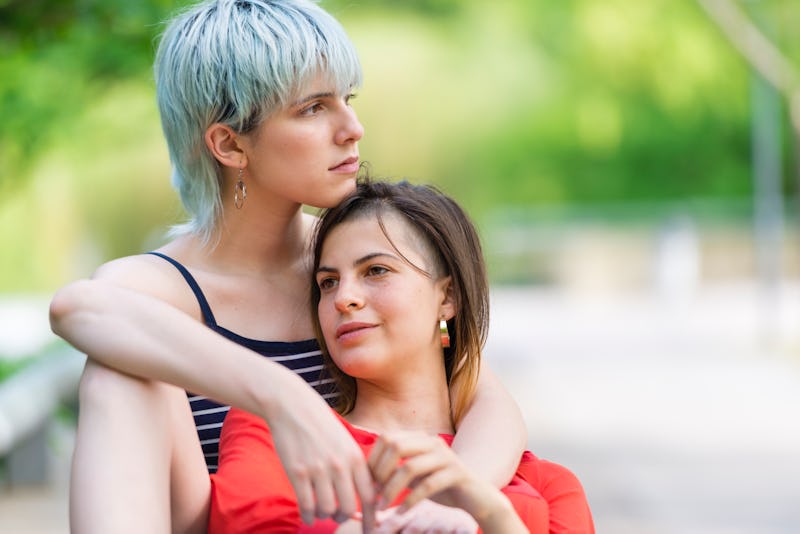 funky-data/E+/Getty Images
If you're looking for long-term relationship success, finding someone you're compatible with is key. Initially, that might mean bonding over a shared love for an obscure band, favorite restaurant, or cheesy 90s sitcom. But ultimately, you'll want to take a look at the bigger stuff — like your values, goals for the future, etc. — to determine if a relationship is truly in the cards.
This is exactly what professional matchmakers do, when pairing people up. Matchmakers consider what their clients have in common, but also keep an eye out for certain sets of incompatible qualities between partners, that usually mean a relationship won't work out.
"There are some obvious ones, like not wanting the same things in life, lifestyle choices in terms of travel or location, and relationship style (i.e., monogamous vs. polyamorous)," Melody Kiersz, a professional matchmaker with the digital matchmaking service Tawkify, tells Bustle. But there are lesser-known incompatibilities that often lead to breakups, too, like the ones addressed below.
Of course, not all of them are true dealbreakers. If a couple doesn't see eye-to-eye but addresses an issue right away, they might be able to overcome it — and their relationship very well may last long-term.
Sometimes, though, the differences are too great, or there simply isn't a way to compromise. And that's when going your separate ways may be best. With that in mind, here are 20 incompatible qualities matchmakers say aren't likely to lead to relationship success.
Experts:
Melody Kiersz, matchmaker
Michela Hattabaugh, matchmaker
Natalie Smith, matchmaker
Caitlin Bergstein, matchmaker
Rémy Boyd, matchmaker
Inayah Vanessa, matchmaker
Amie Leadingham, master certified relationship coach
Susan Trombetti, matchmaker
Sophy Singer, matchmaker
Mallory Love, matchmaker
Kimia Mansoor, matchmaker