The 9 Best Tai Chi Videos On YouTube
Do 'em in your living room.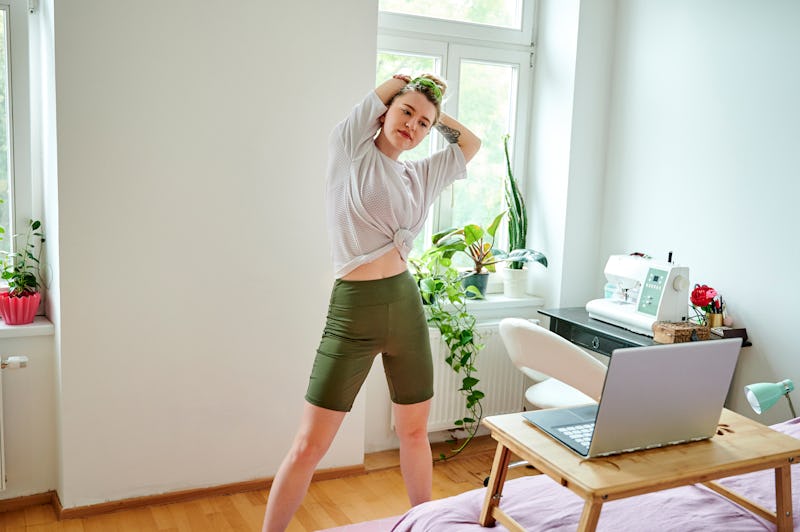 Charday Penn/E+/Getty Images
Want to try your hand at some tai chi but aren't yet ready to do it in the public? No worries — there are plenty of tai chi YouTube videos to stream that'll get you acquainted with the gentle movement practice.
The Chinese martial art is a form of exercise that's made up of postures that flow from one into the next, and is ideal whether you're feeling stressed, stiff, or simply in need of some new energy. "Tai chi helps a person become more aware of the connection between their body, emotions, and thoughts," Sifu Love, MA, a certified Qigong and spiritual martial arts instructor, tells Bustle. "Each movement is sort of a way to check in to see if the three are aligned, and to provide a structure to train in so you are able to bring the three into balance."
Regularly practicing tai chi brings you a range of both physical and mental benefits. In a fitness sense, it's low-impact (read: easy on the joints), boots your mobility, and improves your balancing skills. On the emotional wellbeing front, tai chi works as a stress-relieving moving meditation that enhances mindfulness, leaving you in a better mood.
Whether you're just getting started or are looking for a fresh fitness modality to add to your current routine, check out some of the various options below. A pro tip? When practicing tai chi, remember to go easy on yourself and be patient, says Love, especially if you're new. "It will take time to be able to flow through the movements, but once someone is able to do that, they will see tremendous health benefits."
Sources:
Sifu DeVante Love, MA, certified Qigong and spiritual martial arts instructor