20 Texts To Comfort Someone Who's Feeling Anxious, According To Therapists
"I know it's tough, but this feeling won't last forever."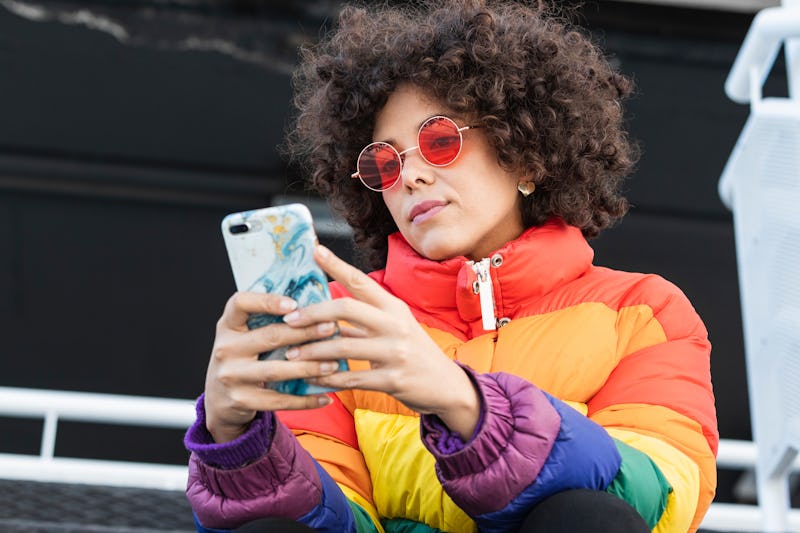 Westend61/Westend61/Getty Images
While you might feel at a loss for how to help, sending a text to someone who's anxious really can make a difference in how they feel. "Anxiety can be an isolating experience," Carrie Potter, LMHCA, a therapist who specializes in anxiety, tells Bustle, which is why reaching out is often "comforting and connecting."
Whether they have ongoing anxiety or are experiencing a rough patch in life, this person might worry that their emotions are a burden, Potter says, or that they're pushing you away by being "annoying" or needy. But a comforting text will serve as a reminder that they're loved, supported — and definitely not alone.
Just be sure to choose words that validate what they're experiencing while avoiding accidental brush-off statements, like "you need to calm down" or "everything's going to be fine." "Although well-meaning, these kinds of texts can send the message that the person with anxiety just needs to stop worrying or get over it," Potter says, "which can add to their feelings of isolation and disconnection."
Also, because anxiety is so tiring and overwhelming, keep in mind that your partner, family member, or friend might not text back right away. "It can be helpful to, therefore, not ask a direct question and instead just let them know that you are thinking about them and hoping they are OK," Potter says. Ready for a few ideas? Here are 20 sample texts to choose from the next time you need to comfort someone who's feeling anxious.
Sources:
Carrie Potter, LMHCA, therapist who specializing in anxiety
Alex Ly, AMFT, registered associate marriage and family therapist
Dana Myers, LCSW, licensed clinical social worker
Sara Sharnoff Tick, MS, LMFT, licensed marriage and family therapist
Dr. Tari Mack, clinical psychologist
Anjani Amladi, MD, board-certified adult psychiatrist
Dr. Sabrina Romanoff, clinical psychologist
Michelle Pargman, LMHC, licensed mental health counselor
Donna T. Novak, PsyD, licensed psychologist
Sarah Hubbell, MAS-MFT, LAMFT, relationship therapist