25 Supportive Texts To Send Someone Who's Stressed Out
"Showing interest and concern can, by itself, decrease stress."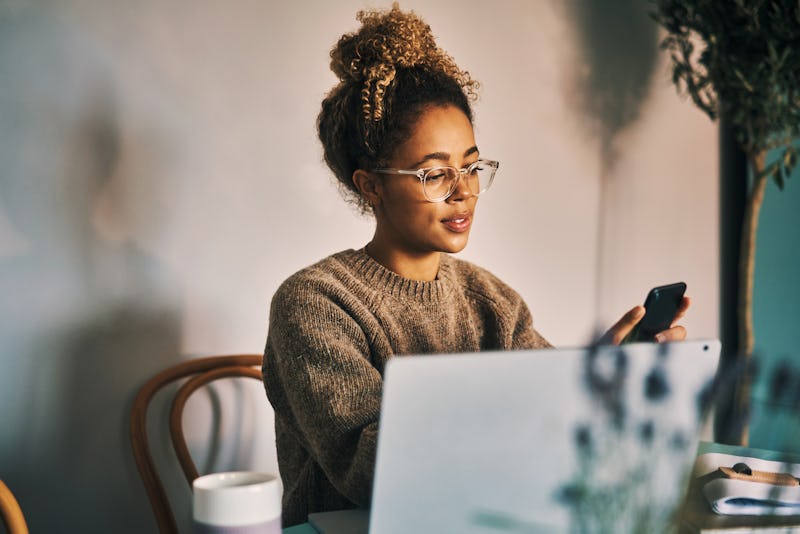 pixdeluxe/E+/Getty Images
To help a friend, family member, or partner who is going through a tough time, you might show up at their apartment with pizza, or demand they come with you on an early morning run — anything to boost their mood and keep their mind off things. But if you're looking for other ways to show you care, or happen to be far away, there are quite a few texts you can send someone who's stressed, that'll also do the trick.
Sure, they might not text back right away, especially if they're knee-deep in a tough project at work, figuring out something in their personal life, or feeling overwhelmed in general. And that's OK. It doesn't mean they didn't appreciate your message, or that it wasn't helpful.
Sometimes, simply seeing a text or two roll in often makes all the difference when you're in a bad mood. "Showing interest and concern can, by itself, decrease stress," Dr. Carla Marie Manly, a clinical psychologist, tells Bustle. Your text will serve as a quick reminder that they aren't alone and that they have a support system, which is always comforting when life feels out of control.
Below you'll find therapist-approved sample texts to consider sending someone who's stressed, based on the situation.
Experts:
Dr. Carla Marie Manly, clinical psychologist
Dr. Josh Klapow, PhD, clinical psychologist
Katie Sammann, LMFT-Associate, licensed therapist
Beverely Andre, LMFT, licensed marriage and family therapist
Dr. Brenda Wade, relationship expert
Kimberly Perlin, MSW, LCSW-C, psychotherapist
Kimberly Dwyer, PhD, licensed clinical psychologist
Darcie Brown, LMFT, licensed marriage and family therapist
Dr. Karen Weston, psychologist
Julia Koerwer, LMSW, therapist
Dr. Nancy Irwin, licensed clinical psychologist
Heather Z. Lyons, PhD, licensed psychologist
This article was originally published on