22 Texts To Send When You Think You're About To Get Ghosted
From jumping the conversation to a respectful rejection.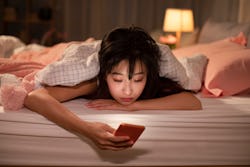 BJI / Blue Jean Images/blue jean images/Getty Images
It's a tale as old as time: You meet someone cute, you go on a string of fun dates, and right when you start to feel a real connection with them, they leave you on read for three weeks — making you question everything you thought you knew about love and contemplate joining a convent. Before you throw your phone in a blender and give up on dating forever, these 21 texts to send when you think you're about to get ghosted will help you speak your piece and set the record straight.
When the sparks start to fly with a new cutie, being left in the lurch can be super disappointing. After putting on real pants to meet someone for a drink, the least they can do is text you back in a timely manner. While ghosting can feel incredibly isolating, the majority of daters have been through it. According to a 2020 survey from dating app Hinge, a whopping 91% of users report being ghosted. Though you may never be able to change a human trashbag with no regard for others, you can certainly stick up for yourself. You also can encourage open and honest communication with the people you date — even as you're calling it off.
From jumping the conversation to a respectful rejection, here are 22 texts for when you see ghosting on the horizon.
Additional reporting by Lexi Inks
This article was originally published on