Exactly What To Text To Rekindle An Old Hookup
Hot Vax Summer starts now.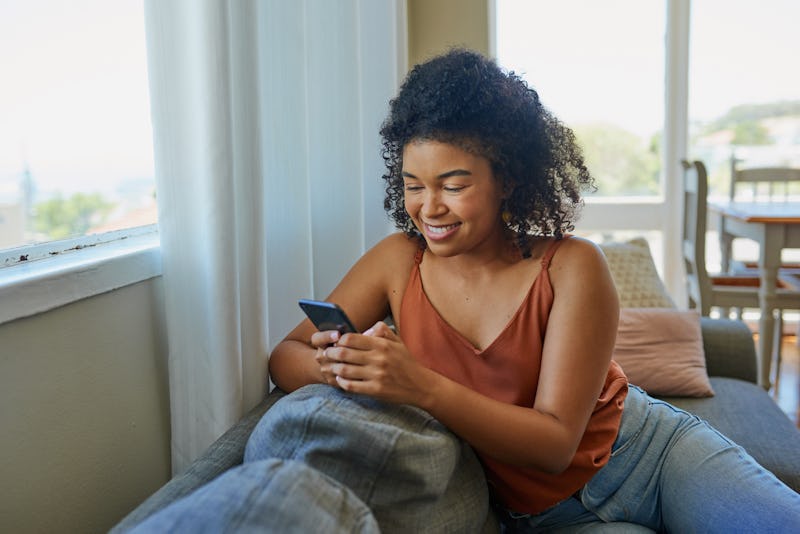 LaylaBird/E+/Getty Images
You're vaccinated and now you're ready for another type of shot — tequila with lime — and maybe a pitcher of strawberry margs too. While you may be eager to get back out there, it's natural to feel a little rusty around post-pandemic dating. And if you're thinking about texting an old hookup to rekindle, experts say there are a few things to consider.
As Lee Wilson, relationship coach tells Bustle, you'll want to do homework first. "By knowing what their relationship status is, you avoid a potentially awkward situation and are able to reach out to them with confidence," Wilson says. Glancing at your hookup's IG may save you both some time, Wilson says. No one wants to hit up an ex flame only to hear they had a Bridgerton themed micro-wedding in quarantine.
Dating coach Clara Artschwager adds that before texting an old hookup, know what you're looking for. "Get really honest with yourself around what your intentions are," Artschwager tells Bustle. "What's motivating you to reach out? What are you hoping to get from it?"
While you may be looking for a post-quarantine quickie, Artschwager says it's common to text an old fling when there are other things going on in your life. "You may rationalize that you just want to have fun, when underneath, you're lonely, haven't met anyone in a while, or are wondering if this hookup will spark something more," Artschwager says.
Of course, after over a year of quarantine, you wouldn't be the one who's feeling lonely, done with online dating, and ready for a relationship. Yet, being clear on your wants can save you from disappointment down the line.
Once you have it figured out, experts suggest sending these texts to turn up the heat with a former hookup.
Sources:
Lee Wilson, relationship coach
Clara Artschwager, dating coach
Meredith Golden, dating expert and founder of DARMA dating
Damona Hoffman, Certified Dating Coach and host of 'The Dates & Mates Podcast'