20 Texts To Send If You Want To Reconnect With An Ex
Take matters into your own hands.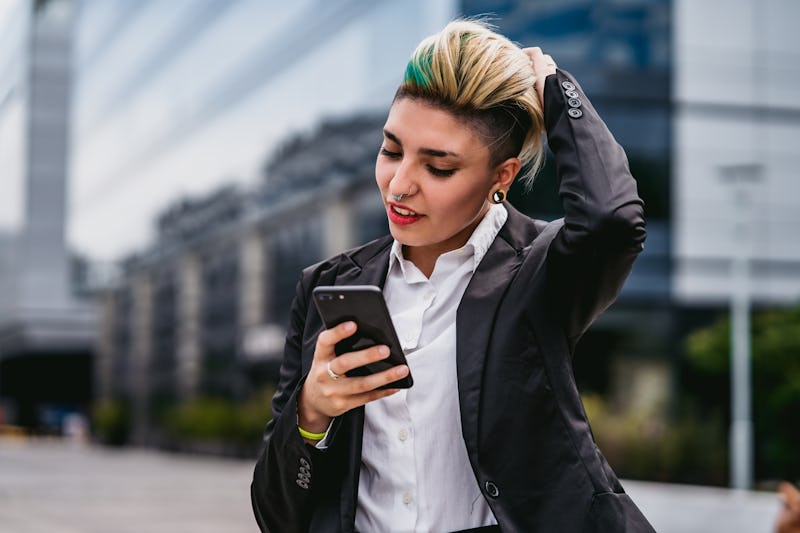 urbazon/E+/Getty Images
Boredom, loneliness, peak levels of nostalgia — it can all make texting an ex seem like a good idea. But before you go hitting send, take a moment to assess whether or not it's actually worth digging up the past.
If you were in a toxic relationship, ended things on a bad note, or would otherwise be undoing a lot of personal growth by reaching out, I invite you to stuff your phone deep in a drawer and wait for the urge to pass. If, however, you're 100% sure it's a good idea, consider your goals.
Do you want to date again? Be friends? Or just say hi and catch up? "Sometimes breakups occur because it was truly a 'wrong place, wrong time' situation, rather than a deep-seated problem in the relationship," Alexandra Emery, PhD, a licensed psychologist, tells Bustle.
When that's the case, it really might make sense to reconnect with your ex, at which point sending a text would be a-OK. "A text may be a good place to start because the stakes are low," Emery says. It's a way to test the waters and see how they feel — before having a deeper conversation.
Want to give it a try? Here are 20 sample texts to send to your ex so you can reconnect — and maybe even get back together.
Sources:
Alexandra Emery, PhD, licensed psychologist
Tennesha Wood, dating coach, matchmaker, and founder of The Broom List
Leslie Montanile, relationship expert
Erin Fisher, relationship coach
Alexis Wolfe, dating expert and founder of NYCDateNite
Dr. Carla Marie Manly, clinical psychologist
Julie Krafchick, co-host of Dateable
Shoshanna Hecht, personal coach
Jade Bianca, dating coach
K.S. Lewis, relationship expert at Chekmate