The Surprising Reasons You're Dreaming About Sex
It may be a metaphor for new energy.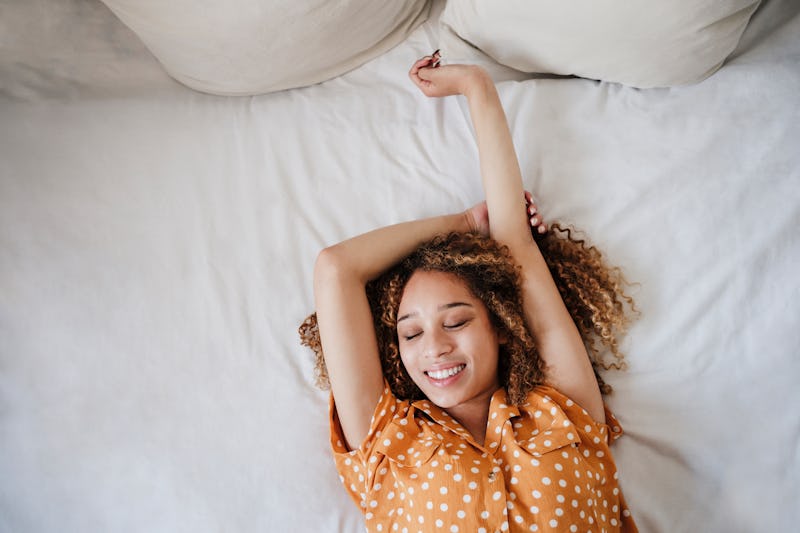 Westend61/Westend61/Getty Images
Additional reporting by Chika Ekemezie
If you're fortunate enough to remember your dreams, then you already know they can run the gamut and, sometimes, be weird as hell. But dreams can also be sexy.
In a 2019 study published in the Journal of Psychology and Sexuality, participants estimated that 18% of their dreams were sex-related. And interestingly, it was found that women were having three times as many sex dreams as women did 50 years ago. Not your mother's sex dreams, apparently.
But while more people seem to be dreaming about sex, it doesn't necessarily mean those dreams are actually about sex — even if you keep having sex dreams about the same person.
"Sometimes when you have a dream that you're having sex with a person that's confusing to you or it's not someone that you would want to have sex with, you can look at it more symbolically," Annie Armstrong Miyao, psychotherapist and licensed marriage and family therapist, tells Bustle. "Dreams are compensatory, you can look at the person as a symbol of something."
But as for what can cause these sex dreams is a whole other story. Here are five things that can lead to sex dreams, according to experts.
Sources & experts:
Annie Armstrong Miyao, psychotherapist and licensed marriage and family therapist
Dr. Clare Johnson, lucid dream researcher and author of Llewellyn's Complete Book of Lucid Dreaming, and Dream Therapy
Lauri Quinn Loewenberg, a professional dream analyst and author of the book Dream On It: Unlock Your Dreams, Change Your Life
Dr. Nancy Irwin, PsyD, CHt, a licensed clinical psychologist
This article was originally published on