Your Volume In Workouts Is The Next Big Metric You'll Be Tracking
Pay attention to this number.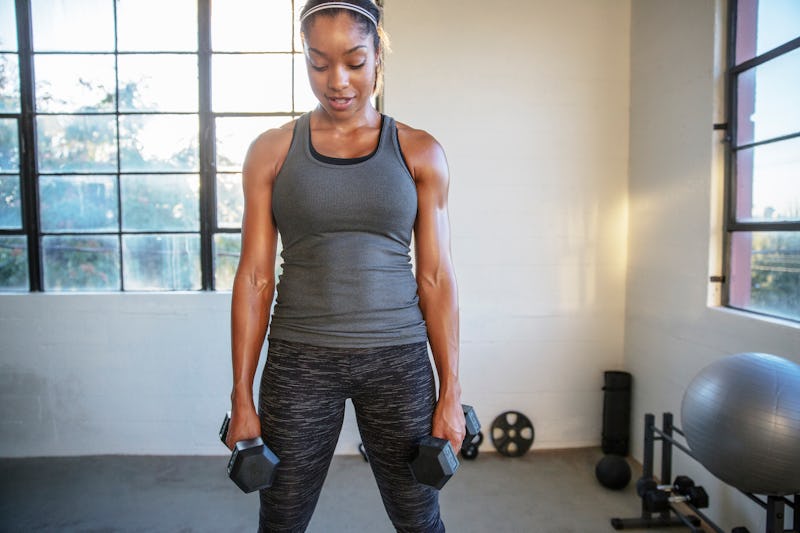 Getty Images/ Cavan Images
It's no surprise that the fitness wearable industry — aka smart accessories that measure your physical activity — has continued to boom. People love to learn about their workout performance. While metrics like step count, heart rate variability, and VO2 max have all had their time in the wearable spotlight, there's another it-measurement to know about — or even track yourself — and it's one that can upgrade your fitness game: volume in workouts.
Looking at your volume in a workout is one way to maximize your effort in the time you spend sweating, and New York City-based trainer, founder of the.1method, and master trainer at Liteboxer Anthony Crouchelli believes it is the factor to watch in your exercise regimen if you want to optimize your strength training. "Volume is your output in class, and essentially your anaerobic volume," he tells Bustle. As a refresher, anaerobic is high-intensity exercise that requires more oxygen — as opposed to aerobic activity, which involves steady-state cardio that your oxygen levels can keep up with.
Here, fitness pros explain the benefits of tracking your volume in workouts along with the different ways you can use the metric to boost your strength.
What Is Volume In Fitness?
When you're exercising, there are a few basic variables you can work with. "You have intensity, which is how hard you're working out," says Simon Lawson, a trainer at Fhitting Room, a NYC-based workout studio. "You have the time you're working out. And volume is how much work you're doing over a period of time, which is usually in intervals."
In other words, volume is your effort within a certain exercise or movement. One example is the number of reps within a strength or weight training set. "If you perform 10 reps on your first set, and in your second set you increase your reps to 20, you have increased your volume," says Joe Rodonis, head coach at Tone House, a workout studio in NYC. It can be applied to all different types of workouts, though, from running to rowing and cycling.
Tracking your volume in workouts is one way to improve your performance. "It's beneficial because that's how you make progress and improvements for any goals, whether that's health, performance, or body composition," says Ben Lauder-Dykes, a Fhitting Room trainer. Knowing your volume also allows you to understand your current baseline, adds Rodonis. "As you enter future workouts, you know where to start and can then work to improve from there," he explains, noting it's a form of endurance training.
Aside from optimizing your training, volume tracking ensures you don't experience workout burnout. "It's important to avoid over-training, so knowing your volume lets you stay on top of exactly what you're doing," says Lawson. This is key — while you want to slowly increase your training over time, it's easy to overdo it. And training too hard can lead to muscle fatigue and even injury.
We only include products that have been independently selected by Bustle's editorial team. However, we may receive a portion of sales if you purchase a product through a link in this article.
How To Track Your Volume In Workouts
The general formula for calculating volume is: reps x sets x weights. But the metric can go beyond that, and you can measure your workout output on certain wearables, pieces of fitness equipment, and through other factors.
Tracking Volume With Weights
When you're lifting weights, simply record the number of reps you complete for an exercise at a certain weight, says Rodonis. If you're looking to increase your volume, Lawson suggests increasing by 10 to 20 reps of any one particular exercise for the week.
Tracking Volume On A Wearable
If you're a runner, many Garmin watches are compatible with the gadget's Connect IQ technology — an app you can download to measure the volume from your runs (which it calculates based on your pace, vertical oscillation, grade, and local wind conditions both in real time and after your sesh). Garmin also launched a series of cycling products this month that measure total power and cadence: the Rally power meters, which clip onto your bike and connect to your watch and phone.
A WHOOP can also tell you your training volume via your "strain" score. This device measures your heart rate, heart rate variability, and sleep quality to give you your strain — aka the volume you've placed on your body throughout the entire day. "This gives you insight into how you need to modify your training," says Kristen Holmes, WHOOP vice president of performance science. So what makes this wearable different than others is its 360-degree measurement of the different factors that influence what your body's capable of doing, which then allows you to optimize your training.
Tracking Volume On A Cardio Machine
Some aerobic machines allow you to look at your volume as you're exercising. Lauder-Dykes points to assault bikes, rowing machines, ski ergs, and stationary bikes. "Look at your miles or your hours training, so your volume over the course of a week for cycling could be 20 miles," says Lawson. "Or you can try doing HIIT intervals — say five minutes on a hill or as fast as you can with heavy resistance on a trainer." Many pieces of equipment will show you metrics like wattage and calories, too, and Lauder-Dykes suggests increasing these over time to up your training volume.
If you're into boxing, Crouchelli says something like the Liteboxer, a smart at-home punching bag system, can tell you your volume via the power of your punches. "Volume can be the amount of punches thrown where you keep your power at 70% the entire round," he says.
Tracking Volume While Running
When it comes to volume in running, look to your time and completed distance. "Your focus is the distance, not necessarily the pace or intensity," says Rodonis. The same goes for time, he explains — say you're focused on 30 minutes of straight running (versus speed). The goal, if you're looking to up your endurance, is to slowly add more to your weekly miles or time spent running.