11 Ways To Deal With Anxiety Over Living Alone
#10: Keep your mind occupied.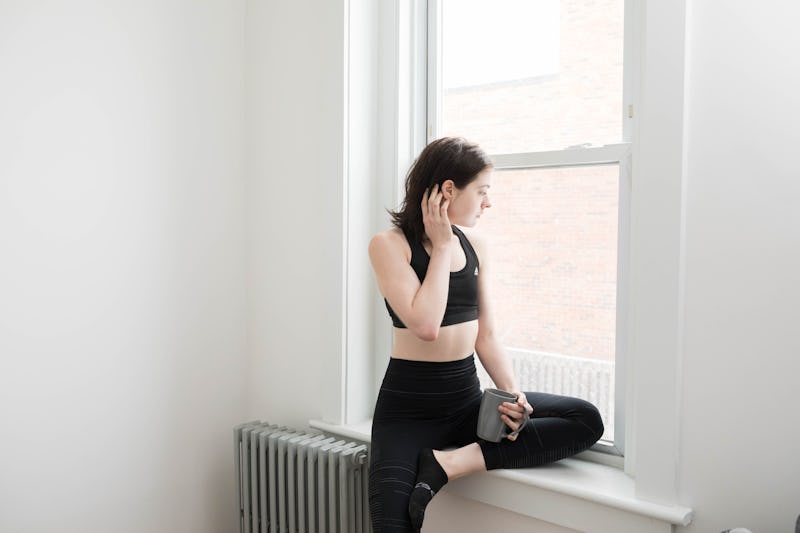 Ashley Batz for Bustle
Opening the door to an empty, silent apartment isn't everyone's idea of luxury or comfort. Some people fear living alone, aka autophobia, and the idea of having their own space is a source of great anxiety. While exorbitant rent prices make living alone an impossibility for many, it can also be the safest or healthiest option. So what do you do if solo living is the best idea, but also the scariest?
According to a 2019 poll by YouGov, millennials are the loneliest generation: 30% report feeling often or always alone. And according to a 2012 study published in BMC Public Health, adults are 80 percent more likely to suffer from depression if they live alone, versus those who live with other people. That said, it doesn't necessarily mean you're doomed to have anxiety or depression if you live alone.
"While living alone is 'adulting', it is both a cause and a symptom of anxiety," behavioral scientist Clarissa Silva tells Bustle. "Spending time alone with your own thoughts can be nice once in a while, but often those thoughts become negative and anxiety-provoking. The best way to prevent exacerbated symptoms are to develop actionable strategies for coping with it."
But according to psychotherapist Kelly Keck, L.M.H.C., choosing to live with roommates doesn't signify a lack of maturity or success, and it's OK to hate living alone. "It's perfectly normal to want to live with people. I have a vast majority of female clients that can afford to live alone, express an interest in doing so, and still choose to live with a roommate for safety and a sense of community."
Regardless of how you feel about living alone, you have the ability to make the most of your living situation — and you might even come to enjoy making your space your own. Here are some pro tips for coping with anxiety when living alone, for the nights when you consider renting out your couch just to have someone nearby.
Experts:
Clarissa Silva, behavioral scientist
Kelly Keck, L.M.H.C., psychotherapist
This article was originally published on