Why Seeing Your Ex Move On Hurts So Much
It doesn't necessarily mean that you're still in love with them.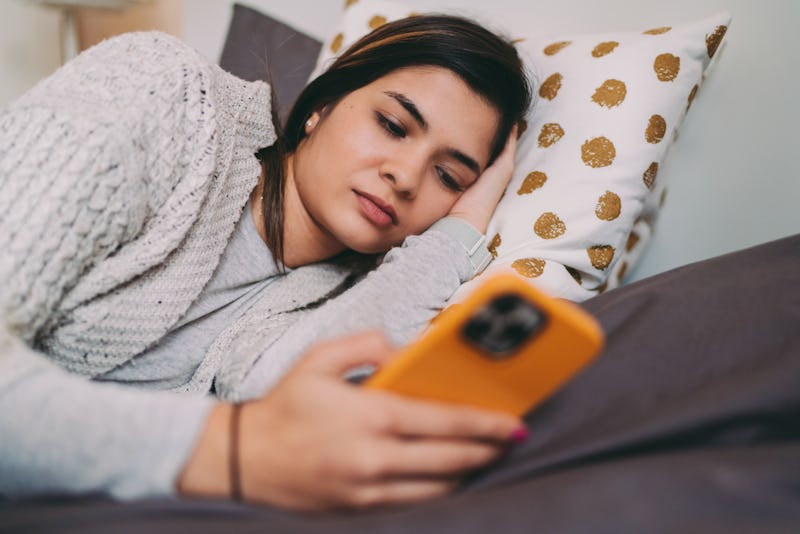 martin-dm/E+/Getty Images
It's been a while since you last thought about your ex. You took time to grieve, heal, and move forward. You may have even started dating someone who's better for you. You're at that point where you can confidently say that you'd never consider getting back together. But yet, why does seeing your ex with someone else make you feel heartbroken all over again?
"Breakups are complicated for a number of reasons," Kate MacLean, resident dating expert at Plenty of Fish, tells Bustle. "Whether it was a mutual decision or not, you shared intimate moments and a part of your life with someone. Now you're expected to separate yourself from them."
And with social media, it's even harder to completely forget about your ex. According to MacLean, a recent Plenty of Fish survey found that over a third of singles still follow an ex on social media to see what they're up to, despite nearly 50% saying it's better to give yourself a clean break and cut all ties. Clearly, it's easier said than done.
Clinical psychologist Dr. Rachel Greenberg suggests taking notice of how you feel when you feel hurt about an ex moving on. "The invitation when you feel that pang is to explore any unresolved feelings that you may not have fully processed," Dr. Greenberg tells Bustle. "Even if one part of you has moved on, there may be another part of you still holding on to what the relationship was or grief around the fact that it really is over."
Ideally, when your ex moves on you'd feel happy for them if you're in a good place. But sometimes seeing your ex with someone else can trigger feelings you weren't prepared for. According to dating and relationship experts, there are several reasons behind why it hurts — even if you have no intentions of getting back together.
Experts
Kate MacLean, resident dating expert at Plenty of Fish
April Davis, owner and founder of LUMA - Luxury Matchmaking
Kevin Darné, relationship expert, author of My Cat Won't Bark! (A Relationship Epiphany)
Laurie Berzack, MSW, dating coach, owner of Carolinas Matchmaker
Dr. Caroline Madden, PhD, licensed marriage and family therapist, author of Blindsided By His Betrayal
Toni Falcone, Psy.D., licensed psychologist
Samantha Daniels, relationship expert and founder of Samantha's Table Matchmaking
Heidi Krantz, certified dating and relationship coach
Alexis Wolfe, a dating expert and founder of NYCDateNite
Dr. Rachel Greenberg, clinical psychologist
This article was originally published on