Will There Be A Third Lockdown In England?
Restrictions are set to continue into 2021.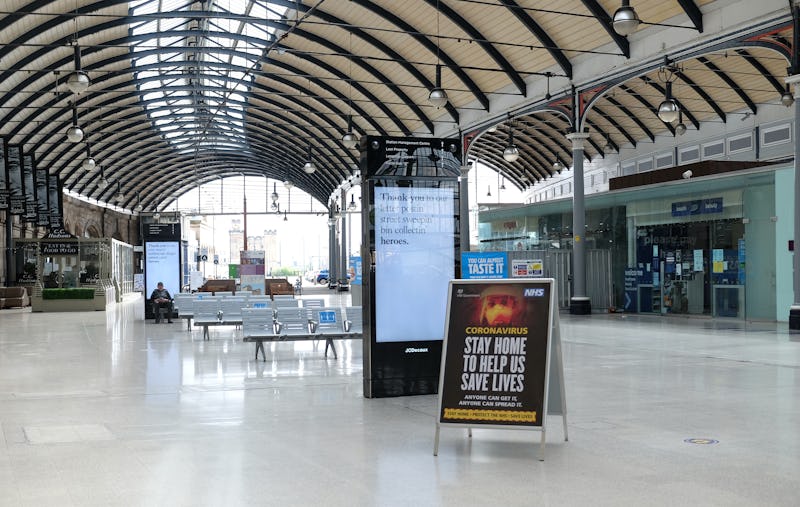 Owen Humphreys/Getty
Following England's second countrywide lockdown from the beginning of November to Dec. 2, we returned to a strengthened vision of the previous tiers system, and yet coronavirus cases continued rise. The UK's R number is currently 1.1 to 1.3; Scotland, Wales, and Northern Ireland have announced third countywide lockdowns; hospital beds may be beginning to run out; and there is a new strain of the virus that has begun to circulate in England. But will there be a third UK-wide lockdown? Here's what we know so far.
While Boris Johnson has yet to announce a third lockdown for England, there has been an exponential rise in cases over the past week. Monday (Dec. 28) saw the first time new cases have surpassed 40,000 in a day, and according to the NHS there are nearly 20,500 COVID-19 patients in hospitals across England, which is higher than the April peak of 19,000. "This very high level of infection is of growing concern at a time when our hospitals are at their most vulnerable, with new admissions rising in many regions," Dr Yvonne Doyle, medical director at Public Health England told BBC News.
Wales pushed its latest shutdown forward from Boxing Day to Dec. 21 amid a significant rise in cases. "The situation is incredibly serious," First Minister Mark Drakeford said in a press briefing. "We have therefore reached the difficult decision to bring forward the alert level four restrictions in Wales, in line with the action being taken in London and the South East of England." This means that people in Wales must stay at home and avoid non-essential travel. Scotland and Northern Ireland also went into lockdown for the third time, on Boxing Day. Restrictions will be reviewed at least every three weeks.
On Dec. 18, Prime Minister Boris Johnson refused to rule out the possibility of a third lockdown in England. "Obviously we're hoping very much that we'll be able to avoid anything like that, but the reality is that the rates of infection have increased very much in the last few weeks," he said during a visit to Greater Manchester. Professor John Edmunds of the London School of Hygiene and Tropical Medicine, had similar sentiments, telling Sky News that "at the moment it doesn't look like the tier system is holding the epidemic wave back, unfortunately. So I think we're going to have to look at these measures and perhaps tighten team up, we really will. It's a horrible thing to have to say but we are in quite a difficult position."
However, Professor Mark Woolhouse noted, there were alternatives to control a third wave other than national lockdowns, including mass testing. Following a successful trial in Liverpool, the government has said mass testing will be made available to England's tier three and four areas. As the staggered reopening of schools in England is still set to go ahead on Jan. 4, secondary schools and colleges will also see mass testing programs. With the help of 1,500 military personnel, the government aims to test students and staff weekly to keep on top of new cases. Wales will also rollout this program when students begin to return on Jan. 11, while Scotland and Northern Ireland are considering implementing similar systems. "Teachers and headteachers have been working incredibly hard over the Christmas period [...] in order to prepare for a new testing regime — community testing in order to make sure that children and all of us are safer," Cabinet Office minister Michael Gove told Sky News. "So we do keep things under review but that is the plan."
There's also hope in the form of the latest vaccines. The UK's Pfizer/BioNTech vaccination programme began its roll-out to those most at risk from Dec. 8, although it's expected that the bulk of the vaccines will take place in the new year. While this is a step forward, Health Secretary Matt Hancock told BBC Breakfast: "We've still got a long way to go on this march. We've got to keep our resolve for the next few months, but we can all see that we have a route out, and we can get back to normal by the spring I hope, certainly by the summer, but we've still got to stick at it for now."
On Dec. 19, the government changed the previous lifting of restrictions over the festive period to allow families in tiers one to three to meet on Christmas Day only, and added a fourth tier to the system. As of Tuesday Dec. 29 nearly 43% of the population — about 24 million people — are under the highest tier four restrictions, and a review on Dec. 30 could see even more areas across England added. The tighter restrictions mean that people in these areas must stay at home unless there is a "reasonable excuse" to leave like work, education, or medical reasons. Non-essential shops are to close, as well as indoor recreational spaces.
Elsewhere in the world, other countries are already facing the next wave of coronavirus. Ireland's public health experts believe that the country is now experiencing its third wave due to rapidly rising case numbers. The U.S. is currently experiencing more than 100,000 reported cases a day nationwide according to Vox, which is continuing to rise exponentially. The World Health Organisation has also warned that Europe is likely to see a third wave of COVID-19 in early 2021, before vaccines become available to the majority of the general public.
This article was originally published on