The New "Dirty Work" Video Channels 'The Office'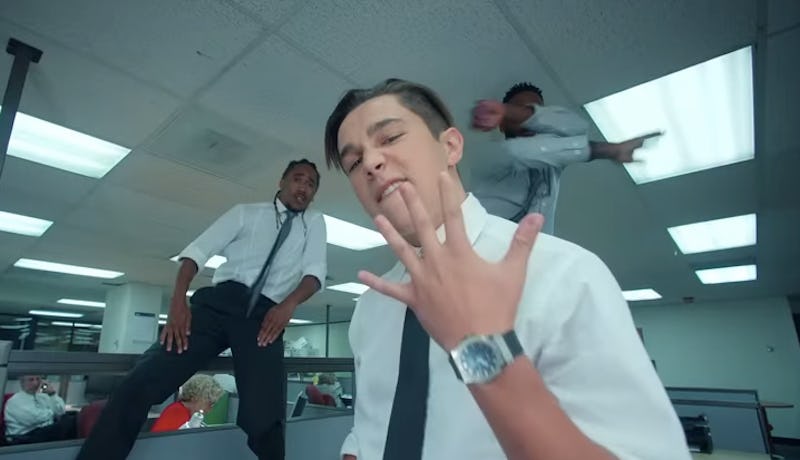 It's time to take a trip back to the witty walls of Dunder Mifflin, guys! Pop star, Austin Mahone, released his highly anticipated music video for new single, "Dirty Work," on Monday, July 27, and the video pays homage to the binge-worthy series, The Office. Channeling his best Jim Halpert, the video opens with Mahone being left in charge by a boss who perfectly encapsulates the irreverent persona of Michael Scott. Being that his boss has a "hot date," Mahone is left in charge of the office and asked to pull an "all nighter" in order to complete a report, which is titled — you guessed it — "Dirty Work." In the same vein as the 2005 sitcom, working all night doesn't involve much...well...work. Whilst crooning the lyrics to this addictive new track, Mahone engages in a steamy office romance, the staff take part in documentary interviews, and a full-on dance party breaks out. If every day I spent working at an office had been this legendary, I never would have suffered a case of the Mondays.
I don't know which part I'm more excited about — Mahone's highly anticipated return to the music charts or the chance to relive all my favorite Office tropes.
How accurately did Mahone capture some of our favorite Office staples? Let's take a look.
1. The Staff Is Doing Everything Other Than Actual Work
The video opens with employees taking part in tasks like selfie-taking, nail filing, and napping. Nice.
2. Mahone Is Totally Jim
Mahone is the quintessence of hardworking-yet-jaded Jim.
3. Oh Look, It's Michael Scott!
I wonder if the date he has is with one Ms. Holly Flax.
4. The Documentary-Style Interviews
The behind-the-scenes tidbits from a bevy of eclectic character is classic Office.
5. The Steamy Office Romance
Mahone's sizzling chemistry with the "new girl" at work reminds us of the squee-worthy beginnings of Jim and Pam's romantic arc. I need to re-watch the early seasons ASAP.
6. All The Office Hijinks
Just as was standard in the sitcom, all the employees in Mahone's video engage in activities that are sure to cause HR to facepalm.
7. Everyone Basically Lives At Work
This predicament is both a familiar trope from Office and an experience many of us find ourselves in during the week.
Grab an extra cup of coffee and get ready to have a new topic for your water cooler conversations by checking out Mahone's "Dirty Work" below.
Images: VEVO (8); Giphy