8 Newest Dating Apps To Try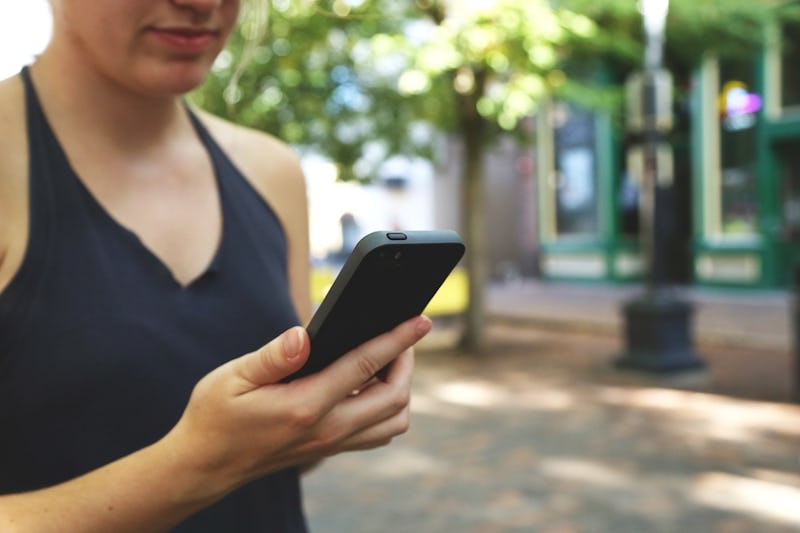 It seems like every week there is a new dating app available for download, either competing with Tinder or catering to a demographic that Tinder doesn't reach successfully or safely. It seems like every week there is a new thinkpiece about how millennials have altered romance forever with the advent of dating apps, too. The fact is that online dating isn't considered to be something for the desperate anymore; it's a pretty normalized way of meeting people in a new, technologically advanced era. Twenty-two percent of people aged 25-34 have used online dating apps or services, and one-third of recent marriages began by meeting online, and those partnerships may even be less likely to end in divorce. So now that dating apps are a normal and continuously expanding part of life, what is different about some of the new apps coming out?The ever-increasing onslaught of romantic or casual sex dating opportunities can be overwhelming — it's hard enough to even keep up with your emails — which resulted in the dating app market being deemed oversaturated even back in 2013. Two years later, we have seen the development of new dating apps reach even higher numbers. So while that may indeed be very overwhelming, it's not necessarily a bad thing, considering what some of these apps try to accomplish.
For example, Bumble has been dubbed "The Feminist Tinder," developed by Tinder co-founder Whitney Wolfe after her departure from the company following sexual harassment and workplace discrimination. Bumble advocates for women's control of their dating experiences by only working when a woman messages her match first. There are now apps that focus on breaking the gender binary, apps that focus on connecting binge-watchers, and apps that focus on frequent fliers — all just launched this year or this month. There's a whole new world out there, you guys. Here's a look at some of these recently developed ways that your smartphone can help you find love:
1. High There
Gone are the days of having to specify that you are "420 friendly" on your Tinder bio. High There, recently launched in February of this year, is a Tinder-style dating app specifically for marijuana users or people who work in the cannabis industry. The introduction of High There, which already boasts 150,000 users and 25,000 to 35,000 matches daily, demonstrates changing attitudes about weed legalization and online dating as both become more normalized. Todd Mitchem, who is High There's co-founder, told the New York Post, "There is a need in the cannabis industry for a number of things. One of those is social connectivity." Mitchem got the idea for High There after a not great Tinder date was rude and judgmental about his weed smoking. Aside from providing photos for their profiles, High There users can also include a 420-character (lolol) "My Story," in which they can talk more about themselves and their preferred kind of relationship. High There is free and available worldwide for iOS and Android.
2. OneGoodCrush
OneGoodCrush was only launched a couple of weeks ago in July, and is a Tinder-style dating app meant for relationship seekers of all gender identities and all sexualities. While apps like Tinder and Hinge allow users to identify as gay, lesbian, straight, or bisexual, they stick to the gender binary when they ask users to identify themselves. OneGoodCrush rejects the binary by not only providing the options of woman and man, but also trans man, trans woman, and queer. Additionally, users are provided the same options when asked to identify the genders with which they prefer to match, which combats the disgusting societal transphobia that shames cis men for dating trans women. The app already has 100,000 users, and is meant for both hookups and long term relationships. Trish McDermott, the app's strategic adviser, spoke to USA Today about the continued lack of transgender inclusivity in online dating that OneGoodCrush wants to change. In a society where trans women are getting banned from Tinder due to reports from transphobic users, OneGoodCrush will hopefully become a safe, progressive, and successful space for trans folks who utilize dating apps. It is available for iOS and Android.
3. Cheekd
Cheekd also only launched mere weeks ago in July and is merging Tinder and the Missed Connections part of Craigslist. Are you too nervous to approach that cutie sitting on the train during your commute or that well-dressed baddie a few bar stools down? Cheekd is an app that will alert you if there is another person who also has the app within 30 feet of you. When users are notified, they can express or deny interest. If both are interested, then they will match or "get cheeky." The app will then present them with more personal profile info, such as jobs, Facebook and Instagram links, etc. From there, the matched users can either approach each other in person at that very moment, or begin a conversation through the app. Cheekd hopes to take the online dating model further away from your isolating phone screen and into real time. Lori Cheek, CEO, told DNAinfo, "Everyone in this day and age is staring at their phone, walking down the sidewalk. Now, I feel like you're looking down at your phone, and they'll get a notification that they just missed a connection with so-and-so. The love of their life will be right there."
4. Netfling
Going out on dates is exhausting and stressful, isn't it? Sometimes don't you wish you could just stay in with some TV and night cheese instead? WELL NOW YOU CAN. Or at least you can very soon. Netfling is an app that combines Tinder and Netflix by compiling data from your Netflix (specifically your most viewed shows and movies) and matching you with other users who share your tastes in TV and film. When you match with a dreamy homebody, you can then plan a sexy night of staying in with pizza, wine, and Leslie Knope. While Netfling is not yet released, you can still prepare for your future hot date with this list of the best things to watch on Netflix with your one true love.
5. Her
Her, formerly called Dattch, is a dating app designed for lesbians that was previously only available in seven American cities. Thanks to increasingly high demand and more funding, it became available nationwide this July. Rather than a Tinder-style dating app, Her's interface is more similar to Pinterest and also has no limit on posted photos or bio length. While many queer women clearly enjoy Her, as Bustle writer Mariella Mothof wrote in her review of queer-friendly dating apps, Her "doesn't allow users to select a gender identity, which means that its developers either assume all users identify as women or they don't think it matters, as long as you're looking for women. Neither of those scenarios seem particularly inclusive for an explicitly non-hetero app... Users can't filter matches by gender (obvs) or sexuality, only by age and location."
6. PositiveSingles
PositiveSingles is a new Tinder-style dating app meant for users living with STDs, most commonly HIV, herpes, and HPV. The app destigmatizes and humanizes people who have contracted sexually transmitted diseases by acknowledging that STDs don't take away a person's desire or right to romance and love. As Bustle writer Amanda Chatel writes, the app "takes away the awkwardness of having to disclose to someone on a first or second date that you have an STD, because all their members are struggling with their own STD." In line with PositiveSingle's focus on creating a progressive, safe space, the app also boasts chat rooms wherein users can provide each other with support, friendship, and advice.
7. Peekawoo
Peekawoo, an Asian dating app, provides users with the ability to request group dates and chaperones when meeting their matches, should they prefer it. Valenice Balace of the Philippines developed the app after experiencing too-forward Tinder dates "in a region where meeting a stranger in a bar can still be a taboo." Balace told Bangkok Post, "My upbringing was very close to my parents, religious, traditional and old-fashioned. You couldn't go on dates if your parents didn't know the guy... I grew up with chaperoned dates and even when I was in college my kid sister was always with me on dates." Since Peekawoo now has 7,000 users, setting up chaperones isn't very practical, which led to the group dates feature. Balace also explains that the group date option helps form camaraderie and "allows women to take back control," referencing a moment when several women in a group date stood up to a man in the group who was making inappropriate remarks to his match. Even if you don't have religious or cultural reasons for desiring a group date, Peekawoo provides women with support and friendship in a situation that is, infuriatingly, sometimes uncomfortable — if not dangerous.
8. AirDates
Are you a Young Urban Professional looking for love whilst flying around the world on business trips? Lucky for you, AirDates is an app that connects you with other users in the same airports and terminals. The app functions even allow you to continue conversations with your matches once you have boarded your flight because it does not rely on Wi-Fi. This technology means that you could connect and communicate with fellow subway riders as well. AirDates, only currently available for iOS, hopes to revolutionize the way we travel, and was developed in London, which boasts an extremely profitable online dating industry.
Want more of Bustle's Sex and Relationships coverage? Check out our new podcast, I Want It That Way, which delves into the difficult and downright dirty parts of a relationship, and find more on our Soundcloud page.