+Size Model Erica Schenk Talks Body Positivity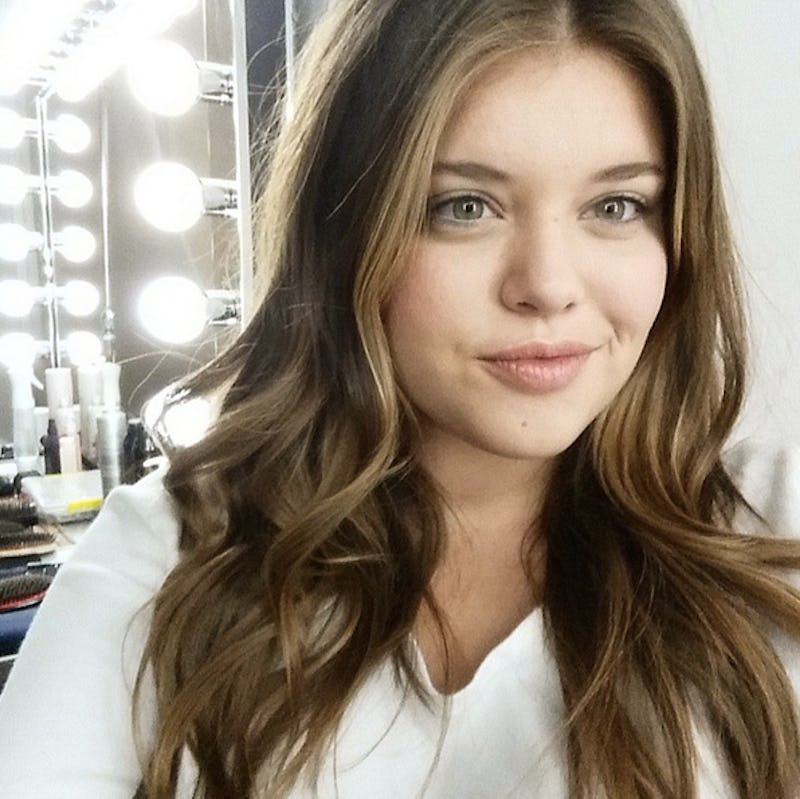 When the fitness publication Women's Running released its August 2015 issue, it clearly knew it was going to cause quite the stir. This isn't just because editors chose a beautiful model for the cover — that's no surprise. It's because they chose Erica Jean Schenk, a plus size Wilhelmina Model and the first ever plus size woman to appear on the cover of this well known, sports-centric magazine. Inspired by her cover and in order to help celebrate this milestone for body acceptance, I wanted to chat with Schenck about everything — from how she prevents chafing while running to what she thinks of the controversial label "plus size."
Considering the majority of fitness magazines — including Women's Running — traditionally choose very lean and muscular models for their glossy covers, this was a great way to help inform the general public that yes, you really can be healthy at any size.
It wasn't until Schenk's groundbreaking cover appeared on newsstands that I realized how rare it was to see someone with a body that resembled my own grace the cover of any magazine, let alone a publication geared towards runners. "It takes generations to change ingrained ideas of what 'should' be," Schenck tells me via email. "We've taken slow, even paces to get where we are and we aren't slowing down now!"
That being said, one glance at the comment section on Women's Running's Facebook page will give you an idea of how much its audience is divided when it comes to the cover model choice. Although Schenck says of the feedback, "It's been overall positive! There are so many women being inspired by the choice of the editors," it's obvious that there are still naysayers and trolls spewing their closed-minded body hate and refusing to accept that you can be healthy and still be plus size.
When it comes to the "plus size" label, many people seem to feel that it automatically implies that the person at hand isn't healthy. Others like Schenck, however, feel that it's nothing more than a descriptor. "It's a label that's not meant to be derogatory. Just like printer paper and graph paper are the same material but are slightly different, so they have different names to describe them. In the end, if you don't like labels, don't use them."
With the amount of progress surrounding the body positive movement and plus size fashion as of late, it's surprising to me that so many people still feel they can judge someone's health based on their size. When you scroll through the litany of comments on any post that features Tess Holliday, Gabourey Sidibe, or Melissa McCarthy, you're bound to read judgmental, critical statements thrown at their size, their looks, and their health. The Internet doctors roll out in full force and offer their free "medical" advice, predicting imminent death for these women without knowing a single fact from their medical records, of course.
Naturally, this kind of thinking is purely ignorant. You cannot tell anyone's health from a photo of them, no matter their size, shape, age, etc. By putting Schenk on its cover, Women's Running is fighting against antiquated concepts and helping the body acceptance movement promote the idea of "health at any size," which is not, as many like to claim, an agenda to make everyone obese.
There are many other critics who see the whole "plus size movement" as nothing more than a passing fad, but Schenk thinks the evolution is real. "I think it's trending, not a trend," she tells me. "It's gained public attention and people are really paying attention to the body acceptance movement. It's here to stay and soon it will be common for curvy women to be on the cover of a fitness magazine."
If you've been inspired by Schenk or are interested in getting into running, she has a few tips for newbies. Besides recommending her favorite activewear brands — Nike and Under Armour for sports bras and Old Navy and Athleta for everything else — Schenk advises that you "get really good gel inserts and a good pair of running capris (ones that stay up well!). Also adding a little mint extract helps open the lungs when working out!"
If you ask me, Schenk is undoubtedly going to be making the history books of the body pos community.
Images: curve_model/Instagram; Courtesy Women's Running/James Farrell