Channel Dystopian Fashion In Leeloo's Style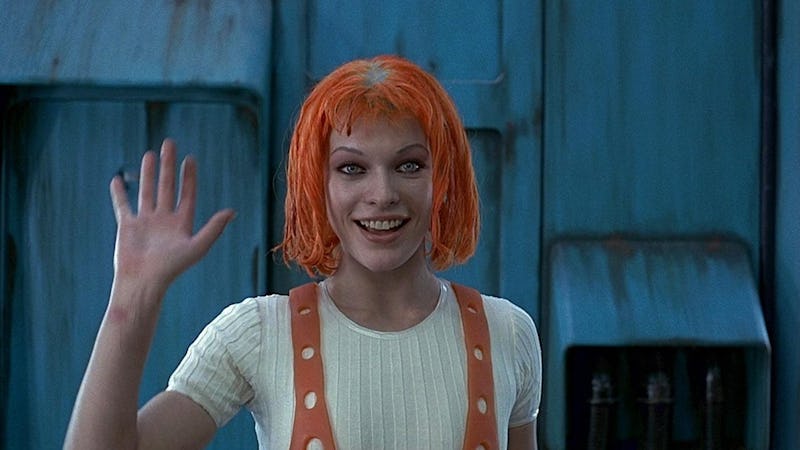 If you're growing tired of present fashion trends, you can follow 23rd century style in The Fifth Element fashion. The Fifth Element is one of my all time favorite movies and I am not alone; it appears that less than 20 years since its release, it is already amassing a cult following. IMO, it is a cinematic masterpiece — a riot of color, comedy, and special effects — and of course, who other than French film director, producer, and writer Luc Besson could have been at the helm? Besson has been behind some truly iconic movies ranging from the 1990s cult classic Léon: The Professional, to the action–packed Taken trilogy, to sci–fi movie Lucy starring Scarlett Johansson.
Although Besson is a creative genius, he couldn't have created The Fifth Element single–handedly. He worked with an incredible team, including legendary fashion designer Jean Paul Gaultier. This was a match made in fashion/film heaven. Gaultier designed hundreds of costumes for the movie, all of which portray the futuristic feel of the time period the film is set in, the characters' personalities, and the underlying themes and issues surrounding the characters.
Leading lady Leeloo has her own unique style, which is youthful and fun with a hard, punk edge. It is little wonder that the neo–punk styling of this female protagonist appeared to have influenced No Doubt's Gwen Stefani and her riotous, Tank Girl style '90s outfits. So if you wish to channel the tangerine–haired Milla Jovovich as Leeloo, or you want to inject a hint of futuristic Gaultier into your wardrobe this summer, then here's how to do it.
1. The Bandage Outfit
At the beginning of the movie, Leeloo is seen wearing a rather revealing garment; the above bandage style suit. However, after meeting Korben Dallas (Bruce Willis) and befriending him, she is soon given more traditionally conservative attire.
Custom-Made Leeloo Dallas Resurrection Outfit, $60+, etsy.com
If you are a huge Leeloo fan and want to go all out, then you too can wear a Leeloo inspired bandage outfit. You could wear it as cosplay or as alternative poolside attire — although you may get very bizarre tan lines!
2. The Ribbed Crop Top
For the majority of the film, Leeloo is seen in an outfit comprised of a white crop top, bright orange suspenders, and gold leggings. This outfit totally reminds me of something Tank Girl might wear and I love it! I guess in her own way, Leeloo is a riot grrrl of sorts in the fact that she is The Fifth Element and humanity's heroine.
Wide Ribbed Cotton Crop Top, $14, topshop.com
This white, ribbed crop top screams '90s and would be the perfect match for The Fifth Element's leading lady.
3. The Golden Leggings
To accompany her white crop top, Leeloo flaunts some skin tight, galactic, golden leggings. The gold and black combo and the close fit remind me a little of that yellow and black Kill Bill catsuit.
Wet Look Metallic Stretch Leggings In "Gold," $5-10, amazon.com
I love these shiny, disco–esque leggings — they'd be great for a night out. Plus, this particular range of colored leggings is also available in plus sizes. Score!
4. The Bright Orange Suspenders
Leeloo Dallas Suspenders, $95, etsy.com
If you want to channel Leeloo to a T, then these tangerine suspenders are the way forward. I think these would look awesome over an all white playsuit or on top of a white bikini to give it a space age edge. If you wish to wear something a little less dramatic, you could always go for some orange clip–on braces.
5. The Combat Boots
Demonia Disorder Black Combat Boots, $70, hottopic.com
Ensure you're ready for anything like Leeloo in these killer combat boots.
6. The Leeloo Style Dress
On the Glow Dress, $54, modcloth.com
I imagine if Leeloo had just been a "normal" citizen and didn't have the responibilities that come with being The Fifth Element, then she would have worn this dress. It's short and sweet, has a spacey metallic glow to it, and features what appears to be her favorite color: orange.
7. The Holographic Co–ords
This Is A Love Song Cream Of Crop Holographic Cropped Top, $63, asos.com & This Is A Love Song Holographic Switch Skirt, $72, asos.com
A holographic crop top and skirt are awesome on their own but when paired together as a co–ord set they reach new levels of futuristic chic. I'm sure Leeloo would be a big fan of this spacey, '90s ensemble.
8. The See–Through Skirt
One of the Mangalores (the creatures who are in allegiance with the "bad guy" Zorg) wears a clear skirt as their disguise when hiding in their new shape–shifted form. I imagine the undercover Managalores would look to be wearing the fashions of the time period in their attempt to fit in. Thus, if Leeloo had a little more time to settle into her new life, or her mission had been aborted, I presume she would take an interest in fashion and could possibly end up wearing a skirt similar to this.
Clear Plastic Skirt, $22, asos.com
You'll be pleased to learn that this clear, plastic skirt (originally from Topshop but sold on ASOS Marketplace) has a black lining so you don't have to bare your panties like the daring Mangalore.
9. The Leeloo Inspired Swimsuit
Cool One Cut Out Monokini Swimsuit, $155, notonthehighstreet.com
With the summer season upon us, you're going to need a swimsuit. Why not go for a Leeloo style, cut–out orange number to subtly show you're a fan of The Fifth Element?
So grab your "Multi–Pass" and go have some fun in the sun in Leeloo inspired outfits this summer!
Images: Gaumont (4); Giphy (5); Courtesy Brands