Proof Jade & Tanner Are Dating Post-'Paradise'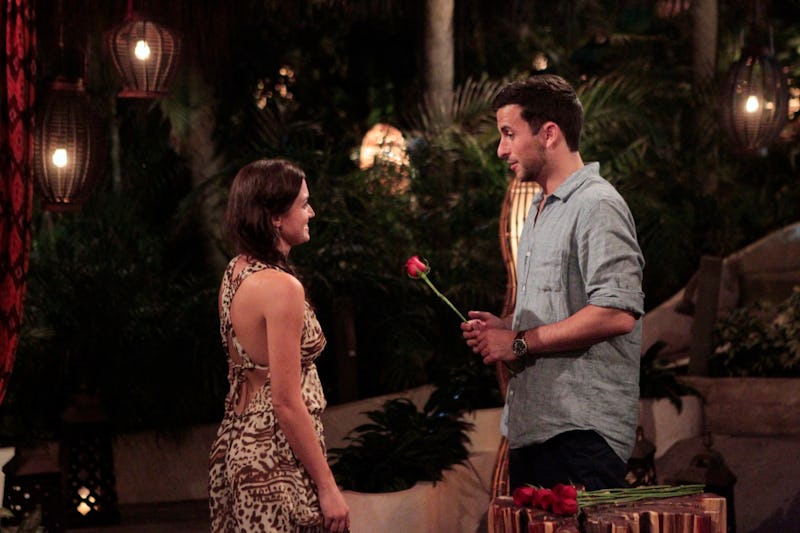 It's the classic American love story: Boy who couldn't get the attention of his girlfriend because she was more interested in her six other boyfriends... meets girl who got rejected immediately after telling her boyfriend that she previously posed for Playboy, but for totally unconnected reasons, according to said boyfriend... and they fall in love on television after a man in a linen suit tells them they're allowed to go on a date. Or, at least, that's the story of Jade and Tanner, the quickly formed Bachelor in Paradise relationship that everyone is predicting will be the Marcus-and-Lacey of Season 2 — sorry Kurt and Carly, there's just no overtaking this tall-dark-and-handsome duo. So, are Jade and Tanner still together post Bachelor in Paradise? [UPDATE: Tanner and Jade got engaged on the BiP finale and are still dating as of Sep. 7.]
Even though Jade and Tanner have basically already won the show (probable true luv, and all that), as of Sunday night's third episode, they kind of disappeared off the BiP storyboard. That's the thing about Bachelor in Paradise: Once you couple up, presumably the goal of the show, you become 1000 percent less interesting than the people who are still searching for their ABC-contracted soulmates.
But, even if their only screen-time is only a quip or two from Tanner and a firmly freaked out look from Jade when Joshua talks about all the best fruit-and-molly combinations to partake in on the Vegas strip, the cutest couple in Sayulita is still pretty interesting because, the rumors and spoilers, they are a-flying... and they're saying that Jade might just leave Mexico with a ring on her finger. There's only one place to go to find the truth: social media.
Close Proximity
OK, it's going to be hard to prove that Tanner and Jade stick it out after the show while the show is still airing, but I'm willing to go full conspiracy theorist. Exhibit A:
Side-by-side at the premiere party. (Please note that JJ didn't even get a glass.) Moving right along, check out this prom-worthy pose...
Jokes To Mask The Truth
It's just so hilarious how in love we are! #Janner
Not To Mention Those Mutual Retweets
Nothing says "I love you" like bringing up a time when your boyfriend-maybe-fiance was wooing you with kindness at the beginning of your relationship.
Or like calling women crazy, amirite?! C'mon Tanner, you've got better... but your girl still retweeted you, so it must be love!
Boys In Love
Don't expect to get much out of Jade on Instagram regarding her current relationship status with Tanner, but if you want to really make some love-assumptions, a quick perusal of Tanner's IG will give you all the ammunition you need. Nobody is posting a picstitch of someone they're not still into.
He really likes cementing that couple status (that it's often at JJ's expense is an added benefit). And, you know that little thing where when you like someone, you'll find any reason to bring them up?
Oh yeah, these two are sprung. Good luck, you two love birds! Though "love crabs" certainly seems more fitting this season, doesn't it...
Image: Rick Rowell/ABC