Will Jade & Tanner Get Married On 'BIP' Season 3?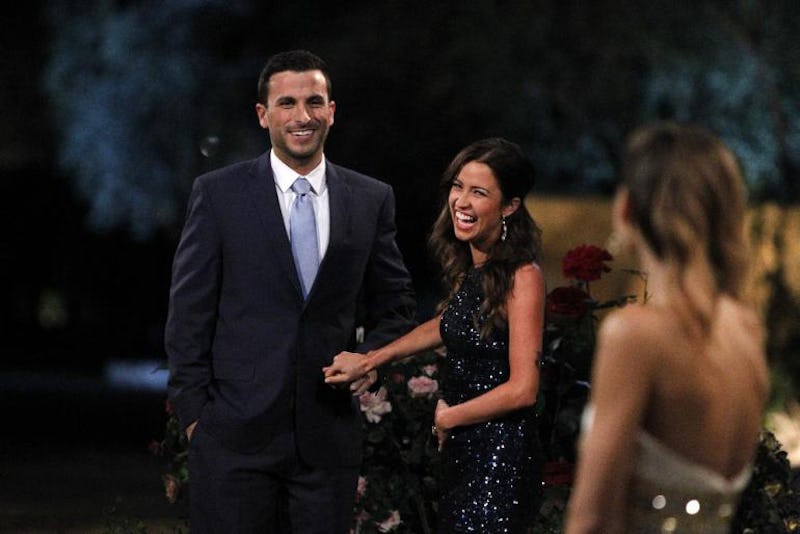 The latest installment of ABC's Bachelor in Paradise kicked off a mere one week ago, and I have already found a couple to ship harder than Ross and Rachel from Friends. I'm speaking, of course, about Jade Roper and Tanner Tolbert. Tanner first garnered a spot in my reality-loving heart during his turn as the witty yet oft overlooked contestant on Kaitlyn Bristowe's The Bachelorette. For her part, Jade caused many of us to experience second-hand heartbreak during her time on The Bachelor after getting rejected by Chris Soules following a revelation about posing for a Playboy shoot. Both of these formerly jilted contestants have endeared us with their genuine dispositions and quick wit, so I was obviously filled with elation to see the two spark after Jade chose Tanner as the lucky recipient of her date card.
ICYMI, Jade and Tanner's first date was one of great conversation, longing looks, and first kisses worthy of The Notebook. Move over Ryan Gosling lookalike, Shawn Booth — there's a new reality heartthrob in town! Seriously, could these two be any cuter? While there have been murmurs that the two may already by engaged since wrapping BiP, nothing is confirmed. We have already seen what romantic connections on BiP can lead to, as Season 1 cast members, Lacy Faddoul and Marcus Grodd, returned to Mexico to get married during the Season 2 premiere.
I, for one, would love to see lightning strike twice with a televised version of Jade and Tanner's nuptials. In case you doubt me, I have compiled a list of reasons that a Jade and Tanner wedding absolutely needs to grace our respective screens next season.
1. Their Chemistry Is Electric
These two didn't even need the help of histrionics or libations — two staples of glorious reality fodder — in order to make our collective hearts soar. The first kiss between Jade and Tanner set off more fireworks than a Fourth of July celebration.
2. They Look Adorable Together
Although I agree with @BacheloretteGal's sentiment that Jade and Tanner — along with the rest of the cast — should be sure to load up on some SPF, even sunburns can't mask the cuteness of these two. Their genial demeanors and shy flirtation is everything ever.
3. Tanner Deserves More Stardom
Poor Tanner didn't get much action — camera action or otherwise — during his time on Bachelorette. He was basically getting benched during his entire run. Thanks to BiP, the dashing suitor is poised to be this season's breakout star, which is most assuredly deserved. I don't want to see his fame — along with Jade's — diminish once this season ends, which is why the adorable twosome should definitely get their nuptials on during the franchise's next insallment.
4. Tanner Doesn't Judge Jade's Past
While Jade's past as a Playboy model doesn't warrant any judgement or chagrin, the former Bachelor contestant has been open about feeling jilted over Chris Soules' elimination following her modeling revelation. Tanner was quick to assure her that he didn't find anything wrong with her previous choices and even lightened the mood by making a joke about posing for Playgirl. Acceptance is an integral part of any successful relationship, and Tanner did a smashing job exhibiting this with Jade from the get.
5. Lacy Approves Of The Pairing
During the first installment of this season's After Paradise, Lacy chose Jade and Tanner as the couple she felt would be in it for the long haul. Seeing as she's one half of the most recently married BiP couple, I would have to respect her opinion.
6. Jade & Tanner Bring The Heat Without The Drama
While there's nothing wrong with whirlwind romances and unbridled passion, Jade and Tanner's slow burn shows they have definite staying power as a legit couple.
7. The Rest Of The Cast Approves
While contentions have already begun between some cast members, one thing that each contestant on BiP has been able to agree on is that Jade and Tanner are certifiably adorable.
Whether or not Jade and Tanner can go the distance remains to be seen. I, for one, would be willing to wager a bet that these two are going to continue heating up our respective screens as BiP continues. Let's cross our fingers and toes that a wedding is on the horizon.
Images: Rick Rowell/ABC; Giphy (3)