Get Pretty Pokemon Nails With Instagram Inspo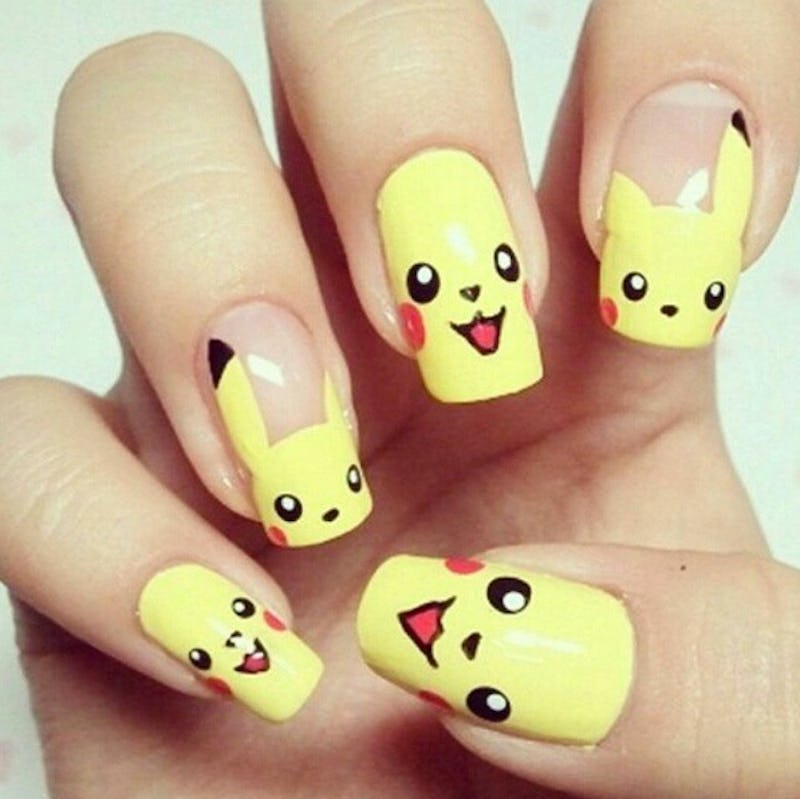 I've yet to meet a '90s kid who didn't play or watch Pokémon. Now-adults who grew up in the 1990s are celebrating their nostalgia in all kinds of creative ways, including Pokemon inspired nails. Personally, I find it especially rewarding to imagine what it would look like if my favorite characters from the anime wore nail art inspired by their poké-teams or by their preference in Pokémon type. Misty would obviously wear nail art inspired by water Pokémon, Nurse Joy would have pink nails featuring a Chansey or a Blissey, and if Ash wanted to flaunt a Pokémon pedi or mani I'm sure he'd choose a yellow Pikachu theme.
As a lover of both Pokémon and fashion, I was delighted to hear about the Pokémon Pop-Up Shop that opened its doors between June 6 and July 5 2015 at the JapanLA Pop Culture Shop in Los Angeles. Although I couldn't make it considering I'm based in the north of England, the Poke nails and styles have made an impact on me nonetheless. The pop-up shop featured an array of poké-perfect fashions, including designs by Omocat, Onch Movement, and, of course JapanLA, plus many more. But not to worry poké fans: You can purchase some of the pop-up shop's awesome wares from JapanLA's online store, including the elusive and incredible 14k Gold Dipped Pikachu Necklace by Onch Movement.
One of the highlights of the event was undoubtedly the Pokémon Nail Station, though, where attendees to the opening night could get a Pokémon themed manicure. Do not fear, super fans, because here's some inspiration from Instagram, so there's no need for you to travel across the land, searching far and wide for your next Pokémon mani.
1. The Perfect Pikachu Nails
Pikachu was many people's favorite pocket monster so why not take inspiration from one of the cutest Pokémon characters ever and ask for a Pikachu pedi the next time you're at the salon?
2. The Poké Ball Design
Well you do have to catch 'em all, so why not do it in style with these awesome Poké Ball inspired nails?
3. The Sparkling Nails
If you've got a steady hand and you love sparkly nails then this glittering Pokémon inspired mani could be the one for you.
4. The Water Type Pokémon Nails
These oceanic nails are the one's of Misty's dreams. They feature an iconic selection of water Pokémon including a super cute Horsea that looks as if it's swimming in the sea.
5. The Eevee Evolution Design
I love this particular design, which features Eevee and the eight different evolved forms of Eevee encompassed within a 3D effect. Nerd alert: I am currently trying to capture as many Eevees as possible and evolve them into these different Pokémon as we speak.
6. The Bayleef Lover Nails
Oh this is too cute. This Pokémon's name is Bayleef, and the manicure asks, "Do you Bayleef in love?" Surprise a fellow Pokémon lover with this design and see if they can work it out.
7. The Electric Type Pokémon Manicure
This lightening design is a great choice for gals who want something striking but not necessarily involving a Pokémon.
8. The Cute, Pink Pokémon Nails
Whether you're a bit of a girly girl or all of your favorite Pokémon just happened to be pink, then this feminine nail art featuring Mew, a pink Dragonair, Jigglypuff, Skitty, and Flaaffy is the perfect pick for you.
9. The Undercover Pokémon Lover Nails
Do you work in a place that would frown upon you sporting a cartoon inspired manicure and/or that requires you to wear professional style nails only? Never fear: You can now disguise your love of Pokémon with these awesome nails inspired by Poké Balls.
10. The Super Sweet Nude Nails
If you're a subtle nail art kind of girl and you like to keep things simple, then now you can flaunt your love of Pokémon in a modest fashion with these natural style nails.
11. The Pokémon Battle Nails
The Pokémon inspired possibilities are endless when it comes to nail art. Why not create a design based around your favorite Pokémon mid-fight? This particular action-packed design features Charmander and Squirtle having a battle.
Show the world you're a Pokémon nail art master with Pokémon inspired nails.
Images: hinatabykgn/Instagram