What If There's A Tie On 'BB17'?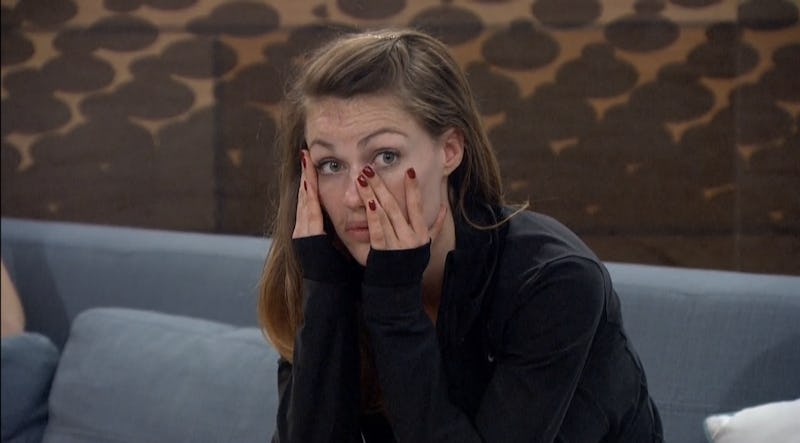 As always with Big Brother, everything changes from one minute to the next. [Livefeed spoilers ahead.] For example, one day everyone wants to send Vanessa home, and the next day Shelli's on the chopping block. But what happens if the eviction votes come to a tie on Big Brother 17? Let's just say, with everything that's already happened this season, I wouldn't be surprised if this happened too.
From the moment Becky's Head of Household reign began, she made it clear that she's ready and willing to get blood on her hands. She's gone so far as to have conversations with several houseguests about staying out of the way and not getting caught up in any drama so that whoever is evicted only has Becky to target in case he or she is the one who re-enters the house from jury. And, from the way the houseguests are talking, it seems quite likely that we'll end up seeing a tie come Thursday's Eviction Night.
Becky initially put Steve and Shelli on the block, with Vanessa as her target from the start. Shelli's primary concern was Vanessa winning the veto and keeping the nominations the same. Steve, meanwhile, was assured that he wasn't the target this week, but his growing feud with Becky gave him a compelling reason to take himself off the block.
This week's POV comp saw the return of the BB Comics, and Steve crushed it. He took himself off the block, of course, and Becky stuck to her plan by naming Vanessa as her replacement nominee.
This split the house in half. James, Jackie, and Meg agreed to comply with Becky's plan to evict Vanessa, and John has been praying for weeks to see Vanessa go. And as we know, Austin, Liz, Julia, and Steve are all more closely aligned with Vanessa than Shelli.
In the case of a tie, the reigning HoH, who normally doesn't get a vote, must break the tie by casting a vote. This has happened in about half of the seasons, and usually only once or twice in those seasons. Fun fact: Since Season 8, every other season has had at least one HoH cast a tie-breaking vote. Season 16 had no ties, so if this streak continues, we'll likely see a tied eviction some time this season.
Back to Season 17, if Becky has to break a tie, she is definitely voting Vanessa out. But, things are no longer looking quite as certain as they initially seemed. Things move fast in the Big Brother house, and now the votes are up in the air.
Late Monday night, James, Jackie, and Meg were hatching up a plan to evict Shelli and keep Vanessa. Their logic (quite faulty) is that Shelli will come after all of them whereas Vanessa will only go after Becky. Meanwhile, Austin, Liz, and Julia have been wondering if it's better for their game to keep Shelli, who's less of a bully and would remain a bigger target than any of them.
Anything can happen between now and Eviction Night, especially with a Double Eviction coming up! So, in the meantime check out Bustle's Big Brother podcast, The Diary Room, for all your BB needs. You can subscribe on Bustle's SoundCloud page and iTunes for the most updated episodes each week.
Image: Screengrab/CBS