11 Things Learned About +Fashion At TCFStyle Expo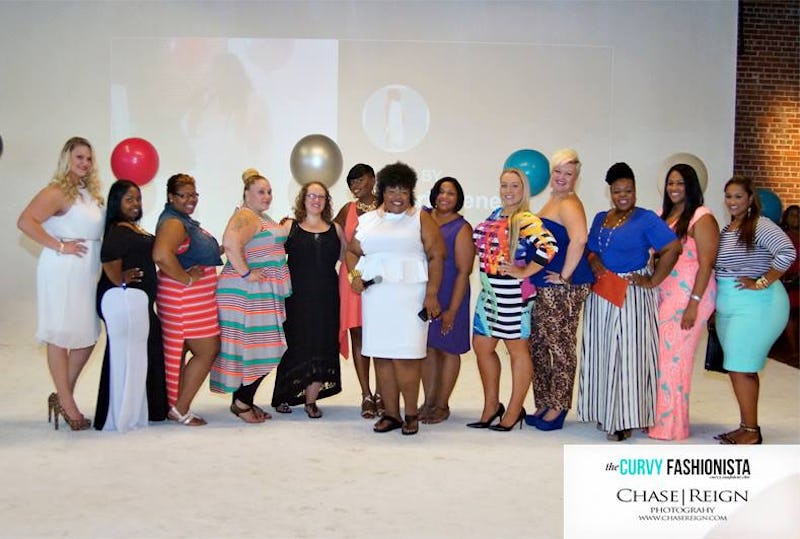 Over the past five years, I have attended exactly three plus size-specific events: A clothing swap in Chicago, a fashion show, and a blogger closet sale in New York. After visiting the TCFStyle Expo hosted by Marie Denee of The Curvy Fashionista on Aug. 8 in Atlanta, however, I realized just why in-person events matter so much in the plus size fashion community. As someone who is deeply entrenched in the body positive movement but lives in a suburb of Cleveland, I don't get a lot of access to plus events and I feel more of a sense of community by scrolling through my phone than I ever do walking through a mall.
At the TCFStyle Expo, I mingled with women whose #OOTD photos have inspired my own style through the years. I listened to words from panelists whose blogs I read daily. I was able to shop at any and every vendor without worrying if they would have my size. And most importantly, I was in a room full of women who looked like me. I wasn't being accommodated or appeased with a small selection of options. I was being catered to. In a world where fat shaming comments are still a "normal" part of daily life, this event was a breath of much needed acceptance and empowerment.
I spoke with Marie Denee, a six-year blogging veteran and the organizer of the expo, via e-mail about why she wanted to put together an event like this, and she echoed my sentiments.
"For me, it is all about access, celebration, and socializing — all things that as plus size women, [we] hardly get exposed to," she says. "I mean if you go to a mall, there are about two stores within the whole place (if you are lucky) that carry my size; not necessarily my style. By bringing a few fashion and beauty faves under one house, I really wanted it to feel like my blog in real life."
Plus size women need more events like this. Here are a few things that fellow attendees, a few TCFStyle Expo staffers, and myself learned or had reaffirmed from the experience.
1. If You Plan It, They Will Come
At one point, Denee got up in front of the crowd and admitted that when she started planning the event, she wasn't sure if anyone would come. Considering the event was packed and steady with traffic, it seems her fears were unwarranted. More than 400 women attended over the course of eight hours. Denee tells me, "I felt blessed and full of emotions. I was on edge, wanting everything to be perfect. From the time we opened up the doors, there were tons of women here ready to shop and have an amazing time."
2. Location, Location, Location
Some attendees I spoke to traveled from all over the country to be at the event (myself included), but I also met a lot of women based right in the Atlanta area. Volunteer Coordinator and blogger Pepper Martin tells me via e-mail, "I love that Marie decided to have this event in the South. Many of the women from this area have never seen such an event that truly focused on us and making our curves great."
3. Online Only Is Not Enough
Some businesses are still too small to make a transition to a brick and mortar store. But that's even more reason why attending an event like the TCFStyle Expo as a vendor is so important. You get to talk to customers about what they are really looking for, show them a few options, and let them see for themselves (before purchasing) how a style looks and feels on them. To the big brands that have many stores across the country but choose to keep the plus size items online only, please take note.
4. Sizing Is Wacky
Trying clothing on in person is important for another reason: Sizing is not universal. As a designer, I can tell you that there are no set guidelines every brand has to follow. Creating a size chart takes a lot of trial and every brand does things a little differently. During the "Finding Your TCFStyle" panel, blogger Sara Rae Vargas said, "Sizing makes no sense and it also makes no sense to have sizing dictate how you feel about yourself." I couldn't agree more.
5. Indie Labels & Mainstream Retailers Can Coexist
I give a lot of credit to the TCFStyle Expo team for making sure that both indie brands and mainstream retailers were represented equally at the event. In my experience, indie brands are often priced out of events because of their size, so I was proud to see up-and-coming designers and retailers like Smash Shoes and Courtney Noelle right alongside plus size powerhouses Lane Bryant and Ashley Stewart.
6. Plus Size Women Don't All Dress The Same
At most fashion events I attend, I end up finding maybe one other plus size woman in the room and give her the nod. But at the TCFStyle Expo, almost all of the attendees were plus size and this showed the wide variety of personal style happening in the community. Rules for how plus size women should "dress for their size" were thrown out the window. I saw women in everything from retro '50s dresses and saddle shoes to oversized cargo pants and stilettos.
Panel moderator and blogger Georgette Niles of Grown and Curvy Woman tells me via e-mail, "The event reaffirmed for me that plus size women enjoy and are very interested in fashion. This was evident from the beautiful array of outfits the attendees wore. Variety is the spice of life! Just like our smaller sisters, we want our clothing options to reflect our personal style."
7. Plus Size Women Want Equality, Not Just Inclusivity, In Fashion
It was easy to sense buyers' excitement in knowing that they didn't have to worry about a lack of options in their size. These days, more and more mainstream brands are adding plus size lines to their selections, but oftentimes this inclusion falls very short of equality. Plus size women don't just want a small, dark corner of the store where most sizes are sold out. Nor do they want to have their options intermixed with the maternity section. They want the same options that straight size buyers have.
Blogger Jeniese Hosey of The Jenesaisquoi attended the expo and she stressed the same point to me. "Plus size women are simply looking for equality," Hosey says. "We want the same things, and fashion that straight size women have. We want high quality clothing and the same designs offered to straight size women. We also want respect for our buying power!"
8. Respect Is Within Reach
One kernel of advice from music business exec and Love and Hip Hop star Deb Antney during the "Empowerment Through Fashion" panel really resonated with me. Antney said, "You have to teach people how to treat you." As plus size women, we are so often told to perceive small changes in the industry as progress rather than continuing to push for what we really want. Antney's words reminded me that change shouldn't just be happening in plus size fashion, but in the mainstream acceptance of fat bodies. We need to refuse to settle for anything less.
9. Self-Love Is A Journey
Another sentiment that rang true for me at the "Empowerment Through Fashion" panel was the idea that self love and fashion can go hand in hand. What we choose to wear has a lot to do with how we feel about ourselves and how we feel on the inside can dictate how we feel about what we see on the outside. Your comfort with a certain garment can and should evolve over time as you embark on your self-love journey and learn to tune into your own voice rather than the voices of others. Everyone from your family members to Internet trolls will have opinions about what you wear, but the most important thing is learning to stay true to your own needs and likes.
10. Plus Size Women Can Work Together Towards Change
When it comes to progress in the plus size fashion community, I am of the belief that change is very possible. I felt love and acceptance from every person that I came in contact with at this event. Vendor Brittney Tamang of Cool Gal Blue describes the feeling of being there, saying, "I have always known that we are a tight community but the atmosphere at the event showed me that we are unique in our pursuit of fashion, but we are all moving in unison towards the same goals and the camaraderie of the entrepreneurs, bloggers, models, and shoppers at this event can only be described by one word: sisterhood."
11. Ready For Bigger And Better
An event like the the TCFStyle Expo is a game-changer in the plus size fashion community. When I asked Denee about the future of the event, she mentioned looking into "a bigger location, a few more vendors, a full weekend schedule, and more fanciness," and adds that she would like to bring in vendors from outside the U.S. next time.
When everything was said and done, Social Media Manager and blogger Maui Bigelow of Phat Girl Fresh said, "We are delighted at the response and the fact the the plus community came together for the event. The overall goal was to create a event that would entertain and empower curvy fashionistas." And to that I add, mission accomplished.
Images: Courtesy Chase Reign Photography (11); Alysse Dalessandro (1)