How To Not Go Broke During The Holidays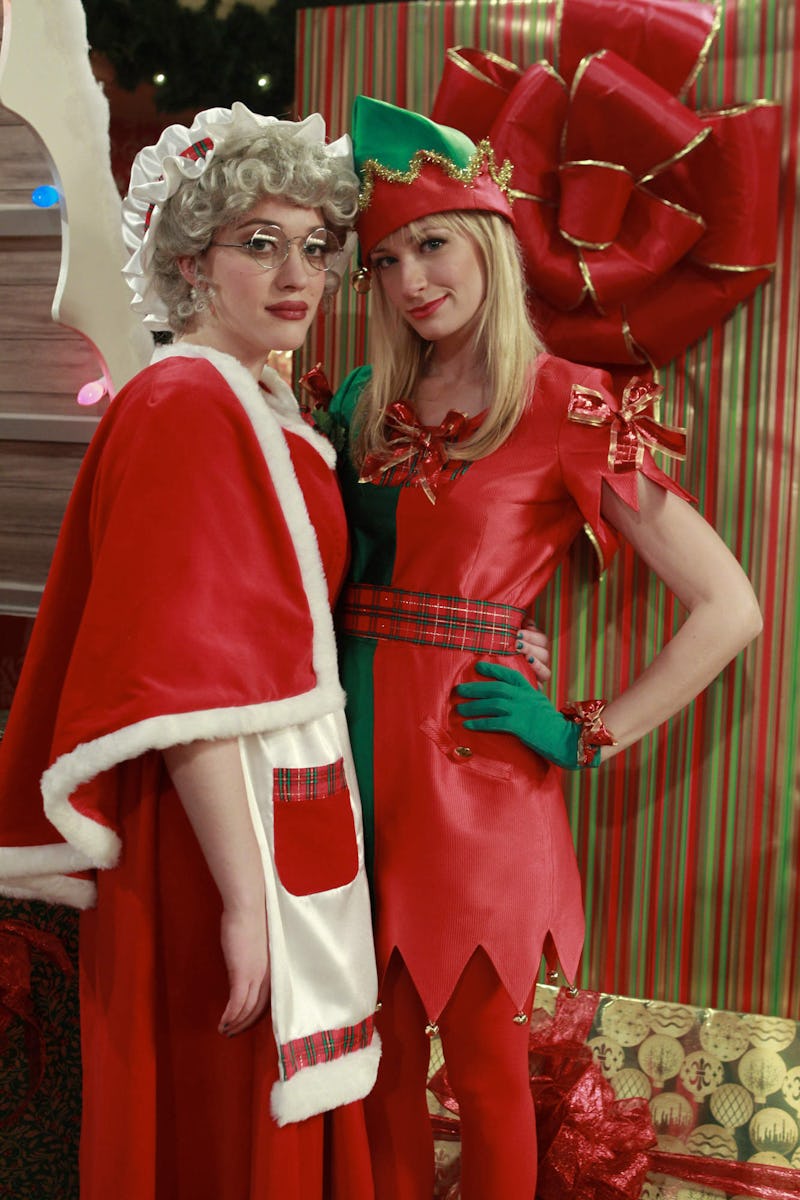 Oh, the holidays. The parties, the songs, the snow, the negative number in your bank account. For those of us on a budget, the holidays are rough. We all want to go to every party in a stunning outfit and give fabulous gifts to everyone we know (slash ourselves) but that costs a pretty penny. People can find themselves in a spending free-fall over the holidays – consumer counseling agencies see a 25% increase in the number of people seeking help in January and February, because they spend so much more in December. The non-millionaires among us could stand to take a few cues from Ebenezer Scrooge (or the chicks from 2 Broke Girls) on how to avoid going broke during the holidays. We don't have three ghosts to give you advice but we do have some tips.
1. Set price limits
If you are doing a Secret Santa with friends or giving gifts to family, establish how much is going to be spent and stick to it. We know you're looking for coolest friend status, but you can achieve that by flexing your awesome personality, not your bank account. "It's incredibly important to set a gift budget ahead of time for each person on your list. Establishing clear boundaries before you go shopping will prevent you from accidentally spending more money than you can realistically afford," GoBankingRates.com Managing Editor Casey Bond told Bustle. And don't be embarrassed about being frugal – chances are your gift recipients are feeling strapped too.
2. Don't buy tons of new clothes for all the parties
It is very tempting to go out and buy a ton of new outfits when you're attending a bunch of parties with overlapping attendees, but instead try to just accessorize a few solid pieces. Dianna Baros, founder of The Budget Babe, says "It's so easy to take a little black dress to every holiday party on your calendar, from the office shindig to your best friend's bash. Pick a sleeveless sheath or fit-and-flare so you can layer tops over your LBD to make it look like you're wearing a top and skirt, too. Try adding a colorful statement necklace and matching heels, or an embellished jacket and ankle boots. For a ladylike look, layer a classic cardigan, then belt it (something sparkly or leopard is always good for the holidays) and add pearls or a pretty broach. Forever 21 and H&M are two of my favorite places to pick up affordable accessories that look expensive. Faux fur is another way to make a big statement, whether it's a stole, vest or coat." Also, follow these holiday style rules and your look will always kill it.
3. Use cash versus credit
Bond says that if you are a very disciplined shopper then it is a good idea to put gift purchases on a rewards credit card. But for most of us, we are better off withdrawing a set amount of cash and using that.
4. DIY it up
Being broke sucks but being creative and broke sucks way less. People cherish a homemade gift, so bring out your inner Martha Stewart and start making frames out of popsicle sticks and glitter. KIDDING! We have way better DIY ideas here and here.
5. Consider not buying gifts for your friends
I can't remember the last time I bought a friend a gift for the holidays. Between their weddings, bridal showers, birthdays, and baby showers, I have given these people a lot of stuff. This may be the Christmas that you take a cue from Joey Tribbiani and give your friend a hug as a gift. Bond says, "It's expensive enough to shop for your family, and possibly a significant other's family as well. If we're friends, let's give each other a break! The holidays are supposed to be about spending time with the people you care about anyway, so a great alternative to exchanging gifts is having everyone bring their favorite hors d'oeuvres to someone's house and hanging out, or even going out for a holiday happy hour together." Having a few holiday cocktails is something we can get behind.
6. Avoid the "shopping momentum effect"
This is actually a thing. You know the natural high you get when you buy something? Studies show that dopamine is released when you shop (same as when you do heroine.) So this leads you to want to shop more even if you are giving away what you are buying. A study by Yale and Stanford researchers labeled this as the "shopping momentum effect." For some people, buying just one thing can spiral into a major spree. To avoid this, try to take a break after a purchase. If you are online, step away from the computer. Distract yourself with something else.
7. Pick up some extra work
If you want to make a little more money over the holidays (and you have the energy and time) then there are usually opportunities with retailers, if you have previous experience. If you have any social networking, editing, or Web development skills try Elance.com, Odesk.com, and Freelancer.com to find paid work. If you have more unusual skills, try the website Fiverr.com, which allows users to sell and buy services for $5. Or clean out your closet by selling stuff on Ebay or Craigslist.