Get Magical Inkspiration With 'Sailor Moon' Tatts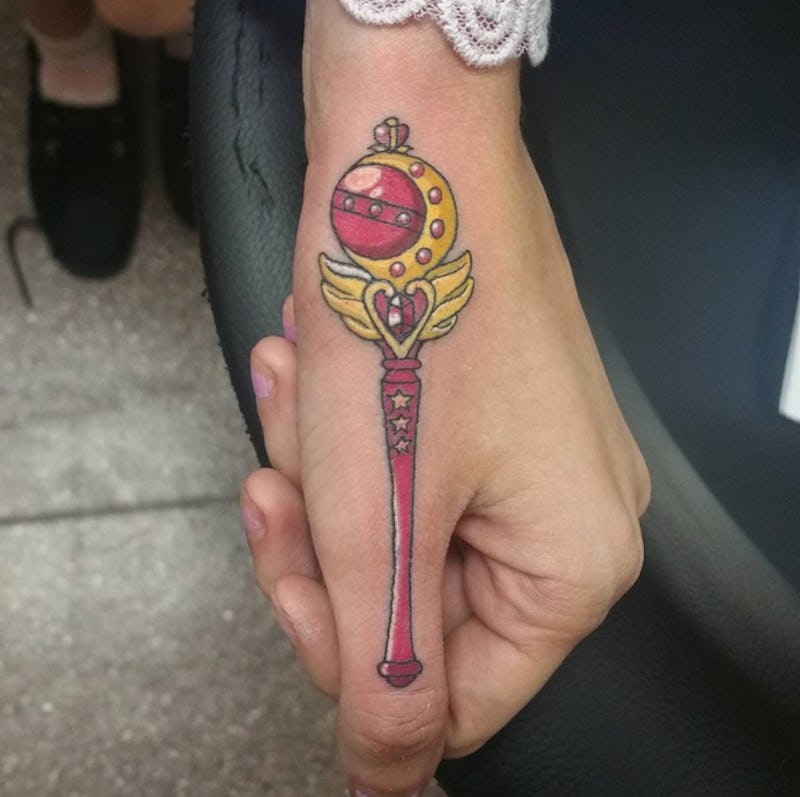 Fighting evil by moonlight, getting inked by daylight: If that sounds like the perfect catchphrase to your Sailor Scout obsessed life, then you're going to want to check out these awesome Sailor Moon tattoos from Instagram. It appears there are many people out there (myself included) who just love this incredible anime. Although I currently don't have any ink (purely because I can't decide what design I would like to have on my body forever), the beautiful Sailor Moon inspired tattoos I have come across are very tempting.
A few years ago, Jamila of Girl Gone Geek wrote about Sailor Moon tattoos in her regular "Tattoo Tuesday" post, where she featured a selection of Sailor Moon tattoos along with some of the stories behind them. It was great to read a couple of the inspiring tales behind such beautiful ink, including the idea that a tattoo featuring Sailor Moon's transformation symbolized the wearer's own transformation through the hardships of life. One lady even got a Doom Tree-inspired tattoo because she loved Sailor Moon as a child and wanted to commemorate the beauty she felt in the imagery.
So whether you see yourself as an aspiring Sailor Scout or you simply love the gorgeous illustrations of the Sailor Moon anime and manga, you're sure to fall in love with these stunning Sailor Moon tattoos.
1. The Transformation Tattoo
Go for a retro vibe with this classic 1990s-inspired Sailor Moon transformation tattoo. It's a simple design, yet it's so elegant and feminine.
2. The Dainty Wand Tattoo
You don't have to get a huge back tattoo in order to show you're a true fan of Sailor Moon — although that would be fabulous. You can go for a more modest, dainty design such as this super pretty Sailor Moon wand tatt.
3. The Sailor Moon Love Story Design
To all the ladies out there who loved the dramatic romance of the Sailor Moon series, or for those who had a soft spot for Tuxedo Mask, fall in love with this dreamy, super cute tattoo.
4. The Cartoony Sailor Scout Style
Did you have a favorite Sailor Scout growing up? Did you hope to be totally kick-ass like Sailor Jupiter or super clever like Sailor Mercury? Aside from Sailor Moon, I was always torn between the gutsy and glamorous Sailor Mars and the kind and pretty Sailor Venus. You could create a tattoo inspired solely by your favorite character, such as this wonderfully illustrated design.
5. The Cute Compact Tattoo
If you fancy something really beautiful and girly, you could choose your favorite compact and create a design around it. You get extra Sailor Scout points if you match the color scheme of your outfit to your tattoo, like this lady.
6. The Broken Heart Design
This is a thoughtful design featuring Black Lady, an adult version of Sailor Moon's future daughter Chibiusa, and Sailor Moon herself. I would guess that it symbolizes the heartbreak that Sailor Moon felt when Chibiusa was brainwashed, transformed into Black Lady, and turned against Sailor Moon, wanting to destroy her and the other Sailor Scouts. That was a very dramatic time.
7. The Lovely Little Luna Tattoo
This is a great design for fans of Luna and/or cats. It could be worn in a variety of places and made larger or smaller depending on your preference.
8. The Realistic Sailor Moon Tattoo
This tattoo is simply gorgeous and the talented artist has included a realistic Sailor Moon holding a lifelike Luna and Artemis. This would be a great choice for someone who wants a piece of art on their body with a subtle Sailor Moon reference.
9. The Villainess Design
I really like this alternative Sailor Moon inspired design, which features a couple of the Spectre Sisters (two of the bad gals of the series). I am also loving that this is a guy's tattoo, as it helps prove that Sailor Moon isn't just for girls.
Take inspiration from these designs and show the world you're a Sailor Scout in training with a beautiful Sailor Moon inspired tattoo.
Images: jadequailart/Instagram; Giphy