'Feminism For The Real World' Grabs Major YA Names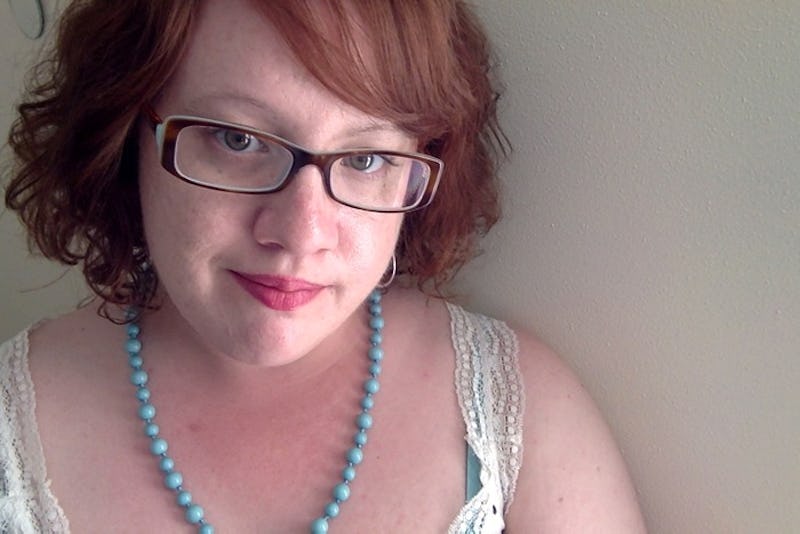 Put together all the most glorious phrases — young adult, feminist anthology, book blogger — in the universe and you have one of the most exciting upcoming project. Book blogger Kelly Jensen's YA anthology Feminism for the Real World is already one of the most highly anticipated works in progress right now, but with Jensen's list of official contributors, I can barely keep myself from squealing. Dear 2017, you can't come quickly enough.
Before writing about books for BookRiot and her own site StackedBooks.org, Jensen was a teen-audience librarian, which no doubt inspired her to work on her much-needed YA feminist anthology. Jensen has called the collection her "dream" project. Back when she first announced Feminism for the Real World, she voiced her desire to include diverse authors and illustrators:
My absolute goal is to make this an intersectional, diverse array of pieces, with a variety of voices represented. This was crucial to my thinking from the beginning, and it will drive my work on building contributions. I want this to be an encompassing, enduring work.
And based on the jaw-dropping contributors to the feminist anthology, Jensen has certainly delivered. The Duff's Kody Keplinger? Oh she's on board. So is Metamorphosis series author Sarah McCarry — whose third book in the series About a Girl was the first YA novel to have two girls kissing on the cover. And All The Rage 's Courtney Summers, who has already written gritty, necessary novels about the trauma of rape. And Malinda Lo, who aside from writing the incredible Ash, Adaptation, and others, is a strong advocate for diversity in YA literature. It's not all women, however, as male writers like Shadowshaper 's Daniel Jose Older add texture and perspective to the anthology.
And you guys, that's only five. Jensen announced 23 writers. In alphabetical order by last name:
Zariya Allen
Ashley Ford
Justina Ireland
Brenna Clarke Gray
Mikki Kendall
Kody Keplinger
Sarah McCarry
Sarah MacLean
Angie Manfredi
Kaye M.
Lily Myers
Malinda Lo
Ashley Hope Perez
Rafe Posey
Daniel José Older
Becca Sexton & Allison Peyton Steger
Nova Ren Suma
Courtney Summers
Anne Theriault
Shveta Thakrar
Kayla Whaley
Erika T Wurth
To complement these incredible authors' words, Jensen has lined up an impressive list of illustrators and artists to contribute to Feminism for the Real World.
Jensen spoke about the current contributor list on her blog:
Their pieces range in topic, in voice, in structure, and in approach, and the ones I have seen so far have blown me away. I cannot wait to see the whole of this come together, and more, I cannot wait for this collection to get into the hands of teenagers -- especially teenage girls -- in spring 2017.
Oh my goodness, me neither, Kelly.
Image: Kelly Jensen/Goodreads