How Can Liz & Julia Still Win 'BB17'?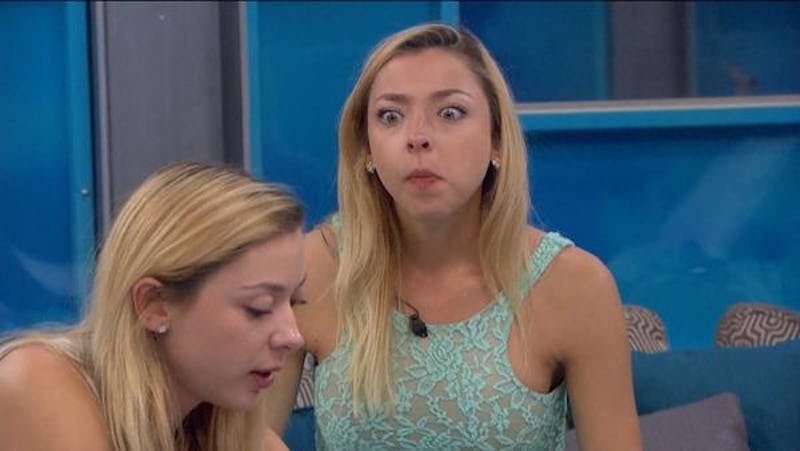 All right, so here's the thing. If there is anyone that I am rooting for to win Big Brother Season 17, it is Julia. Sorry Liz, but Julia Nolan should win Big Brother 17 for the sheer fact that, ever since she entered the house, her entire focus has been on game strategy, on strengthening alliances, and on making moves that keep her safe in the house for another week. While Liz is off flirting with Austin and deciding who to vote on based on who talks to her the most, Julia's social game is on fleek. However, the only way that Liz and Julia can win Big Brother 17 is if they work together, because the twins have different strengths that will carry them far in this game if they combine them.
During this week of Big Brother, Liz is the Head of Household after dominating the last competition. Liz also won the Power of Veto for this week, allowing her to keep her nominees the same and send either Becky or John home. She is the second house guest after James this season to win both the solo Head of Household competition and the Power of Veto competition — so you can tell that Liz is good at those.
You know who is good at strong game moves? Julia. The moment she entered the house, she refused to buy Liz's explanation for why Austin would have been talking to Jason about getting her out and keeping Liz safe. She called Austin out on saying that, and made it clear that, while she was willing to forgive him, she was not going to forget that bout of stupidity on his part any time soon. She's been in Liz's ear the entire week, trying to help her make a smart decision on who to get out and what to do with her power this week. I mean, Liz is her twin sister and, hopefully, that bond continues to be held about whatever flirtlationship Liz has got going with Austin.
If Julia and Liz can actually work together in an alliance of their own, with Liz winning the competitions and Julia making the best decision for both of their games, then they could be sitting pretty. In fact, if Liz had gotten Vanessa out this week, then she would have only had James to worry about — Austin has yet to win Head of Household, and Liz has no bad blood with John, Becky, Meg, or Steve. Well, at least she didn't until she made it clear that John and Becky weren't just her pawns, and that she really did intend to send one of them home this week. Now they've definitely got problems, and I don't think they're going to solve them.
Honestly, the best move for Julia's game would be to try and win a competition so she could make her own game moves without having to worry that Liz is going to go back on something they've talked about or be influenced by Austin. As far as game strategy goes, Julia is way, way better at this than Liz is, and the number of house guests is getting smaller, which means the number of potential targets is getting bigger. Julia needs to win HoH before the target on her and Liz's back gets large enough that they both end up nominated together, and that's how the twins can win.
For more on the houseguests, check out Bustle's very own Big Brother podcast, The Diary Room. Listen to the latest episode below, and be sure to check out future episodes on Bustle's SoundCloud page and iTunes.
Image: CBS