Fans Have A Lot To Say About Liz & Austin On 'BB'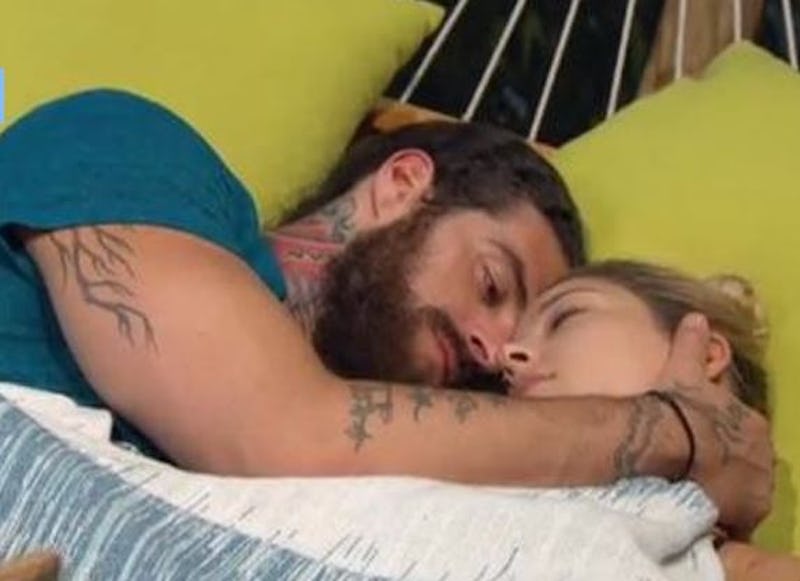 OK, guys, we have to talk about Big Brother's Austin and Liz. I know. I know, there has been a lot of coverage about these two over the last few weeks, and maybe you find it a bit nauseating (raise your hand if you've ever felt personally victimized by Austin Matelson's beard), but there are a lot of feelings to process here. Following hot on the news that Austin may have fingered Liz (yes, I feel dirty just typing that) things seem to have escalated, with Austin and Liz having sex in the Big Brother house. Due to the mercy of camera angles and public decency laws, much of this is speculation, but the evidence seems to back it up.
As we know, Austin and Liz have been actively courting a showmance this season, harder than almost anyone else in Big Brother history. Things got spicy when Liz's twin Julia started popping in and out of the house, playing games with the housemates — as well as Austin's heart. At this point, I'd like to mention that Austin very clearly has a girlfriend, who he has talked about on the show and is either very forgiving or is watching the live feeds pissed as all hell. Julia, like the sane logical woman she is, speaks for all of us every time she tries to talk Liz out of hooking up with Austin (#TeamJulia).
Obviously, her speech fell on deaf ears because they have taken their "thing" to the next level. Before scrolling down, please remember: these images are in no way safe for work (or human consumption really), but here we go. It all started here.
With plenty of jokes to go with it .
Then, it gets (more) disgusting.
Things allegedly escalate. Not to mention this.
And Julia keeps it real.
Me personally? I'm with this one.
So, there you have it folks. The Big Bang may have gone down; we won't know for sure until we hear it from Austin and Liz. All in all, it is their business, and their bodies, and they are free to do what they want... but they also signed up to be on national television and are not being sly about it, so we have every right to be grossed out if this is true. Until we know for sure, we'll have a lot of gross Twitter speculation to hold us over.
For more on this season of Big Brother, check out Bustle's podcast The Diary Room below.
Image: CBS