7 Songs To Dedicate To Your Roommate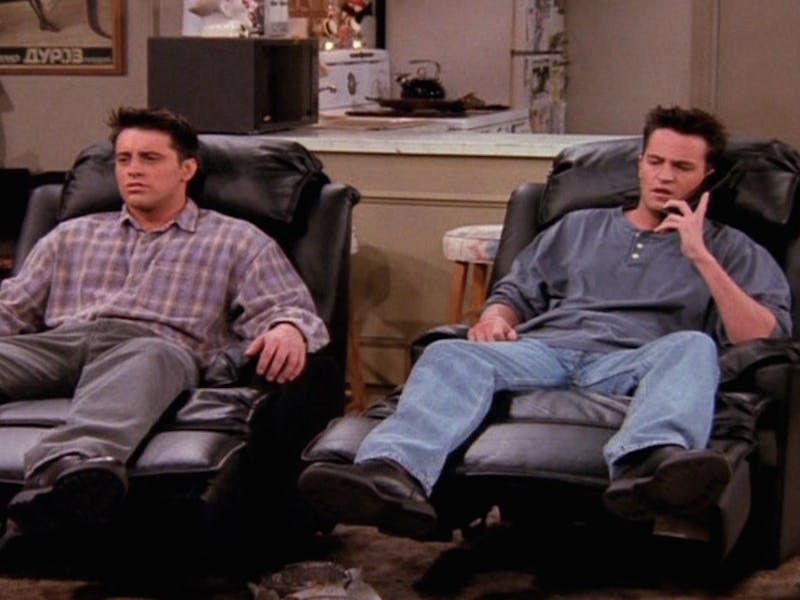 While tons of listicles, memes, and message board fodder showcase the drawbacks of living with roommates (passive-aggressive Post-It notes, anyone?), cohabitation can also be a good — nay — great thing. Case in point: I currently live with two roommates who are an absolute dream come true. Within less than a day of meeting each, I found myself close to quoting Stepbrothers by exclaiming, "Did we just become best friends?!" Although there are many perks to living solo, having a roommate around can stave off loneliness, and offer a bonding experience that is unique from other friendships.
With a roomie, you always have a partner in crime when it comes to critical matters like Netflix binging, you grow to understand each other on a deeper (i.e., domestic) level, and sometimes there's no greater therapy than late-night chats with a roomie on the woes that often come with adulthood. While scrawling a genial note on your dry erase board is all well and good, why not take your appreciation up a notch? To truly make your roommate's heart sing, you need to find the perfect track to dedicate to your favorite cohabitant. As a frequent scourer of YouTube, I have selected a few songs that make for the perfect dedication to your roomie. Enjoy!
1. The Rembrandts, "I'll Be There For You"
What better way to celebrate roomie love than with the track that also served as the Friends theme song? When you live with someone, you become privy to all of their romantic, financial, and professional woes. Let your roomie know you're there for them with this ditty.
2. Jakubi, "Couch Potato"
This makes for the perfect introductory song to a bonding session that includes pizza and Netflix binging.
3. White Stripes, "We're Going To Be Friends"
Reminisce about the moment you and your roommate first became acquainted, and you realized that — thank goodness — they were awesome enough to make your list of #FriendshipGoals.
4. The Beatles, "With A Little Help From My Friends"
This track makes for the perfect accompaniment to cleaning parties.
5. LunchMoney Lewis, "Bills"
Let's face it: One of the main reasons we initially decide to have roommates as opposed to living solo is finances. Bond with your roomie over the pangs of attempting to be financially independent with "Bills" by LunchMoney Lewis.
6. Scissor Sisters, "Baby Come Home"
Please disregard any romantic undertones in this track — I'm not trying to have you reenact an episode of The Real World over here. This delightfully quirky track can remind your roommate of how thrilled you are to have them return home.
7. Jason Derulo, "Ridin' Solo"
Huh? Hear me out on this one. Although the title indicates a lack of desire in interacting with anybody, this song is the perfect track for when you and your roomie need to celebrate your shared singledom.
Case in point: After bemoaning our lack of baes, me and my roommate danced in the kitchen to this track as a way of cheering up. It worked, and yes, a snapchat of the event was sent to mutual friends.
Images: NBC